It's that time of year once again. The one time in which the community comes together to rally behind one of the two big high schools in the Ahwatukee community. 
It's the annual Ahwatukee Bowl. And this year's game has more meaning to it. 
Both teams are vying for playoff positioning. Both teams are turning the page on difficult seasons in the past. But perhaps most importantly, both teams want to take the lead in a series that is currently tied at 12 games apiece. 
Here are some impact players to watch from both teams that will attempt to get that coveted Ahwatukee Bowl trophy. 
Desert Vista
Jackson Akins and Braxton Thomas
The quarterback duo of junior Jackson Akins and sophomore Braxton Thomas will be key for the Thunder against a scrappy Mountain Pointe defense on Friday. Akins, the starter through the first half of the season before Thomas and senior quarterback Xavier Castillo became eligible, has passed for 860 yards this season and seven touchdowns. Castillo has transitioned to a new position, leaving the door open for Thomas, who has had limited pass attempts, to compete alongside Akins. Desert Vista coach Ty Wisdom said the two will share reps in the Tukee Bowl.
Christian Clark and Devon Grubbs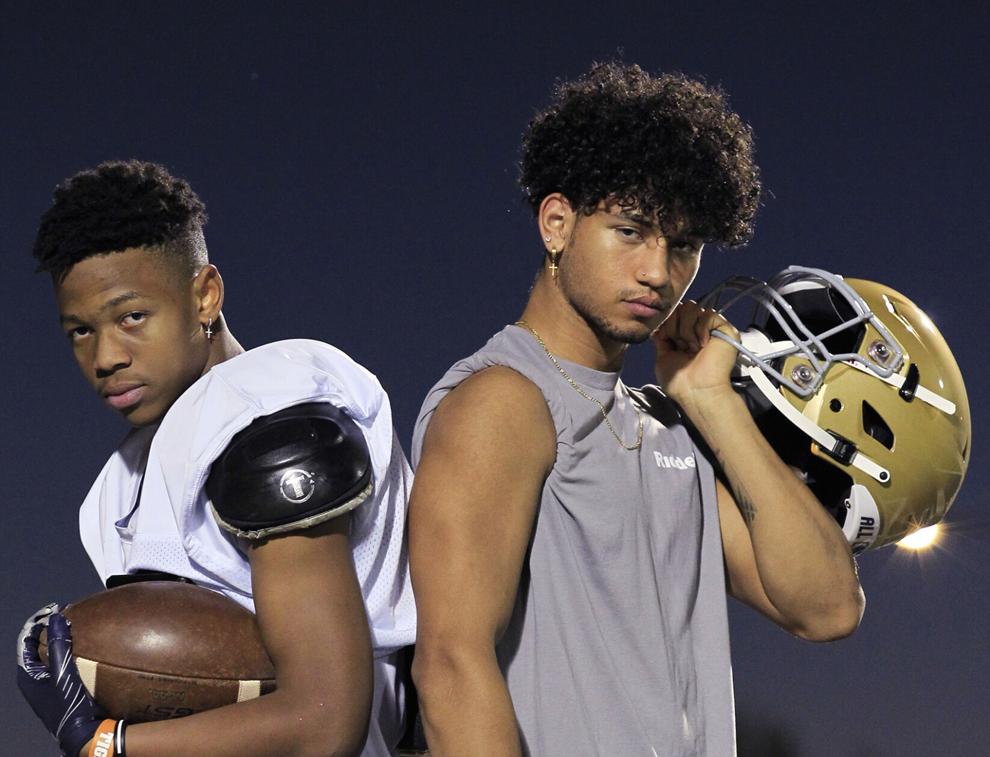 Sophomore running back Christian Clark has taken control of the backfield in the absence of senior Devon Grubbs, who suffered a shoulder injury that required surgery against Highland in Week 4. Before his injury, Grubbs was well on his way to a 1,000-yard season, rushing for 519 yards on 64 carries and eight touchdowns in those four games. But Clark has proven to be efficient at a young age, rushing for 352 yards and seven touchdowns since taking lead-back responsibilities. It isn't yet clear whether Grubbs will be available for the Tukee Bowl as he continues to heal from his injury.
Tavian Dennis, Hayden Engel and Antonio Delgado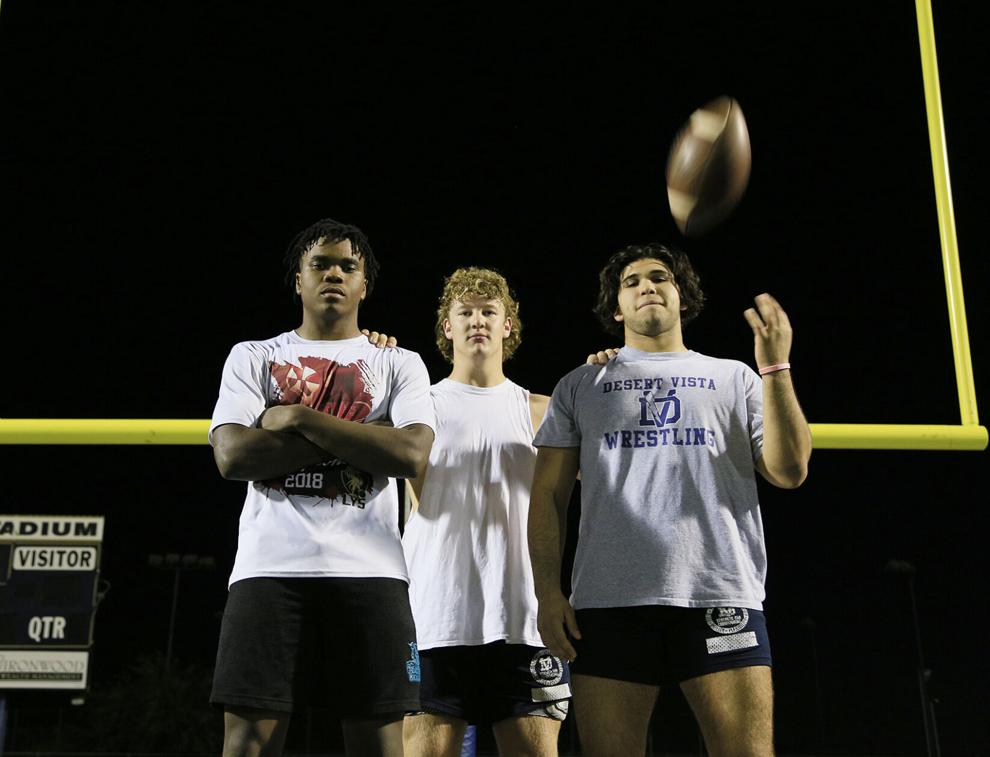 Desert Vista's defense has done its job on several occasions when its offense has sputtered against some opponents. Much of that can be credited to senior defensive back Tavian Dennis senior linebacker Hayden Engel and junior linebacker Antonio Delgado. The trio has combined for 50 total tackles and 10 tackles for loss. They also have one sack each. Along with defensive backs Cade Colemere and Gavin Chavez, they will be required to slow down Mountain Pointe's quick wideouts on Friday.
Jai Rodriguez and Aiden Mikus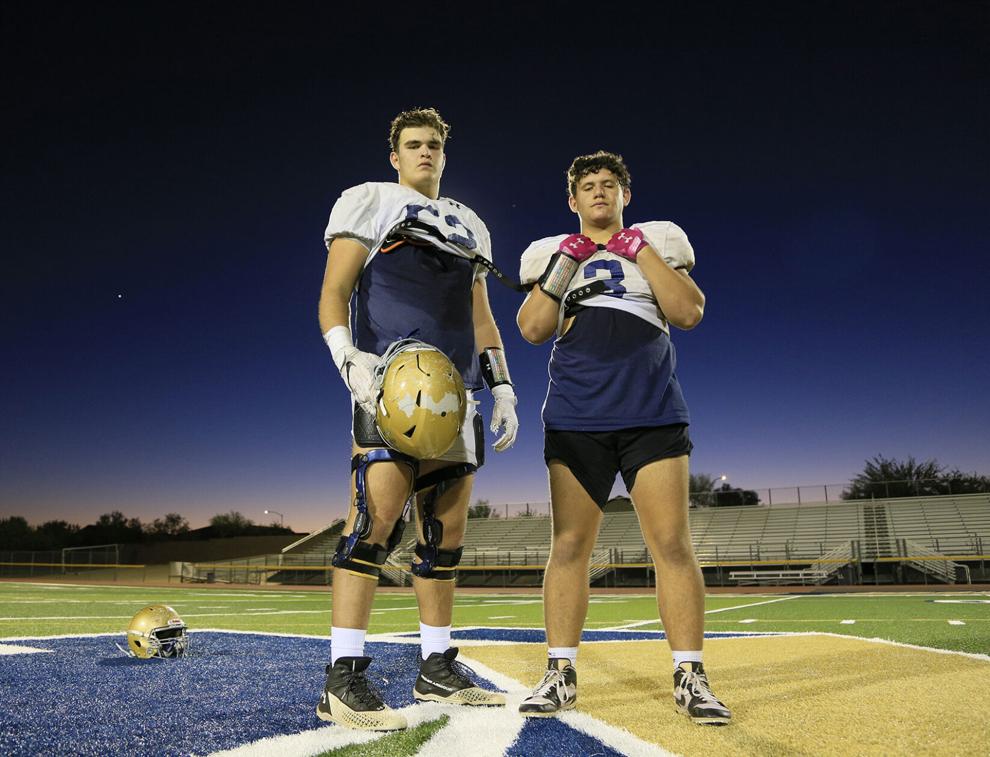 Now in his third year as a varsity starter, senior Jai Rodriguez has taken control of the Thunder offensive line that has allowed its ball carriers to rush for near 1,000 yards this season. He and senior center Aiden Mikus led a group that was without starter David Nation for most of the year. Now planning to return, Nation adds a 6-foot-4 frame to the middle of the line. A physical group, they are battle tested and will face a quick and powerful defensive front from the Pride.
Mountain Pointe
Chris Arviso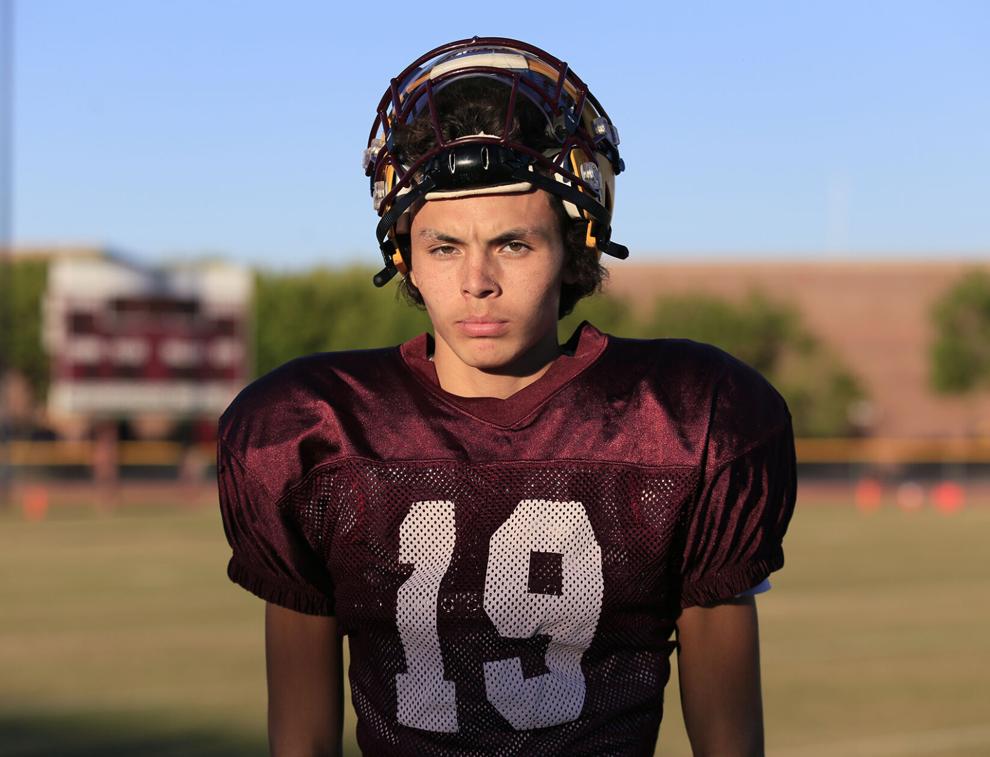 Junior quarterback Chris Arviso took over this season as the full-time starter under center and it has paid dividends for the Pride. Despite missing two games earlier in the season, he's thrown for 1,353 yards and eight touchdowns, which has put the Pride in position to secure a playoff spot. His presence allows offensive coordinator Brian Whitacre to open up the offense, which gives other opportunities to the athletes around him.
Amier Boyd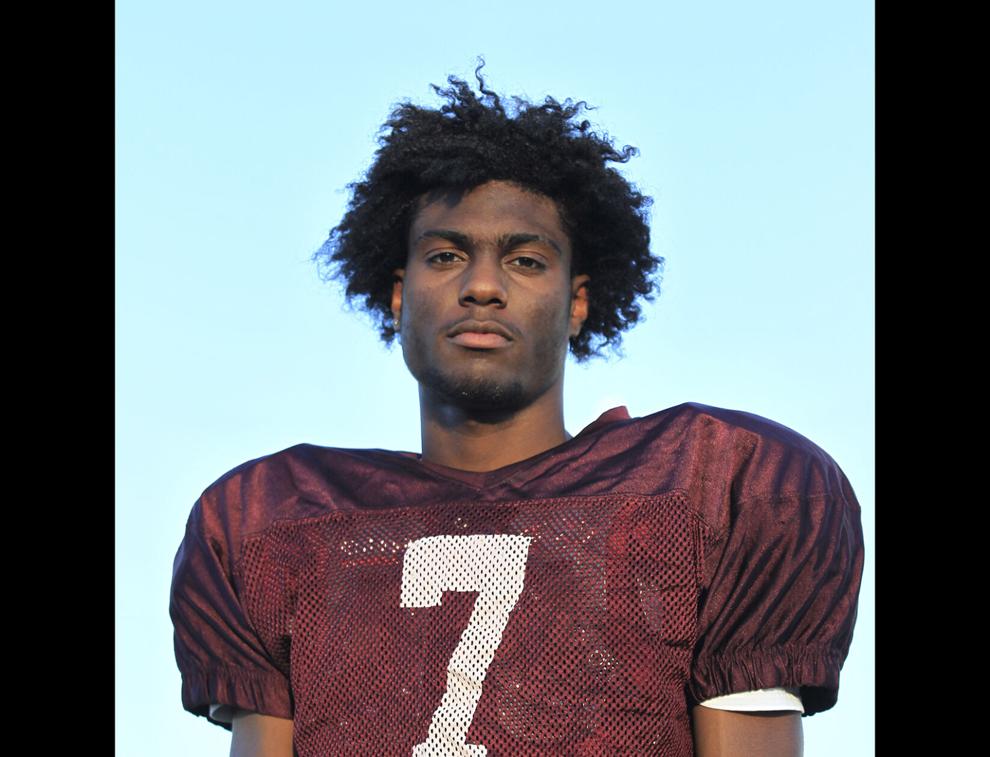 Senior athlete Amier Boyd has been a do-it-all player for the Pride this season. Not only does he make an impact on offense at wideout and quarterback when needed, he also has become a ball hawk in the defensive secondary who isn't afraid to make a hit or chase down an opposing ball carrier. His elite speed and aggressive play make a difference on a weekly basis for the Pride, and he's eager to again go up against Desert Vista in his second Tukee Bowl.
Jay'len Rushing, Amire Williams and Devon Sparks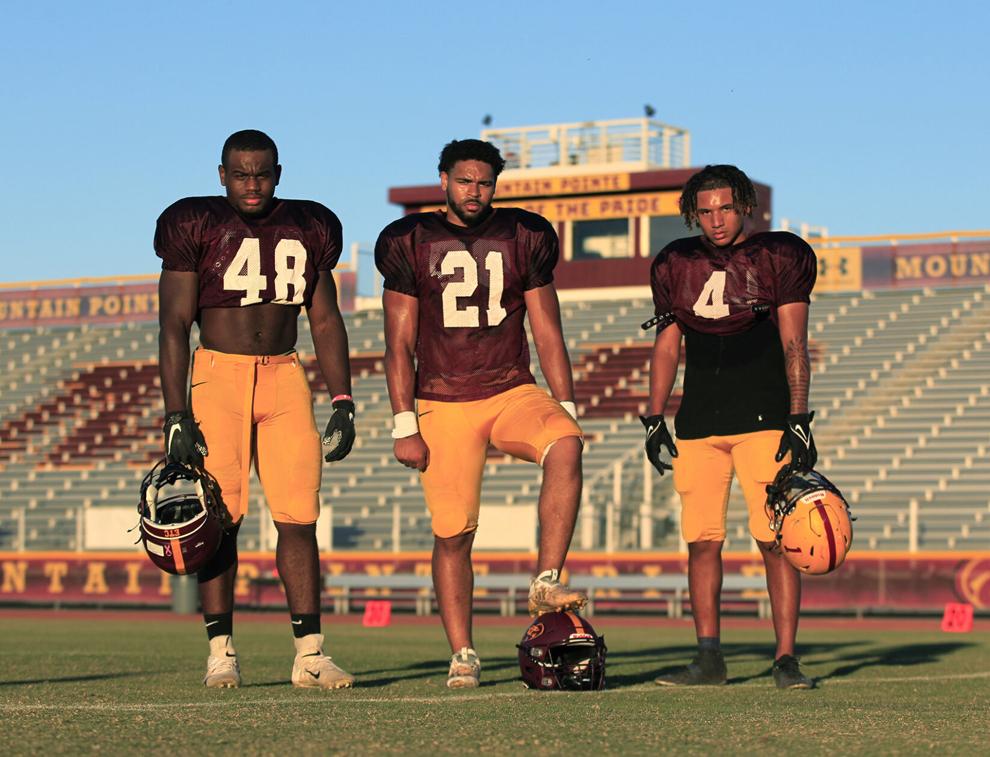 Forget having a one-two punch in the backfield, Mountain Pointe has a three-headed monster in junior Jay'len Rushing and seniors Amire Williams and Devon Sparks. All three have speed. All three can break through tackles. And all three have the ability to catch passes out of the backfield. They've combined this season for 961 yards and 11 touchdowns on the ground while splitting carries. Sparks also has 207 receiving yards and a pair of scores. Few teams have been able to slow down the Pride's backs this season.
JaJuan Kennedy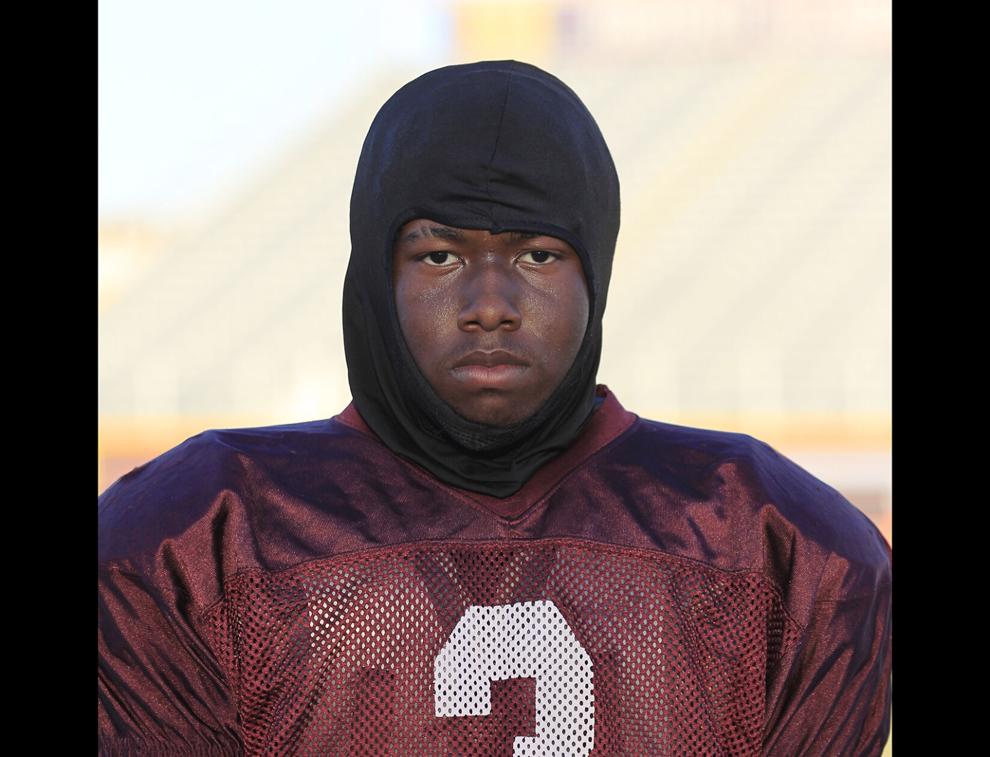 Senior linebacker JuJuan Kennedy is always around the ball on defense, which has played a big role in his team-high 45 solo tackles this season. He's an aggressive linebacker who isn't afraid to come down hill and meet a running back head on. Kennedy has earned praise from head coach Eric Lauer for his play this season, and he's been impactful for the Pride in in their hunt for a spot in the postseason.
Jack Plote and Kaleb Jones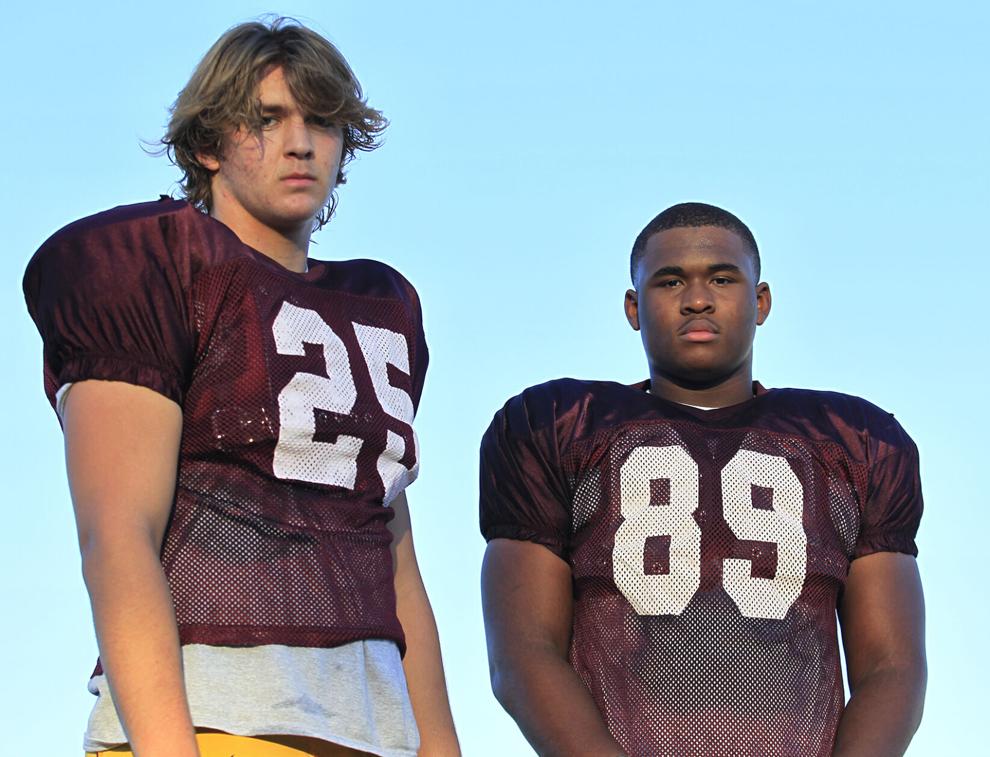 Senior guard Jack Plote and freshman tackle Kaleb Jones are two of the main reasons Mountain Pointe has been able to rush for over 1,500 yards as a team this season and has one of the top offenses in the state. If the Pride are looking for a few yards to pick up the first down, they run behind these two. If they are looking to roll Arviso out of the pocket, they often do it behind Plote and Jones. The two have become the anchors for the offensive line. But don't be surprised if they also line up on defense. It is the Tukee Bowl after all, and while Jones has started both ways for the Pride all season, Plote has been itching for a shot on defense.