As Mountain Pointe High School's football program headed into the final week of the 2020 season, the Pride were desperate for a win.
At that point, they had lost 16 straight dating back to 2019, a season in which Mountain Pointe finished 1-9 overall and saw a coaching change shortly after the final regular-season game. Eric Lauer brought a new level of confidence into Week 8 last year, and especially because it was against bitter rival Desert Vista in the Tukee Bowl, the players did, too.
The Pride not only knocked off the Thunder, but they did so in dominating fashion. Mountain Pointe's 35-7 win set the tone for a program still searching for its new identity under Lauer and the coaching staff. Now as he prepares his team for the 2021 opener on Friday against Corona del Sol, Lauer said his team's identity has finally been found.
"Sometimes you don't know you are searching for an identity, but we know who we are not," Lauer said. "We may still take some bumps and bruises, but we know who we are. There's some peace that comes with that. We are going to take that and move forward with it."
The momentum from their win against Desert Vista carried over into the offseason, where the Pride attacked the weight room and were finally able to build chemistry for the first time in two years.
When the pandemic began in the spring of 2020, players were subjected to staying home. They couldn't meet Lauer or any of the coaches in person and they were barred from installing the new offensive and defensive schemes on the field. It led to some early growing pains when they were finally able to begin off-season in-person workouts. But still, restrictions set forth by the Tempe Union High School District made it difficult.
Amier Boyd, who transferred into the program after playing his sophomore season at South Mountain, started at quarterback for Mountain Pointe. He was granted a hardship through the Arizona Interscholastic Association and was eligible right away. Toward the back-half of the season, when fellow South Mountain transfer Chris Arviso became eligible, the two shared reps at quarterback. This year, Boyd has moved to wideout and defensive back, allowing him to showcase his athleticism in 7-on-7 and in the Pride's recent scrimmage.
"I just want to go out there and standout every game," Boyd said. "I want to prove myself. This team is going to be way different. On offense, we all can play. On defense, we are all dogs. I'm excited."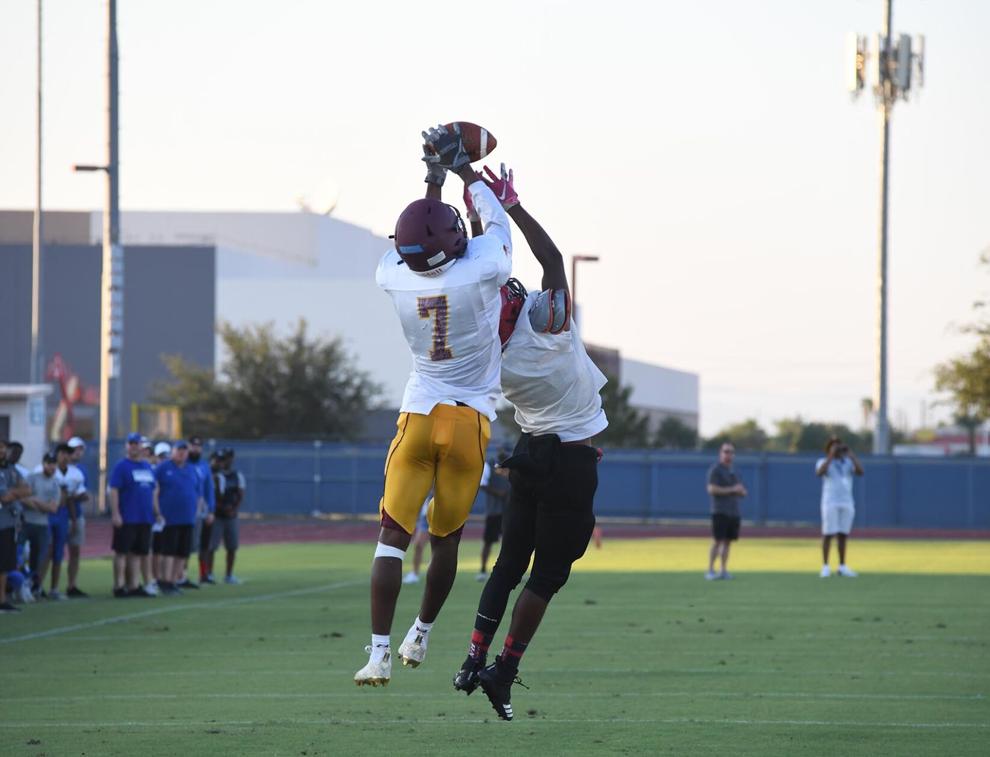 Arviso and Boyd have created a chemistry with one another. Part of that stems from playing together at South Mountain. But most of it is from the offseason work they put in.
The two played on True Buzz West Coast, an elite 7-on-7 team that participated in several national tournaments. Terryon Rowe, a senior wideout for the Pride, was also part of the team.
It helped Arviso build chemistry with Boyd and vice versa. The two have become perhaps one of the best tandems in the state at quarterback and wideout, with Arviso taking over under center this year. But beyond Boyd and Rowe, the junior gunslinger has several other viable options not only at wideout, but out of the backfield. 
"We have a lot of trust out there with each other," Arviso said. "The chemistry we have is really good, better than last season. I feel like they will put their lives out there on the field for me so I have to do the same for them."
Arviso's plethora of weapons on the outside doesn't stop short of Boyd and Rowe. Jordan Huff, who transferred from Pinnacle last year, is due for a breakout season now as a senior in 2021. Devon Sparks, who will likely play both ways for the Pride, will line up a tailback and at times out wide. Timothy Allen, who primarily plays defensive back, can also line up at slot for the Pride.
Isaiah Ice-Robinson, a senior wideout who only played four games last season, is another speedster on the outside itching for an opportunity to finally showcase his skill after a rough 2020 campaign.
Ice-Robinson transferred to Mountain Pointe from West Point High School in Avondale before the 2020 season. Despite never playing a down for the Dragons – who didn't officially have a season until last year – he was still subjected to a four-game suspension by the AIA. He caught 19 total passes for 235 yards and two touchdowns in his four games for the Pride last year.
But now a senior eligible for all 10 games, he aims to make a dramatic impact this season.
"I just want to do my best to help my team win and be one of the best athletes in the state," Ice-Robinson said. "Last year was hard. I could only sit there and watch games I felt like I could have helped my team win."
Ice-Robinson and the rest of the offense will look to the Pride offensive line to help move them down the field. That's where senior Jack Plote's leadership will come into play.
A starter last season, Plote is one of the few who return from last year's unit, which was plagued by injuries. Plote's desire is to not only earn a Division I scholarship offer this season and follow in the footsteps of his father playing college football, but to also help the Pride succeed in a way not seen with the program in two years.
He believes they are ready to turn things around, and it starts Friday against Corona del Sol.
"There's some big things that are about to happen with Mountain Pointe," Plote said. "We want to turn things around. This offseason has been great, and we've really come together as a team. We are going to be much improved. Things are going to be great."