Phoenix police today detailed an ex-con's 77-minute crime spree that followed the March 15 shooting death of an Ahwatukee marketing specialist described by a family friend as a "hell of a salesman."
But detectives were still trying to unravel the relationship between the victim, Nathan Cahal, 40, of the 4800 block of E. Mineral Avenue and his killer, 25-year-old Todd "Toddy" Munson, a former drug addict with an obsession for money who was apparently shot to death by police in the aftermath of two carjackings and a chase through Glendale and North Phoenix.
According to an account by Phoenix Police Commander James Burgett, the bizarre spree began near a Glendale apartment complex at 12:30 p.m. – eight hours after Cahal's body was discovered in his home.
Investigators had identified Munson as a possible suspect and were going to talk to him when he almost walked right into the approaching detectives, Burgett said.
"The suspect immediately turned and fled on foot," Burgett said. "The suspect jumped over a wall into an apartment complex at which time the officers heard a gunshot. It was later determined the suspect may have accidentally discharged his firearm, striking himself in the leg."
Burgett said Munson first approached a 41-year-old woman and tried to rob her of her car at gunpoint but she sped away. Munson then took a 53-year-old man's pickup truck after brandishing his weapon.
A short time later, Phoenix Police received a call that a man matching Munson's description had let the pickup roll into a business around 7th Avenue and Union Hills and stole a Corvette at gunpoint.
He then stopped at a convenience store and tried to rob two customers of their cell phones, but the two men ducked behind some gas pumps and Munson fled.
By this time a police helicopter and several unmarked police cars were following the Corvette.
Police spokesman Sgt. Alan Pfohl said police deliberately used unmarked cars because they didn't want to spook the suspect, who had been driving erratically.
Munson a few minutes later stopped a woman in front of her home and took her cellphone at gunpoint, then fled the scene.
A few blocks later, while at a signal at North Valley Parkway and Norterra Parkway, the suspect pointed his weapon at a seventh victim in the adjacent lane and demanded his cellphone, but the man sped away before Munson could react, Burgett said.
Pfohl said by this time Munson's erratic driving had become a major concern, so an unmarked SWAT team struck the Corvette, sending it into a pole.
Burgett said at that point Munson pointed his weapon at one of the two rifle-armed officers, who "both fired their rifles at the suspect, which ended the threat."
Phoenix Councilman Sal DiCiccio praised police for "an incredible job."
"Whenever there is a police shooting, there is significant emotional trauma to the police officers involved and their families, which most people don't realize….  My prayers are with them and their families."
Cahal was a marketing representative for a family-owned Phoenix tutoring service called ABC Phonetic Reading School and a graduate of Central Catholic High School.
A family friend told AFN the victim comes from a five-generation Phoenician family and that "he was a hell of a salesman."
She also said the family did not know of about the relationship between Cahal and the gunman. "We're just watching the police investigation," she said. She declined further comment, saying the family wanted privacy at this time.
Records show Munson had served four months in prison and a two-year probation for convictions on a series of criminal incidents that included aggravated drunk driving, two drug possession charges, endangerment and resisting arrest.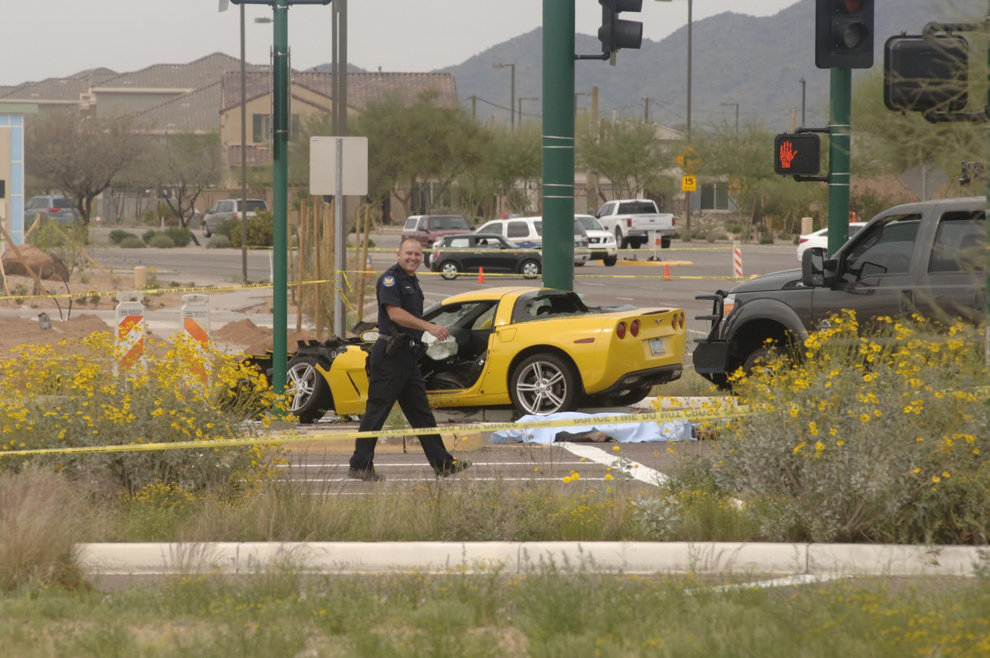 Between December and January, he frequently alluded on his Facebook page to an obsession with money, describing it as an addiction that had replaced his drug addiction.
"One addiction to the next," he wrote on a picture of a large amount of 20 and 100-dollar bills spread out beneath his arm.
"I've lost the things Iv loved, IV been humbled by pain, been blinded by addiction, literally.. I've failed more then I can count. But this feeling.. Its a new addiction," he wrote another time.
In another post, he wrote: "1) Make Money. 2) Use that money to make more money. 3. Repeat."
Other postings alluded to a troubled past:" Don't judge me. You can't handle half of what I've dealt with. There's a reason I do the things I do, there's a reason I am who I am."
Others alluded to God while still others were inspirational.
"A negative mind will never give you a positive life," he posted.
In another, he wrote, "If you don't leave your past in the past, it will destroy your future."