Self-expression in the form of colorful paintings, drawings and 3-D creations will be celebrated in an art show where Ahwatukee Foothills students are well-represented.
The Kyrene District Art Show will feature artwork from about 1,000 students in grades kindergarten through eighth who attend the Kyrene School District's 25 schools at the district office, 8700 S. Kyrene Road in Tempe.
A celebration night, where families and the public can mingle with the young artists, see the artwork, eat food from several vendors and hear district Superintendent Jan Vesely speak, will be at the district office 4-7 p.m. today, April 5.
People can also check out the students' artwork on display any time between 8 a.m. and 4:30 p.m. through April 6 at the district office.
About 500 students who attend schools in Ahwatukee are showing their pieces.
Paintings, drawings, prints, photos, mimbres or painted gourds, plaster masks and ceramics are among the many different forms of art the show will feature, said Cassidy Parker-Anders, a visual arts teacher on special assignment.
Parker-Anders, who is also an art teacher at Kyrene de la Estrella and Kyrene de la Sierra elementary schools, is organizing the art show with Jen Pooler, a Kyrene de la Paloma Elementary School art teacher.
"For the last almost 10 years I've been only at Ahwatukee schools," in the Kyrene district, Parker-Anders said. "We just have such talented kids and we have a lot of opportunities in our community and with the district for students to participate in fine arts."
"We get a lot of parent support," she added. "The arts are very important and Kyrene is one of the few districts that really has a strong visual arts program."
Kyrene district students in grades K-5 take art class once a week all school year. Students in the district's middle schools can take various elective classes, including visual arts, a semester-long class that meets Monday through Friday.
Parker-Anders said art teachers chose the artwork for the show based on the students' skill, behavior and participation in art classes.
"It's almost like the artwork chooses itself," she said. "They get very excited. "It's increasing their self-esteem and their pride in their work."
Bianca Rivera, 10, an Ahwatukee fifth-grader at Kyrene de la Sierra Elementary School, is excited her picture of a purple flower she created with oil pastels will be on display at the art show. Art is her favorite class.
"Art is something that you can express your emotions with," Rivera said. "I want to become a doctor and an artist."
Bianca's mother, Maria Rivera, said she is "really ecstatic" her daughter's work will be in the show.
"We instill in her to pursue all of her interests in art," Maria Rivera said. "You can find drawings and paintings and pictures throughout the house."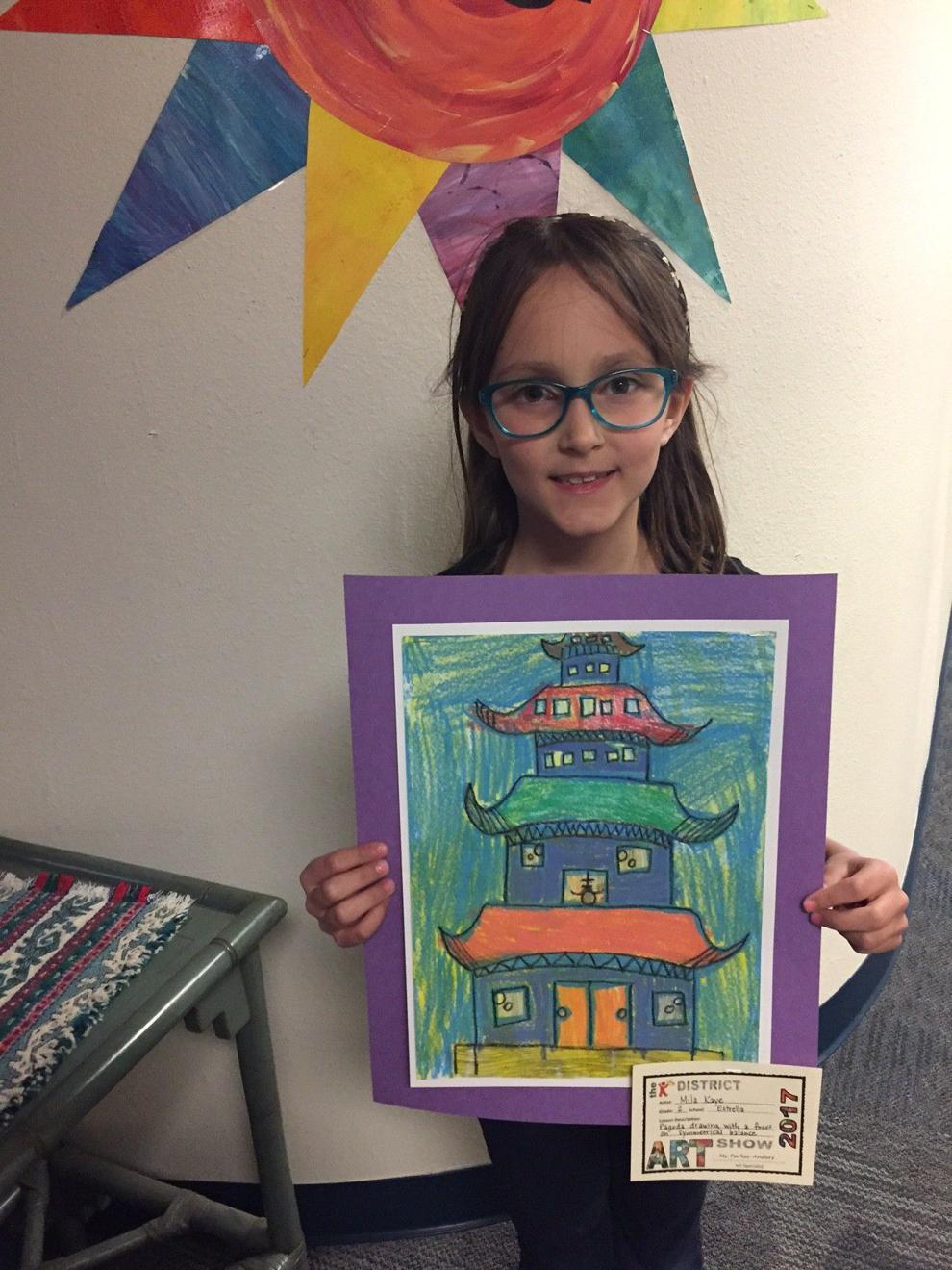 Kyrene de la Estrella Elementary School second-grader Mila Kaye, 8, of Ahwatukee, used oil pastels to create a picture of a Chinese pagoda or building. She's also thrilled her work will be on display in the show.
"It feels awesome," Kaye said. "It feels like my work paid off. I like that when you have a piece of paper and a pencil you can draw whatever in the world you want."
Her mother, Megan Kaye, is excited her daughter's work was chosen for the show.
"I think it's really important for them to be able to express their creativity and use their imagination and learn a little bit of history into it," Megan Kaye said.
The district's art show has been held for nearly 20 years.