Three Kyrene schools are hosting blood drives to mark Cancer Awareness Month, an annual event that began three years ago to help Jace Hyduchak, then a Kyrene Monte Vista kindergarten student diagnosed with acute lymphoblastic leukemia in 2015.
It continued the following year with the addition of Kyrene de la Sierra. This second blood drive was held under the Jace's Defenders banner, but it helped another Monte Vista youngster, Jackson Dupps, who was diagnosed with Wilms tumor in 2013.
Parents of both boys say they've progressed impressively.
"This October marks the five-year anniversary of Jackson completing his cancer treatment, and he's doing amazing," said his mother, Kelli Dupps, a neonatal occupational therapist at Banner University Medical Center.
Kelli and husband Greg also have a son, Ethan, an Altadena Middle School seventh-grader.
"Jackson is 7 now and in second grade at Kyrene Monte Vista Elementary School. As a family, we're so proud to take part in the Monte Vista Blood Drive hosted by Jace's Defenders, and couldn't be more thankful for the amazing turnout from our community," said Kelli.
"Even better is that the trend is growing. Donating blood really does make a huge difference, and both Jackson and Jace are a testament to that."
One of the organizers spearheading the drives since the inception, Tara Martinez, said they had hoped to celebrate this September's blood drive as the last one, with Jace ending his treatments in March and Jackson in remission.
But then she learned of yet another Ahwatukee boy who is battling cancer, a diagnosis made midsummer.
"It kind of broke our hearts when we learned about Logan and realized that it doesn't end. And that's why we're doing this, not just for Jace and Jackson, but for other kids who need blood," said Martinez, who worked with United Blood Services in Albuquerque before moving to Ahwatukee.
The newest cancer warrior is Logan Gidley, a fifth-grader also at Kyrene Monte Vista. His mother, Krystal Felts-Lehr, said his leukemia diagnosis came on Friday the 13 last July.
She spoke quietly, and a bit breathlessly, as she answered questions while visiting her son at Phoenix Children's Hospital last week as he underwent the second round of treatments for the disease.
She said there are possibly four more rounds ahead, with each round lasting three weeks, with a week off at home in between.
"Logan is responding well, and the prognosis looks good," said Felts-Lehr, who also has a 7-year-old daughter, Juliette.
It's been a tough experience for her son and the family to undergo – that came out of nowhere.
"He's on the swim team at the Y and was taking advanced math classes this summer, so when he started losing a few pounds and his appetite decreased, we said, 'Hey, it's summer, he's really busy.'"
But the symptoms worsened, and they were accompanied by a sore throat and then a fever.
"Our pediatrician, Dr. Noelle Miller at TLC Pediatrics, has known Logan since he was born, and she smelled a rat," she said.
The diagnosis was earthshaking.
"You don't really think cancer. You don't think it will happen to your child," she admitted.
At this point in the treatment, it's not expected a bone marrow procedure will be needed.
"It's off the table right now," she said.
Coping with the changes necessitated by hospital stays and just plain worrisome thoughts, Felts said she is blessed to have family support – including that of her son's father and his wife – Eric and Renae Gidley.
"We've had a lot of support from family, and we're definitely lucky to have four of us. We're very close and we've come together as a team for Logan," said Felts-Lehr, who credited her husband Ryan Lehr, his parents from Indiana and hers from Colorado and Washington state for their extraordinary assistance.
And the community has stepped forward, she said, from neighbors and friends to Kyrene schools, which provide a homebound teacher to help the youngster stay abreast of his studies.
"The school has been absolutely amazing. Actually, Logan's teacher from last year, Heidi Crouch, volunteered to be his homebound teacher," said Felts-Lehr. "And there's a teacher at the hospital, Virginia Tremble, who communicates with Crouch."
One goal of both teachers is to keep Logan not only current, but ahead so that when he starts sixth grade next year at Altadena Middle School, he can still be in advanced math – a subject, like science, in which he excels.
The outpouring of support has not gone unnoticed by the boy, despite what else he's going through since July 13.
"Logan said the other day, 'Mom, I didn't know these many people cared about us. Maybe we should tell people more how we feel about them without waiting for them to be sick.'  He's grown up a lot in here, he maturing fast and yet he's still a boy. I just draw my strength from him."
The upcoming Sept. 28 blood drives has taken on a new meaning for Felts.
"I've had a hard time giving blood. I think last time I tried, I passed out three times. But you know, I'm going to suck it up for this because now I know how important it is," she said. "Logan has had at least 10 transfusions so far, and platelets at least six or seven times."
Ann Hyduchak, Jace's mother, also knows what it means to have blood donated and how much is needed to help the children fight their fight.
"Until Jace was going through treatment, we didn't realize how many blood products he would need to replenish what was lost with chemotherapy. The first blood drive was a way for us to give back to our community. It took at least 30 donors to save Jace's life and we wanted to replace that as well as spread awareness about childhood cancer," said Hyduchak, who with husband George has three other sons.
"Tara was an integral part in all of this as she approached me first about starting the blood drive. She knew from the get-go that blood donors were needed all year long, and she wanted to help us along this journey, she continued, adding:
"Last year, we added Sierra Elementary School to join our blood drives, and this year we added Altadena Middle School. Our ultimate goal is to have a blood mobile at each of the Kyrene schools. We're thankful that we can dedicate that blood drive to Logan and his fight with AML."
Though his band of supporters still raise funds under the banner, Jace's Defenders, Jace – now in second grade – is much improved.
"He had a rough eight months of frontline treatment, and since then he hit maintenance, which has been less intense where we all experience more normal days," she said bracketing "normal" in air quotes.
"He hasn't missed any school this year, unlike the past two years, where he missed the beginning due to a low ANC or infection. He's in maintenance now until March 29, 2019, when he'll take his last chemo pill," she said, explaining maintenance consists of daily oral chemo, with steroids and antibiotics on the weekends.
She said Jace also undergoes two more lumbar punctures with intrathecal chemo and IV chemo once a month.
"He takes his medicine like a champ every day and doesn't complain when we have to visit Phoenix Children's Hospital," she bragged.
Jackson Dupps also is in a maintenance phase, with scans and testing every six months.
This is the first blood drive at Kyrene Altadena Middle School. Principal James Martin said being included was an honor, one he hopes to continue.
"At Altadeña, we strive to be leaders in our community. We're excited to partner with the PTSO to help with such an important cause, and we look forward to making this a tradition on our campus," said Martin.
Donated blood may be used for other needs, Ann Hyduchak noted.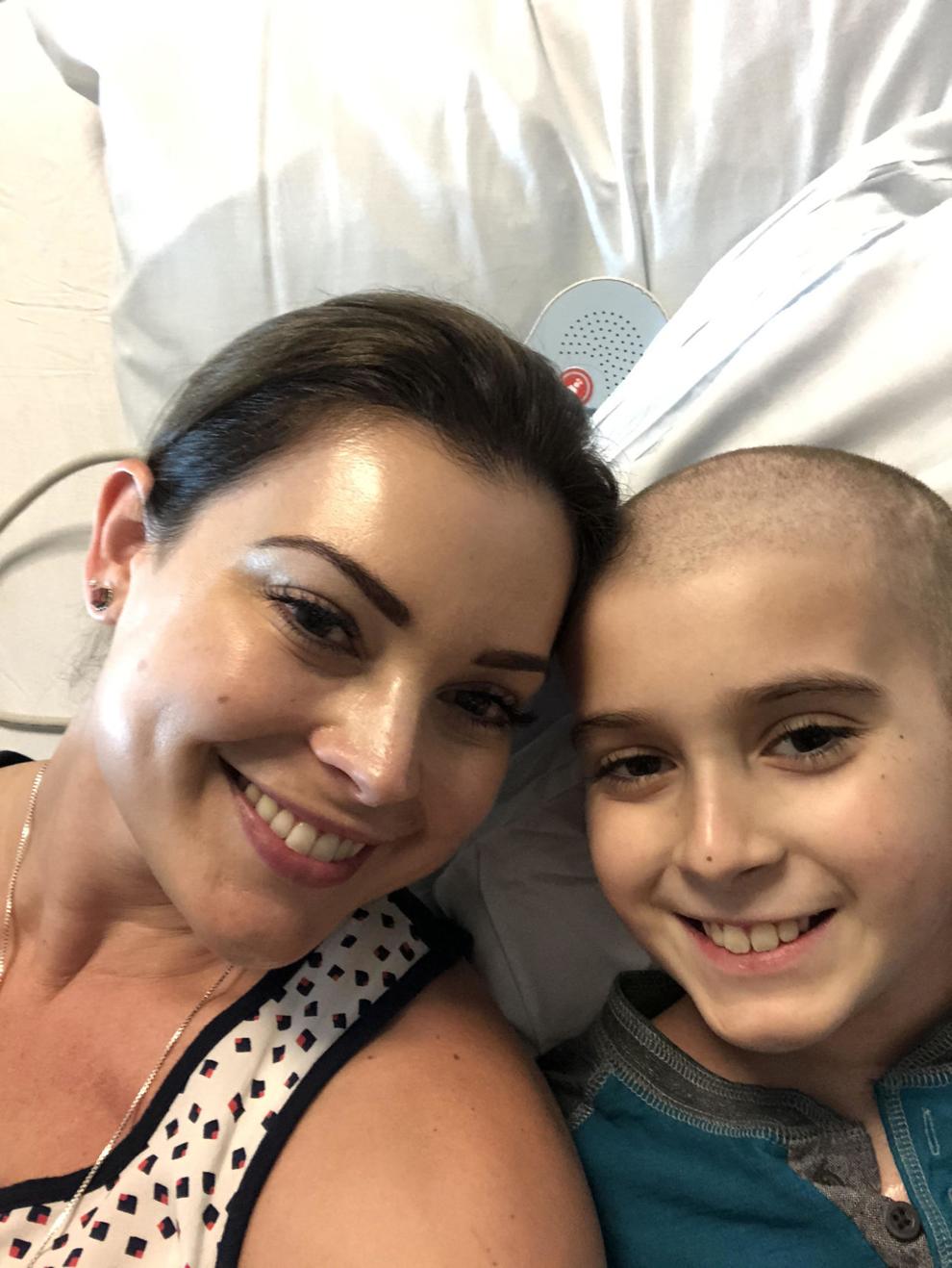 "There isn't much that I can do as a parent for my son as he battles cancer, so these blood drives are a way I feel we're helping in a small way," she said. "Last year, we were informed that the blood drives held at the end of September helped with the Las Vegas shooting victims. That was a good feeling."
Childhood cancer is the leading cause of death by disease in children under 15 years old.