The public debate over the Ahwatukee Farms "agrihood" proposal rekindled this month after eight development and golf experts decried the proposal at a town hall and a spokesman for the company sponsoring it accused them of misrepresentations.
More than 300 people packed the Ahwatukee Recreation Center two weeks ago to hear the speakers call the plan a threat to their quality of life at Ahwatukee Lakes Golf Club.
Organized by Save the Lakes, the "golf town hall" panel focused on True Life Companies' proposal to replace the defunct 101-acre course at Ahwatukee Lakes Golf Club with a development that includes single-family homes and townhomes or duplexes, a private school, a community farm, café and two lakes with a green belt and recreation path.
"We were creating a lifestyle that's good and safe and healthy for you. Don't let something happen that will interfere with your lifestyle," said Wayne Smith, who designed Ahwatukee's original master plan.
Smith warned that "90 percent" of the reason why a golf course was built in the first place at Ahwatukee Lakes was to protect the entire community of Ahwatukee from floods created by South Mountain runoff during storms.
"Much of what was said in (the Nov. 17) STL meeting has already been debunked by not only ourselves but by multiple experts," said Aidan Barry, True Life's executive vice president/development.
True Life in the past has stated that it has some of the nation's top hydrologists advising it on the project.
Barry, asked to comment on some of the statements made at the town hall, was particularly critical of some speakers' assertions about what would happen if 51 percent of the Lakes homeowners approve True Life's request to change the conditions, covenants and restrictions (CC&Rs) governing the golf course.
Attorney-engineer-Realtor Jeff Hall said that the CC&Rs for Ahwatukee Lakes also covered the golf course at Ahwatukee Country Club and that if True Life won approval from to change them, the Country Club course could be sold to a developer.
Hall also told the audience that Ahwatukee Farms "is just a concept," suggesting the consent form does not require True Life to follow through on that particular plan.
"It's a very great marketing piece," Hall said, suggesting that between the additional homes and the private school, traffic would increase to the point where "44th Street would be a logjam from 7 a.m. to 6 p.m. every day."
But Barry ripped those assertions, stating, "We have already explained and showed how the Ahwatukee Country Club will not be affected by the change in our CC&R's."
He also said the consent form homeowners are being asked to sign and the CC&Rs "require that our vision for Ahwatukee Farms stays within six self-imposed restrictions that any zoning plan presented to the City of Phoenix must adhere to.
"These restrictions include a prohibition of apartments, limiting dwelling units to 3 per gross acre and no more than two stories, as well as prohibiting commercial activity with the exception of activity related to the community-supported agriculture feature."
"The zoning plan that will be presented to the city and the CC&Rs are independent of each other," Barry added. "We will have to comply with both of the requirements of the CC&Rs and the requirements of the City of Phoenix.  In other words, the city will not approve a project that is in violation of the amended CC&R's.
 "Furthermore, we have taken the unprecedented step of setting up a third-party escrow agreement which would ensure that upon receiving the 51 percent of signatures needed to amend the CC&R's, a third-party will immediately record the new CC&R's with the County Recorder."
Ben Holt, Save the Lakes president, told the crowd that his group is asking homeowners to sign a new petition that insists only the golf course be restored.
A Save the Lakes member said homeowners can go to savethelakes.weebly.com/sign-the-stl-sos-petition.html or call 480-496-9275.
Several speakers indirectly criticized the former golf course owner, Wilson Gee, who sold the course to True Life for a reported $8.2 million after he turned off the water in 2013 and reduced the course to barren desert.
 "The CC&Rs are amazingly clear and we have a judge who agrees with us that they mean what they say," said attorney Tim Barnes, who is representing two Lakes homeowners in a lawsuit against True Life and Gee.
He was referring to a judge's ruling last summer that declared the CC&Rs require a golf course. The judge has set a non-jury trial for June on Barnes' request that he order that the golf course be restored.
Such an order likely would cost True Life at least $2.5 million, estimated Buddie Johnson, a golf course developer. He cautioned that he had not studied all the particulars necessary for a firmer appraisal.
Barry said, "The judge's decision was simply a preliminary ruling and that is it. The lawsuit against us will be resolved via a trial which is currently calendared for mid-2017."
He also criticized Hall's assertion that traffic would quadrupled on 44th Street as a result of the private school and additional residences.
He noted the school, Desert Garden Montessori has promised to stagger its start times so as not to create a traffic problem with Mountain Pointe High School.
"City officials will have to approve of our traffic plan and determine it falls within city guidelines," Barry said.
"In working with our traffic consultant Kimley-Horn, we believe there is sufficient capacity within the neighborhood to meet the demands of new residents. By offering other creative solutions, such as a traffic-calming roundabout, we are confident that our zoning plan will meet city traffic standards. Any claim to the contrary is simply inaccurate and is being spread disingenuously by some that oppose our project."
The course's deterioration has proven costly not only for people who built their homes next to the course but for the community at large, asserted Realtor Pete Meier, who was vice president of sales for Presley Homes, which built the homes in Ahwatukee Lakes 40 years ago.
"Some of the houses have lost $50,000 to $65,000 in value," Meier said of the adjacent homes. But he added that "the whole community has lost value" by 5 to 10 percent.
Meier also said that homeowners paid a premium for course-adjacent lots and that "they'd rather look at dirt than another 300 homes in their backyard."
Gee complained in the past that he couldn't make a profit off the course, partly because golf was declining in popularity.
But Don Rea, owner/operator of the Augusta Ranch Golf Course in Mesa, ridiculed that notion.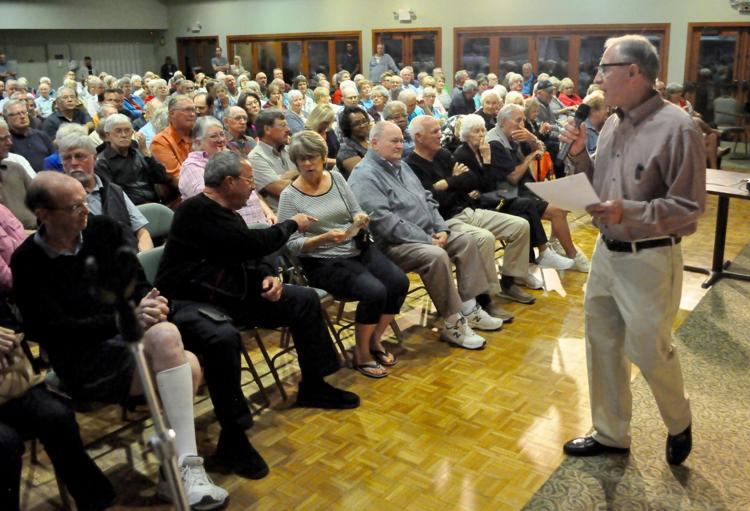 Rea, a member of the Professional Golfers Association board, said there is no doubt too many golf courses were built in the 1980s and 90s and that hundreds have closed.
But he said Ahwatukee Lakes could be run profitably by the right company and that golf remained a popular pastime in the country.
"Look, a lot of restaurants go out of business," he said, "but no one says food is dead."
But Barry said no golf course operator has approached True Life.
"It is confounding to us to continue to hear that some mysterious golf course operators are interested in buying the property when we have not been contacted by anyone," he said. "The truth is, there is no qualified buyer willing to redevelop this property as a golf course. Unless, of course, they want the land for a below market rate price."
A video of the town hall has been posted at