Who wears a lei and sunglasses every Saturday to Ahwatukee events?  Who brings her own therapeutic and entertaining show to these events, dancing with her partner, giving kisses and high fives and even praying for the neighborhood before she waves good bye and is whisked off into her handler's car to the next event?
She is known by at least 200 families in our community, and has another 1,000 Ahwatukee followers who have seen her at events for the past 12 years.
When people see her, the most frequently heard comments are: "She made my week!" "She made my month!" or "She made my year!"  Also, "Could I have your paw-ograph?" "
Our local star is Patty, a 13-year-old blue heeler, also known as a Queensland Heeler or Australian Cattle Dog. This breed has grey, black, white and tan fur with a white star on the head. Patty weighs 35 pounds.
Her owner, May Beth Williamson, was an adjunct architecture professor at Arizona State  University when she decided to resign and pursue other activities, such as airplane building, designing jewelry and being a full-time doggy mom.
When Patty was 2 years old, Williamson Beth thought she'd try to teach Patty some tricks, using Patty's extreme desire for constant food and intelligence as the motivators. Plus, Patty likes the energy of a crowd watching her perform.
I met Williamson and Patty at garage sales nine years ago, when I moved from Gilbert to Ahwatukee.  We have each other on speed dial and call with the cross streets if there's a great sale with good items for 25 cents, or free toward the end.
We also look out for certain items the other wants, like pool supplies, clothes, shoes, games, art canvases, dog food, cat food and vintage items I like to collect.
Williamson said Patty's best skill by far is stopping at every road she comes to. Even if someone has thrown her a frisbee into the street or she's chasing a cat and the cat crosses the street and no cars are coming, she won't proceed until May Beth gives her the go-ahead.
Patty is known by all the Ahwatukee residents who hold annual garage sales. When any of them see her, Williamson hears statements such as: "Can I take her picture?" "Can I take a video of her? I've GOT to show her to my daughter in Michigan.  Could I put the video on Facebook?"
"Sure, anything you'd like," Williamson replies.
Williamson said that if you're single and looking for a date, just get a convertible and a dog. She met her husband, Scott, 30 years ago walking a dog. Now she drives a small Honda  that brings Patty to several garage sales every Saturday, and visits local care centers to cheer up the seniors.  
She and her husband have lived in Ahwatukee for 29 years and love it here.
Like William son, I've discovered great bargains at Ahwatukee garage sales. Not only did I pick up some cool shirts, shorts, pants, and sweaters for 25 cents each; I walked away with a 1947 first edition John Steinbeck book for 50 cents.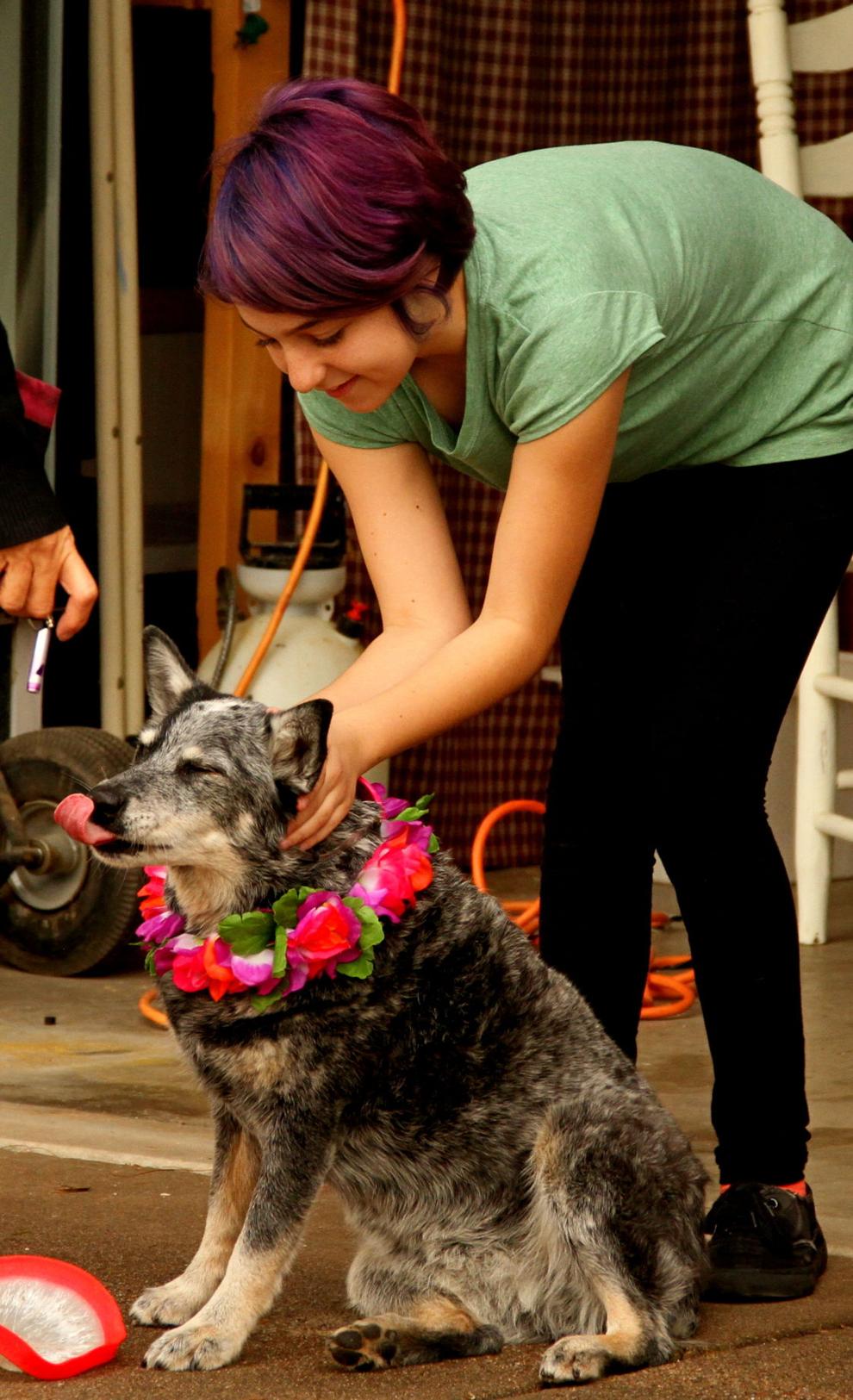 Happy surprises follow you around at garage sales. You get to know your neighbors, spread around a little good will, and get some good deals yourself.
If you have any upcoming charity sales or a neighborhood sale coming up, let me know at garagesalegirl@kellyathena.com.
Happy "Sale-ing!"  Just follow the signs around your neighborhood from 7-11 a.m. Saturdays if you'd like to join what I call "Christmas every weekend."
-Kelly Athena is an Ahwatukee author and artist. Information: kellyathena.com