Last Sunday was a day of celebration at Esperanza Lutheran Church in Ahwatukee as its Children of Hope Child Development Center marked its 10th anniversary.
Among the speakers and honored guests were two teachers who have been with the school from the beginning – Karin Kammerzell and Lisa Krach; preschool director Lynn Hockenberger, also on board the entire decade; and a Kyrene Akimel A-Al Middle School sixth grader who represented graduates of the preschool.
Sophia Klessens, 11, admitted to being a little nervous addressing the crowd in the church sanctuary, but her words touched hearts as she thanked Krach for teaching her to read while in the classrooms for 3-and 4-year-old students.
"I miss my old teachers and I have such good memories here – the toy kitchen, the doll house," she said. "One of my favorite things was learning how to read. When I went to (Kyrene del) Milenio, my kindergarten teacher Mr. (Michael) Blair told me I came from a phenomenal preschool. And I still love to read."
The celebration, which included singing by current and former students, was filled with memories for Hockenberger who recalled the moment she learned the church was committed to opening a child development center.
"When Pastor Steve (Hammer) announced in church one Sunday morning 10 plus years ago that Esperanza would be opening a preschool, I nearly leapt out of my seat. Having been a preschool teacher in the valley for a number of years, I joyfully accepted the invitation to be a part of this new program and ministry at my own church," she said.
"So, I left my established, secure job and took the leap of faith required to open this new preschool," continued Hockenberger. "And we were not without our hurdles, the most significant being the mandated installation of a $70,000 fire sprinkler system, but we persevered."
Pastor Steve, as he is generally called, said the idea for the preschool came from congregation member Cindy Komar in 2006.
"She has a business degree and a great deal of experience in the non-profit sector," he explained. "She's currently the CEO of the Arizona Hemophilia Association. She did some market research and put together a business plan that was then presented to our Congregation Council. That was what got the ball rolling."
The school began with only two classes and 24 children enrolled. Now it serves an average 60 children annually.
For 20-year teacher Karin Kammerzell, the opening of Children of Hope a decade ago corresponded with a desire to get back into early-childhood education after a hiatus while raising her two children.
"When both of my kids were of elementary school age, I wanted to go back and work with preschool age children because that is where my heart is, and I love it so," said Kammerzell, or 'Mrs. K' to her young charges.
Kammerzell, a 17-year Ahwatukee resident who earned her degree in child development at Colorado State University, teaches the 2-year and 3-year-old kids.
"My favorite part of the day is when the kids are dropped off and I get my morning hugs," she laughed. "It has given me tremendous pride over the years to see the children grow, and many times have the opportunity to teach their siblings. In many ways, I become part of their family just as much as they become part of mine."
Krach also reminisced on her tenure at Children of Hope. A former elementary school teacher in California and a preschool teacher in Texas, she said when she heard the school was in the planning, she knew her professional background would be useful.
"In the beginning, my daughter was in elementary school and this was a perfect fit, continuing my love of teaching and still be home for my daughter in the afternoons," said Krach, who holds a master's degree in reading specialist.  
"These past 10 years have brought me a lot of joy," Krach said. "The best part about teaching at Children of Hope is watching the children on the playground start in the 2-year old class and then see them grow and blossom into 4-year-olds. I see so many changes as they enter into my Pre-K class, and within the year become ready to take on the elementary school."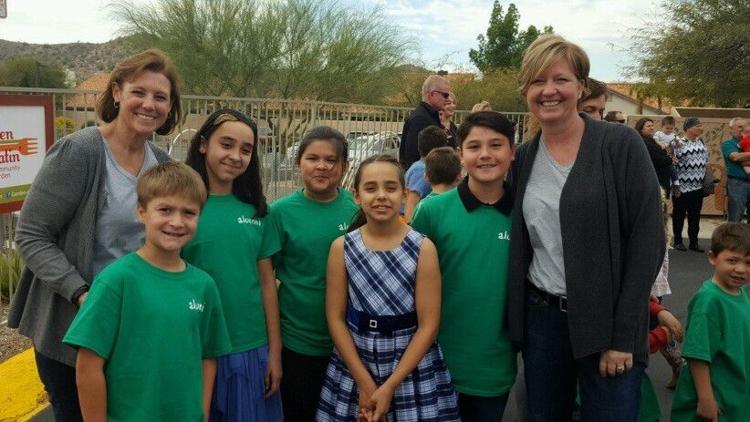 She said another reason she's stayed for 10 years is due to her dedicated colleagues.
"We're all committed to supporting one another and we strive to bring out the best in each of our students."
Hammer, marking his 20th year at the church, still shakes his head at how the congregation never backed down from the idea of starting a preschool even with necessary code and zoning changes for the school, and the $70,000 sprinkler system.
"In retrospect, the easiest thing to do at that point was to just decide not to have a preschool but I don't remember anyone even thinking that," he said. "The logical thing would probably have been to give up just as soon as we found out what would be required, but now I think about all the children who have been a part of the school over the last 10 years and I marvel at the persistence especially of all the people who were part of the beginning."
"One of the things we were committed to right from the start was the understanding that the school was not renting space in the church, but that the school was a part of the church's desire to be an asset to our community. This was particularly challenging when the school was operating at a deficit in the first few years."
He said the partnership between Children of Hope and the church has been manifested in many ways including 'The Garden of Eatin,'" where community members help teach children about growing and eating healthy, fresh food.
"The presence of the children here brings joy and a very positive energy to our campus," he said of the campus at 2601 E. Thunderhill Place in Ahwatukee. "During vacation periods, it seems too quiet, and I am always pleased to have them back in school."
Throughout the morning celebration, speakers lauded the team of teachers, parent board, administration and the church, and their passion and focus for the future for Children of Hope Child Development Center.
"We're are so lucky to have the support of the staff and congregation at Esperanza Lutheran Church and together we make a difference," said Hockenberger.
"At no time in a child's life is the brain growing faster than the between the years of 0 and 5 and I'm blessed each day with the opportunity to build these young brains, preparing these youngest learners for a successful transition to kindergarten and beyond," she said.