Casey Thomas spent his life working toward the lofty goal of playing someday in Major League Baseball.
His journey took him from the Ahwatukee Little League, to Desert Vista High School, to GateWay Community College and to Texas A&M-Corpus Christi University.
Finally, Casey got the shot he had dreamed about last summer. He was drafted by the Oakland Athletics and played 37 games in the Arizona Rookie League – the first rung of professional baseball's stepping-stone to the big leagues.
No one could imagine that Thomas, 24, would suddenly die without warning at his mother's Ahwatukee house on May 1, bringing a sudden end to his professional career and leaving a shocked family to grieve a life that was too short.
The closest Casey would to the major leagues was a moment of silence observed last week at Target Field in Minneapolis before the A's played the Twins.
And on Friday, some Ahwatukee Little League players also held a moment of silence to honor someone who was once their own – as well as a man who was starting to reach the heights many of them aspire to achieve.
"I had 24 beautiful years with Casey, from an infant to a boy to a man,'' said his father Tom Thomas, a professional baseball scout for the A's. "I am more proud of him as a person. The baseball part was secondary.''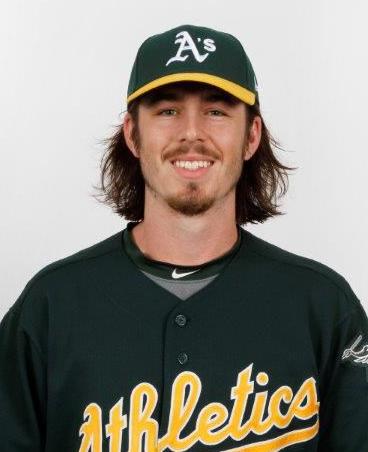 Casey had been playing for the A's in extended spring training, awaiting his assignment to a minor-league team.
Tom Thomas said there was no advance warning that Casey was experiencing any sort of health issue.
An autopsy was conducted by the Maricopa County Medical Examiner's Office and results are pending, according to an office spokeswoman.
"I talked to him on Saturday,'' he said of a conversation that occurred two days before his son's death. "He was very excited. He was playing very well. He told me about a great play he made.''
The A's, Tom Thomas' employer, selected Casey in the 34th out of 40 rounds in last year's draft.
"It was a thrill,'' Thomas said. "He never wanted to be known as a favor. He was a really good player.''
Tom Thomas said Casey was a leader among the other young players in extended spring training, many of whom are from the Dominican Republic and looked toward his son for direction.
"The disappointment is that he can't continue to leave his mark on more people,'' Tom Thomas said.
However, Casey was an organ donor and his father takes some solace in knowing that someone else likely will benefit from his son's excellent eyesight through cornea transplants.
Shaun Chase, a former top Ahwatukee baseball player who played on numerous teams with Casey, spoke about their lifelong friendship at the honorary service before the Little League game Friday at Ahwatukee Field.
 It was part of Ahwatukee's effort to come together as a community and to support Tom Thomas and his family through their grief.
The players wore Casey's number 18 on wristbands in his honor. Brady Thomas, one of Casey's brothers, pitched for the Yankees team. Austin Thomas, another brother, threw out the ceremonial first pitch.
"Casey Thomas was my best friend. We started playing together on this same field,'' Chase said, recalling they both wanted to reach the majors.
"Cherish every moment, because you will never know when someone will be taken away from your life,'' Chase said. "I will always remember that life is precious.''
He said Little League is more about forming lifelong friendships than who won a particular game.
"I want you guys to have friendships, like me and Casey did, because you will have that the rest of your life,'' Chase said told the young players.
Mark Hopkins, a friend and neighbor of Tom Thomas in Ahwatukee, said he was saddened when he learned about Casey's death.
He felt bad for Tom Thomas, who plummeted from elation to heartbreak in a matter of weeks.
"When Casey got drafted, Tom was as proud as he could be,'' Hopkins said. "He had only 37 games under his belt when he died.''
Scott Malone, who coached Casey at Texas A&M-Corpus Christi, described him as having a laid-back, West-Coast sort of personality with a happy-go-lucky attitude.
He said Casey was not the sort of player who got in arguments, or threw his bat in disgust. He would keep an even temper and play the game properly.
Because Casey was "under-sized'' at 5'9 inches tall and 160 pounds, it seemed as if there was always someone bigger and stronger player who wanted to take his place at shortstop.
Malone said he recruited a new shortstop after Casey's junior year and called him into his office, telling him he was being replaced and would play second base instead.
"Casey said, 'You can bring in anybody you want. I'm going to be the shortstop,'' Malone said. "To Casey's credit, he won the job fair and square.''
As a baseball player, he was an excellent lead-off hitter who would get on base and score runs," Malone recalled, adding that he was a solid, reliable fielder.
"He could get the bat on the ball, he was always making good contact,'' Malone said.
Casey hit .322 during his senior year at Texas A&M-Corpus Christi, and hit .258 in the Arizona Rookie League.
Mitch Sokol, a scout with the Washington Nationals who also lives in Ahwatukee, said that he and Tom Thomas are close friends and they would share parenting duties.
"I was thrilled to death for him, that he got a chance to achieve his goals'' with the A's, Sokol said, adding that "it's been gut-wrenching'' to see Casey pass away at such a young age.
From a scout's prospective, Sokol said, Casey had qualities that made him successful beyond his considerable athletic ability.
His unflappable personality was a great benefit in a sport like baseball, where even great hitters fail seven out of 10 times to get a hit.
"He had a very innate ability to put things behind him and keep plugging away,'' Sokol said. "Casey had great makeup. He was a leader of men.''
Casey Thomas is survived by his father, Tom; his mother, Kristy and her husband Mike Hall; by Tom's wife, Cyndi; by his brothers, Austin and Brady; Austin's wife, Candice; by his two sisters, Breanna and Payton; and by his grandparents, Stan and Suzie Hall.