If Ahwatukee Farms becomes a reality, its 5-acre farm would be managed by a Georgia company founded by a college dropout who has become a renown apostle of a unique approach to farming with spiritual as well as agricultural roots.
The company, Farmer D Organics, is named after founder Daron Joffe, a 41-year-old South African native who grew up in Atlanta and quit the University of Wisconsin to buy a farm and further develop the concept of biodynamic farming.
Based on a philosophy of agriculture that was first advanced in the 19th century by Rudolf Steiner, an Austrian philosopher, social reformer and architect, biodynamic farming is defined as "transforming the practice and culture of agriculture to renew the vitality of the earth, the integrity of our food, and the health and wholeness of our communities," according to the Biodynamic Association.
The company defines itself as "an environmentally friendly, socially conscious business that creates farms and products for the earth and its people."
Farmer D Organics develops and manages community farms like the one envisioned for the closed golf course at Ahwatukee Lakes Golf Club.
Its product line is "based on creating and making available the highest quality organic soil and plant foods for growing the most nutritious and delicious food and medicines from the backyard gardener to the large scale organic farmer," according to the company's mission statement.
Joffe, described on his company website as having "a passion for localizing the food system and empowering people to grow their own food," aims to "create farms and products for the earth and its people."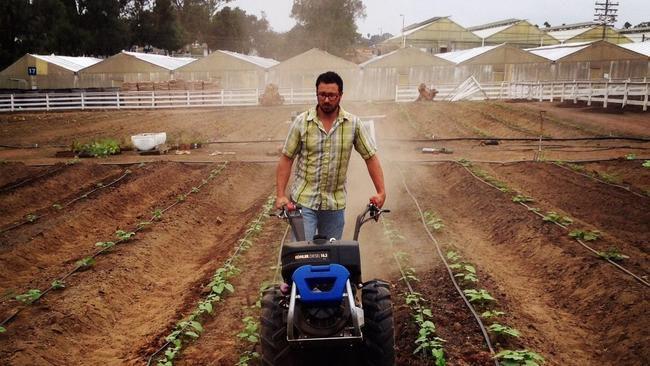 He is the founder of a 25-acre farm that is the centerpiece for Serenbe, a 1,000-acre community outside Atlanta that in some ways is a large version of the Ahwatukee Farms concept.
Serenbe's farm, as well as its overall emphasis on sustainability, is central to its identity—which the New York Times described as "a utopian experiment in New Urbanism being molded out of Georgia red clay."
With about 400 residents living in estate homes, townhouses and cottages, Serenbe boasts three restaurants, a theater, a thriving arts community and a philosophy aimed at protecting undeveloped land from Atlanta's urban sprawl.
"We've found that community farms are not just a great way to grow healthy food and foster a healthy lifestyle, but also a good way to build friendships," said Katie Pigott, Farmer D landscape designer and community agriculture consultant.
The company runs about 30 farms across the country that vary in size between one and 15 acres, although Pigott said it has "some targets that are 1,000 acres."
Although Ahwatukee Farms residents would be allowed to work the farm, "day to day operations are under the supervision of trained management staff" and trained employees, she added. "It will be a profoundly managed entity."
Typically, people pay monthly dues to belong to the community farm and each week are entitled to a basket of varied produce, Pigott explained.
She said Farmer D envisions "a nice partnership" with Desert Gardens Montessori School, which would occupy a 5-acre site adjacent to the farm, because the company wants to teach its philosophy of agriculture in an effort to further its implementation.
"We're landlocked, and we would otherwise have to go off site to do this," Pigott said, adding that the only similar school relationship Farm D Organics currently maintains involves a small garden in the Encinitas School District outside San Diego.
Pigott also stressed that the farm "won't be complete on one day."
"The buildout of the project will evolve," she said, adding that she envisions at least half the available memberships in the community farm would be owned by Ahwatukee Farms residents.
Aidan Barry, senior vice president/development for site owner True Life Companies, said his company will pay for the farm's management until memberships and produce sales make it self-sufficient.
Farmer D Organics currently has no farms in a desert, although some are in the planning stages, Pigott said.
She envisions using greenhouses at the Ahwatukee Farms project "to develop microclimates" for growing some vegetables that can't survive the area's harsh summers.
"There may be some times when there would be no crops, only cover crops," she added, echoing the biodynamic farming mission outlined by the Biodynamic Association:
"Biodynamic farmers strive to create a diversified, balanced farm ecosystem that generates health and fertility as much as possible from within the farm itself. Preparations made from fermented manure, minerals and herbs are used to help restore and harmonize the vital life forces of the farm and to enhance the nutrition, quality and flavor of the food being raised. Biodynamic practitioners also recognize and strive to work in cooperation with the subtle influences of the wider cosmos on soil, plant and animal health."