Two Desert Vista High School graduates are making waves at the University of Arizona for their scientific accomplishments.
Amanda Warner, the daughter of Todd and Lisa Warner of Ahwatukee, and Max  Lagas, the son of Ahwatukee residents Sharon and Phillip Lagas, graduated from Desert Vista in 2016 and 2015, respectively.
Both budding scientists are participating in the  University of Arizona Undergraduate Biology Research Program and Warner is part of a highly selective nationwide program started by the Arnold and Mabel Beckman Foundation, which seeks high-caliber undergraduate research programs demonstrating "a significant commitment" to chemistry, biology or a combination of the two disciplines.
Amanda Warner's story
Warner, 20, said that when she was growing up, "I was always curious about why diseases occurred and how they are acquired.
"It wasn't until a research-based biotechnology class at DV with Mrs. Musheno that my interest was further sparked in cancer and molecular biology.  The mechanisms behind cancer and other debilitating diseases fascinates me and I am eager to join other researchers in finding cures and treatments for patients," she said.
Now Warner, studying a double major in molecular and cellular biology and biochemistry, is working with Dr. Ross Buchan to find a cure for Huntington's disease.
"I have always enjoyed science labs in high school. After spending a summer as an intern at the UDSA working with a molecular entomologist, Dr. Joe Hull, I truly knew research was the path for me," she said.
Huntington's is a devastating neurodegenerative disease that causes brain cell death. It leads to symptoms of uncontrolled movements, dementia and ultimately an untimely death.  
"Currently there is no cure for Huntington's disease, which is one of the reasons why we are conducting research to understand more about it," said Warner, who was involved in a variety of activities at Desert Vista, including four years of French horn in band, four years as a tutor in the Desert Vista Peet Tutoring Organization, three years of marching band and two years with the National Honors Society.
A protein called Huntingtin (HTT) is normally found in healthy individuals; however, this protein becomes mutated, or altered, and functions differently in Huntington's disease patients. It is known in the field that the mutated form of HTT is the cause of Huntington's disease.
"The mutated HTT proteins begin to act like magnets until all of the HTT proteins come together to form a large clump inside cells," Warner said. "It is uncertain whether the aggregation of HTT proteins is the cause of brain cell death or not."
Normally cells have mechanisms that act as trash cans, since they dispose of unwanted or mutated proteins. So why aren't these mechanisms getting rid of the mutated HTT proteins? Previous data from the Buchan lab suggests that the mutated HTT proteins may be aggregating if the disposal mechanisms of the cells are functioning incorrectly.
The Buchan lab uses microscopy to analyze the cellular interactions of proteins. In order to see the proteins and tell them apart from other portions of the cell, the scientists attach a fluorescent colored tag to them.
"It is fascinating to see the glowing green HTT proteins inside live cells under the microscope," Warner said.
As the research project began in May of this year, Amanda looked forward to where the research would go and what it wpi;d reveal about HTT interactions inside the cell.
"What I love most about research is how the data will be used to positively impact people's lives," Warner said.
In the future, the data they discover about HTT aggregate interactions could potentially be used in drug development to improve the outcome of patient's with Huntington's disease.
UofA is one of 12 universities across the U.S. selected for the Beckman Scholars Program and only 21 students were chosen this year. They will perform research for 15 months with a distinguished mentor in their field of interest and will receive over $20,000 to be used as a stipend, for research materials and travel to scientific conferences.  
"I am very grateful for the opportunity to be associated with an outstanding program full of hard-working scientists and receiving guidance from experienced mentors," said Warner, who plans to obtain a Ph.D. in molecular or cancer biology.
Max Lagas' story
Lagas, 22, had two reasons for getting into a scientific career.
He, his mother and grandmother, a brother and two cousins have all been diagnosed with a rare kidney disease called Alport syndrome.
He also has a rare liver disease called Wilson's disease and a cholesterol disease known as hypercholesterolemia.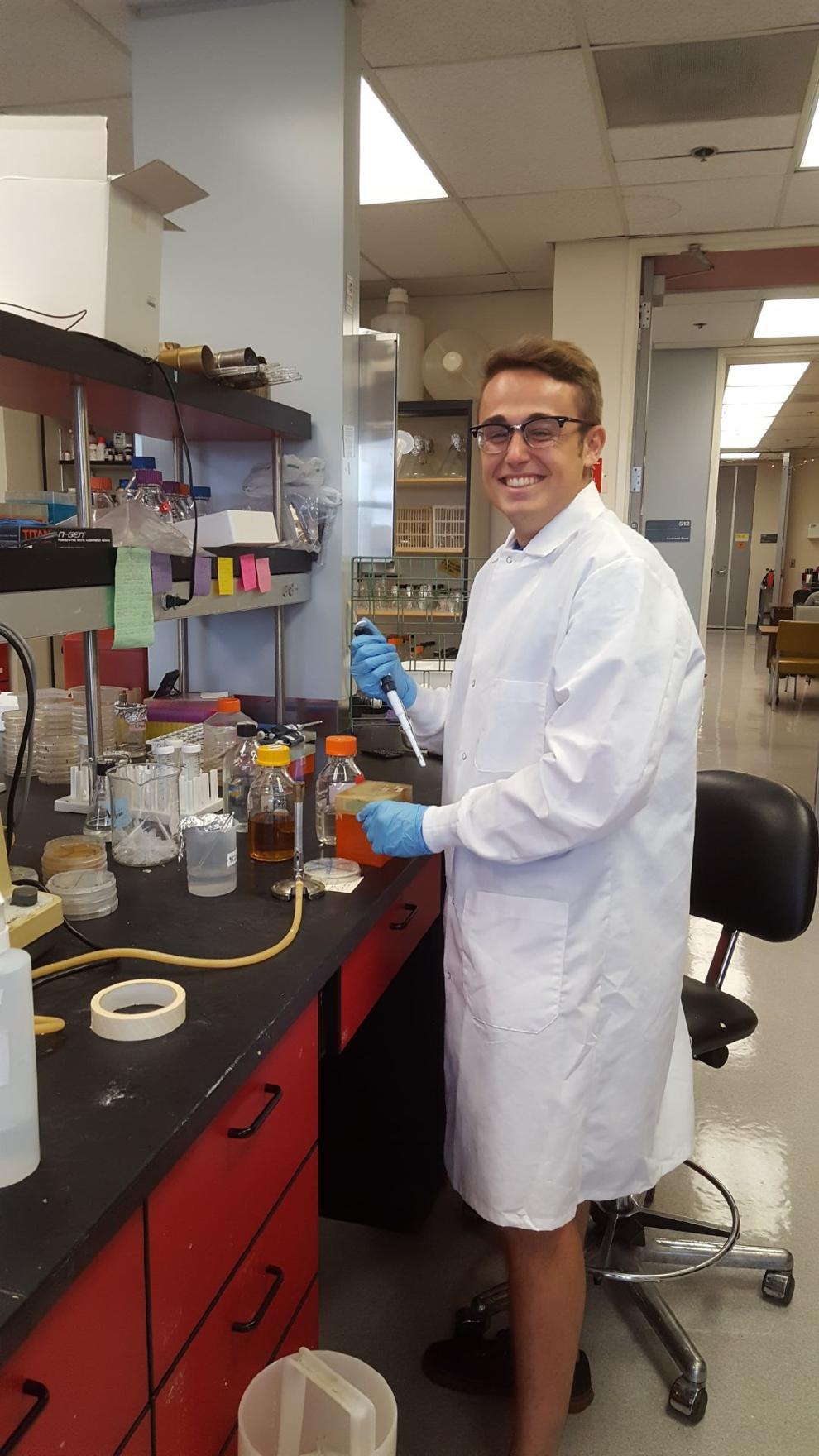 "My doctors and my journey with these diseases inspired me to get involved with science and make it my life's passion. I hope to be a pediatric nephrologist to help kids who have kidney disease go through the same problems I went through and turn their disease into a positive, like my doctors did for me. I am currently applying to medical school.
"Another reason was because of my biotechnology teacher in high school, Mrs. Musheno. She showed me to my love of research and molecular biology," he said.
"I was very involved with Mrs. Musheno's biotechnology class. I not only took the class but also volunteered to help her out during the year with the class, and this helped me to truly understand very early on what it was like to work in a research lab and that I found it incredibly interesting. It inspired me to take molecular biology as my second major in college and get involved in research for all four years of my undergraduate career."
Now he is involved in "very time-consuming" work involving research into Parkinson's disease, a neurodegenerative disorder characterized by a loss of dopamine neurons in the brain that can cause tremors of the hands, stiff muscles, impaired posture and loss of control of movements. It can lead to a loss of voluntary control of motion and affects more than 1 million people in the United States.
"Many experiments take multiple days to complete because IO work with yeast and yeast needs time to grow," Lagas said. "I work with a robot that speeds up the process, allowing me to run five times the samples than I can do by hand, but some experiments will take all week."
The causes behind the death of these neurons is unknown, but there is evidence for environmental and genetic contributions to the disease.
One of the hallmarks of the genetic contributions is Lewy bodies, which are aggregates that for unknown reasons accumulate in dopamine neurons in Parkinson's patients. One protein that is found in high amounts in these Lewy bodies is a-Synuclein.
Researchers believe it to be an important part of Lewy body-related pathology because past research has found it causes interactions in the movement of vesicles around the cell and other related pathways which could be contributing to the pathology of the disease.     
In the Buchan Lab at the University of Arizona, Lagas is studying Synuclein in baker's yeast.
"Being a single celled organism, yeast may seem a strange model to examine a degenerative neuronal disease," Lagas said.
"However, time and again, yeast have proven themselves as a powerful model for understanding human biology. This is in large part due to the ability to easily introduce human genes into them, a remarkable ease to edit the yeast genome, and the fact that all of their 6,000 genes have been identified, almost half of which have clear functional equivalents in humans. Thus, the basics of how a yeast cell works are largely the same as that of a human cell."
Lagas's focuses on identifying cellular pathways in yeast that are interfered with by Synuclein protein aggregates, resulting in cellular toxicity and "ultimately validating if these same pathways are disrupted by Synuclein protein aggregates in humans."
That may enable scientists to one day "develop more targeted therapeutics for patients in the future."
Overall, the Beckman program "has been one of the best research experiences of my undergraduate career," he said. It has allowed me the time that I would not have had during the year to grow and focus on my project."
He said it "has been instrumental in moving my project forward while also making my summer so much fun" because it "not only focuses on lab research, but they have fun activities such as hikes and seminars for us to participate in."
He also said the program "has given me a new-found appreciation for my research and research in general."
Lagas hopes to one day run his own lab while also being a practicing physician. He believes that research is deeply important and every M.D. should be involved. He hopes to use many of the techniques he learned studying Parkinson's in yeast to study kidney diseases in the future.