Although some East Valley strip malls and neighborhood shopping centers continue to struggle with vacancies, the commercial real estate market is picking up steam, said Michael A. Pollack of Pollack Investments.
"We are in a red-hot market right now," he said, adding that he can see a day on a not-so distant horizon when East Valley commercial space will be fully leased and have waiting lists.
With scores of shopping centers in the Valley, Pollack has his share of minor vacancies, but many are 100 percent leased. It's a payoff for the hard work and careful navigation that was needed to make it through the choppy waters of 2008-2011.
"If you were in commercial real estate, you were not in a recession; you were in a depression," Pollack said. "I hope we never see that again."
When Pollack lost five grocery store anchors during those hard times, he retrofitted and instead welcomed in Goodwill retail stores. Other successful shopping center owners with big-box and smaller vacancies have been following that playbook by courting everything from private charter schools to public library branches. Often, church groups and health-care providers find a fit in a neighborhood shopping center.
Pollack said a center that struggles to replace an anchor tenant creates a downward spiral because rents have to be reduced to keep remaining tenants happy.
Vacancies and below-market rents cause troubles for owners who have loans against their properties, said Sean Barrie of Trepp, the New York City firm that analyzes and provides data to the commercial real estate market.
Nationally, according to Trepp, the commercial mortgage-backed securities delinquency rate has been going up for the past four months. But a delinquency rate of 4.6 percent is still a big improvement over the 9 percent delinquency rate that was reached July 2011.
Pollack said the Valley commercial market is shaking out some of the last amateurs that jumped into commercial real estate during the boom years of 2005-2007 to chase rates of return. Before the crash, he added, there was also too much new retail space getting built, often on speculation. "Nobody is building spec retail anymore."
Pollack figures he has bought and renovated between 11 million and 13 million square feet of commercial space since moving here from San Jose, California, 25 years ago. He hunts for functional but aesthetically and financially distressed shopping plazas that can be bought and renovated for the right price.
The key is to avoid centers that have become physically obsolete, he said.
An obsolete center has too many buildings and not enough parking. Another kind of obsolete neighborhood shopping center you probably drive by every day is one in which the backs of the stores face the street. That's inconvenient and annoying for both shoppers and retailers, who want high visibility.
"There are projects that can't be salvaged," Pollack said. "Their useful life is over. They need to be repurposed."
His own 31,000-square-foot corporate headquarters on West Baseline Road in Mesa is a good example of repurposing. As a former Reliable Furniture Store, the building didn't work for retail anymore because the city put a median on Baseline, preventing left-hand turns.
Although not his specialty, Pollack said there are other developers who are eager to level obsolete East Valley shopping centers and build multi-use projects that combine retail with apartments or condos. But it can take a lot of time and discussion with city planners and neighbors to get everyone on the same page, he said.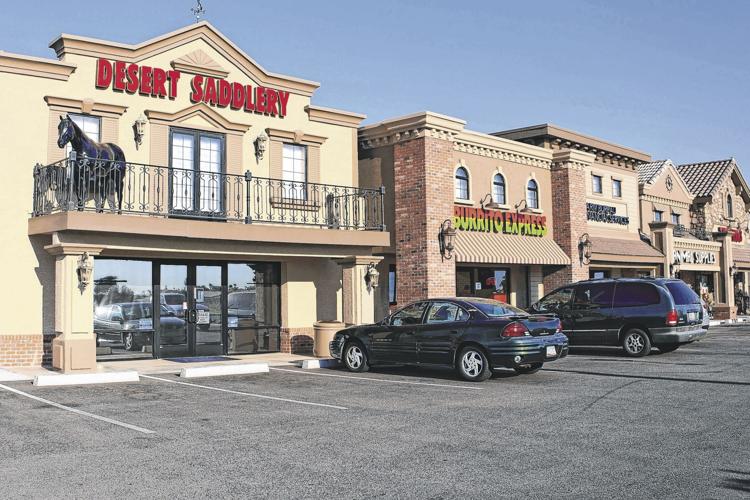 Mesa city officials are considering a proposal from Chicanos Por La Causa Inc. for a mixed-use project on the vacant northwest corner of Main Street and Country Club Drive. The Hispanic community development corporation is planning a five-story building that would include 200 residential units with retail and commercial spaces and parking.
The owners of Dana Park Village Square at Baseline Road and Val Vista Drive want to tweak their already highly successful, 66-acre luxury shopping center to include a four-story, 260- to 320-unit residential tower and a 40,000-square-foot movie theater.
– Reach Mike Butler at 480-898-6581 or atmbutler@timespublications.com.
– Check us out and like the East Valley Tribune on Facebook and follow EVTNow on Twitter.