Three blocks southwest of Sun Ray Park, the repetitive sound of punching bags and bass-heavy music fill a long-empty space off Ray Road.
A new way to get and stay fit has arrived in Ahwatukee.
The Ultimate Fighting Championship (UFC) opened a first-of-its-kind gym in Arizona, occupying a sprawling, two-story space.
Owner Rob Kelly touts the gym's unique offerings.
"The exercises we do here are created from the workout routines of UFC fighters," Kelly said. "You're flipping tires, jumping up and down off of boxes, and all the non-traditional workouts that you don't get at a regular gym."
But you don't have to be Conor McGregor or Ronda Rousey to get the full experience. Kelly said roughly 80 percent of the gym's members are moms and their kids, and the experience is open to people of all ages and fitness levels.
There are no long-term contracts for the class-focused operation.
The 50-minute workouts vary from martial arts training to boxing to suspension training and cardio. It's a full-body workout with a personal focus that Kelly believes is more beneficial than the average routine.
"It's very easy to go into a typical gym and find yourself bored because it's chest day, or it's leg day, or whatever," Kelly said. "This is something that's unique. Every single time you come in you won't go through the same workout twice."
In just over two months, the gym has picked up over 500 members, including some Cardinals and Coyotes players.
UFC fighters Amanda Nunes and Anthony Pettis have also made appearances for meet-and-greets.
But the core of the UFC gym's business lies within the Ahwatukee community.
Connecting with individuals throughout the area allows Kelly to expand his reach and consider expansion to other locations in the future. His current focus, however, is making sure the word gets out about the Ahwatukee location.
"A lot of people think we're a fight gym, but we're absolutely not a fight gym whatsoever," Kelly said. "The majority of our memberships are families, and I think that's great."
Kelly got word of this business opportunity after leaving the hearing-aid business to pursue other ventures.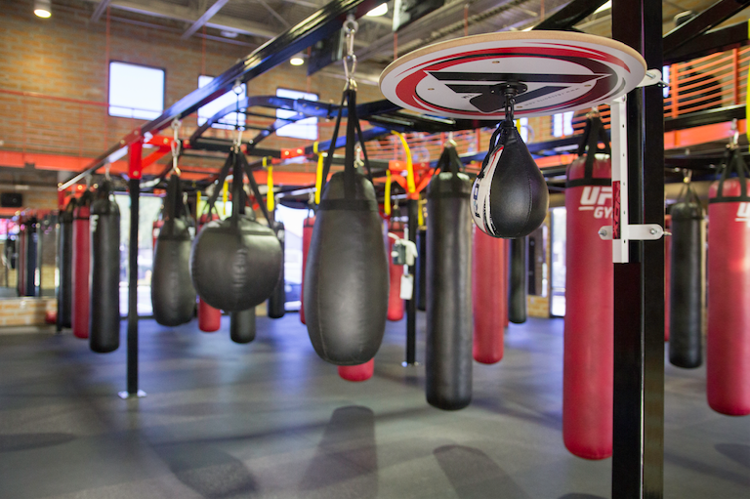 After moving to Las Vegas for three years, the longtime Arizona resident returned home to link up with the UFC and open the gym.
Although he's never competed in mixed martial arts, he's always been a fan.
"I love the sport, I like to work out, and UFC is a great partner," Kelly said. "I just really like the excitement of it. It's anybody's fight at any time and it's not as predictable as boxing sometimes is."
The unpredictability of the workout routines is what sets the UFC gym apart, and that's what drew Kelly to the business opportunity.
The workout experience serves as a reflection of the sport itself: high intensity, constantly changing and thoroughly entertaining. Kelly said that's why so many kids are interested in joining — especially with summer coming up soon.
The official grand opening of the UFC gym will be held 5-9 p.m. Thursday, May 4, at 3830 East Ray Road. UFC Hall of Fame inductee Matt Hughes will be in attendance to teach a Brazilian jiu-jitsu class for kids.
Information: ufcgym.com/ahwatukee or call at 480-496-4269.
– Contact Ryan Clarke at rclarke@timespublications.com. Follow him on Twitter @RyanTClarke.