The South Mountain Freeway continued to seemingly rise from the ground last week as crews installed part of the massive skeleton for one of 40 bridges along the 22-mile thoroughfare.
Crews installed 17 girders for the bridge at the future interchange of the freeway and 17th Avenue and started on Monday to do the same thing at the freeway's future interchange at 40th Street.
There were other developments related to the freeway as well:
• Pecos Road between 17th Avenue and 24th Street will be closed from 10 p.m. Friday, July 14, through 5 a.m. Monday, July 17, so that the interim road can be prepared. This means the speed limit along the entire stretch of Pecos will now be 40 mph.
• In a meeting with some residents of Foothills Reserve and HOA board members Randy Gallagher and Galen Schliem last Saturday, two representatives of freeway developer Connect 202 Partners went over some details surrounding future construction plans.
Among other things, Ryan Clickner and Mark Fisher told the HOA residents and board members that Pecos Road will be permanently closed west of 17th Avenue as soon as the Chandler Boulevard Extension opens later this month.
The interim Pecos Road now being used by motorists will remain open until traffic can be shifted onto the freeway, which is scheduled to open in late 2019.
Arizona Department of Transportation spokesman Dustin Krugel said each girder laid for the first freeway bridge spans 145 feet and weighs approximately 131,000 pounds.
"It takes about an hour for the two 450-ton cranes to hoist and place a single girder," he said.
An ADOT release said the 17 girders that were installed weigh as much as two Boeing 747 jets.
Crews are scheduled to return in August to pour concrete to form the bridge deck at 17th Avenue – work that likely will occur overnight, according to the two Connect 202 Partners representatives.
Foothills Reserve residents during the half-hour meeting asked Clickner and Fisher about dust from construction, claiming conditions are "like a dust storm" around Pecos Road and 40th Street.
But Clickner said work crews' heavy use of water kept dust within air quality limits set by state and county environmental agencies.
"We have had 40 air-quality people on Pecos and we haven't had a single violation," he said. "Anyone can show up anytime and find something wrong somewhere. We will do what we can to control the dust."
Crews typically wait till nightfall to pour concrete because high daytime temperatures spoil the mixture.
Clickner also told Foothills Reserve residents he would like to see sound walls installed as soon as possible, but that nothing could be done until grading is completed.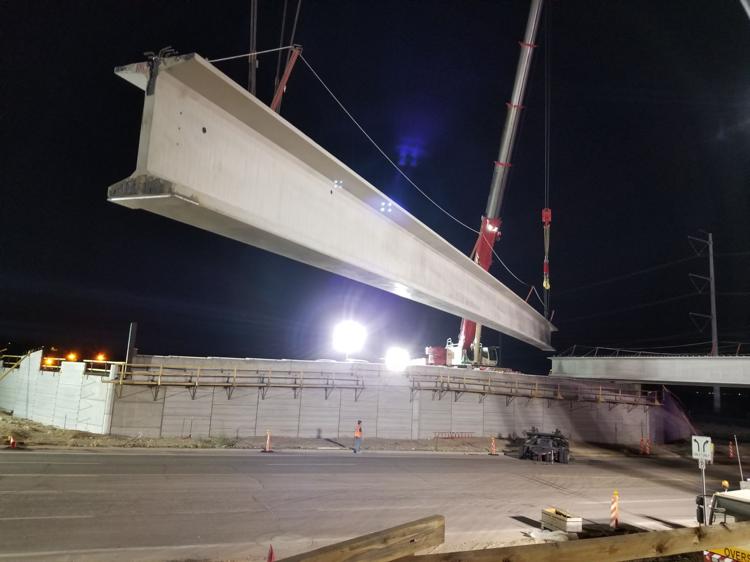 He said the walls will be 16-20 feet high and will be built between 100 and 140 feet from the houses in the area.
"I'm trying to build the sound wall as fast as I can," he told residents.
At a cost of $1.77 billion, the freeway is Arizona's most expensive highway project in history.
It will connect the I-10 interchange at 59th Avenue in West Phoenix with the Chandler Interchange, allowing I-10 traffic to avoid downtown Phoenix and the heavily used Broadway Curve.
Various groups, led by Ahwatukee-based Protect Arizona's Resources and the Gila River Indian Community, are trying to block the freeway in a case before the U.S. Court of Appeals for the Ninth District.
The court is considering oral arguments in the case for October, but has refused requests by the plaintiffs to stop freeway work until the appeal is decided.