The way Kyrene schools Superintendent Jan Vesely sees it, teachers as well as students deserve recognition.
And some Ahwatukee business owners couldn't agree more.
Last week, Vesely visited all 25 schools in the district to hand out special recognition certificates to one teacher and two students in each.
Local businesses have partnered with the district to create a quarterly recognition program for teachers and students who have met individual and school goals.
Supporting the effort are Bashas grocery stores, HomeBenefitIQ corporate real estate benefits director John Kloc and Dale Fedewa of Urban Air Adventure Park.
Kloc distributed gift cards and Fedewa donated one-year passes to the students that will give them one-hour of free jumping a week at his entertainment complex on Ray Road and 48th Street.
"The new program is in recognition of the critical role that teachers and school personnel play in student achievement and the vital influence they have on the future of the community," Vesely said, adding:
"Recent polling suggests that the majority of Arizonans recognize the importance of education, and ensuring fair compensation for the work our teachers do day in and day out to educate our kids must be a high priority for our state.
"Kyrene will continue our commitment to addressing teacher compensation within the limits of the funding we receive from the state, but a program like this acknowledges in some small way, that we appreciate all that are teachers do. And, we are happy to extend our recognition program to our students, who are working hard to meet individual goals as they catch up and move up in their achievement."                                      
Fedewa praised the students who were recognized for "setting an example for all in their schools" by working "incredibly hard" and "taking their studies to the next level."
Students who were recognized included:  Aubrie Estrada-Schultz, Elijah Pacheco, Bennett Pulliam, Julia Liu, Smith Salas, Ja'Ray Scott, Iliana Lugo, Jalyssa Engel, Shailynn Jelks, Tate Friesth, Zion Jones, Christian Olague, Kamiah Foster, Reya Periasamy, Grayson Barajas, Jo Jo Fang, Christian (Xio) Martinez, Dayani Lujan, Aiden Salaiz, Brayden Wilkinson, Parker Basehore Fountain, Yahan (Cece) Zhang, Tyler Aday, Will Ahumada, Jared Stone;
Also, Daniel Campa, Taylor Twellman, Noah Ames, Josh Beyer, Avery (Jemma) Seats, Carter Fox, Fernando Frias, Dylan Demauro, Trae Peters, Safiya Underwood, Armani Foster, Aksel Skudal, Michael (Colby) Carbajal, Joe Wilson, Elizabeth Paul, Kaidon Green, Hailey Trimnal, Camille Bickham, Carston Kieffer, Andrea Tackers, Christian Cattron, Antonio Arce, Davion Crawford, Jayrd Exparza and Emily Wong.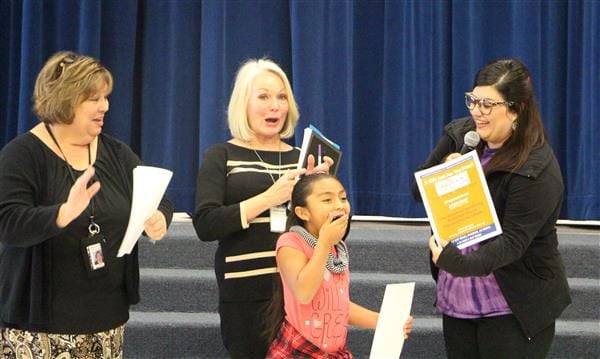 Recognized teachers were: Katy McGill, Brisas; Eileen Byrne-Quinn; Cerritos; Cynthia Anderson, Cielo; Cindy Denton, Colina; Colleen Gentry, Esperanza; Hilary Strauss, Estrella; Mark Collins, Kyrene Traditional Academy; Melissa Garibay, Lagos; Sam LaCava, Lomas; Kyleigh Boyd, Manitas; Patricia Gale, Mariposa; Sylvia Rios, Milenio; Kirstin Williams, Mirada;
Also, Megan Nowak, Monte Vista; Peg Griffin, Ninos; Maria Salas-Murphy, Norte; Tina Tong,  Paloma; Judi Rivera, Sierra; Lisa Kiefer,  C.I. Waggoner; Sujata Ryan, Akimel A-al; Tara Camarano, Altadena; Scott Phillips, Aprende; Shawndra Reid, Centennial; Dan Crawford, Kyrene Middle School; and Alison Christian, Pueblo.