As candidates for both major parties battle it out for Aug. 28 primary election victories in the Legislative District 18 House campaign, the biggest battle for bucks has been for the election that won't occur until November.
The campaign war chests amassed in the LD18 Senate race between Republican Frank Schmuck and incumbent Democrat Sean Bowie total more than twice the cash raised by all seven House candidates combined, according to reports filed with the Arizona Secretary of State.
From the day after the Nov. 8 General Election in 2016 through June 30 of this year, Schmuck has raised $184,710 and Bowie, who defeated him two years ago, has raised $148,834.  
As of the last campaign report, both candidates' campaign treasuries were almost dead even: Schmuck began the third quarter of 2018 with $125,745 in the bank while Bowie had $125,545.
Schmuck, who received only $1,000 in political action committee donations in that 20-month period, reported loaning his campaign $55,000 and raising $51,471 in donations from family members and personal contributions. He also carried over $24,896 from his previous campaign.
Bowie raised $2,500 from personal and family contributions but claimed $35,069 in PAC donations, $99,443 in individual contributions and another $11,820 in small donations of $50 or less.
The next and last filing before the Aug. 28 primary – covering contributions and spending from July 1 through Aug. 11 – is due by Aug. 20.
Early voting in the primary began last week and registered voters have until Aug. 17 to request an early ballot.
Campaign financial reports filed by the state House candidates in LD 18, which encompasses Ahwatukee and parts of Tempe, Mesa and Chandler, show Republicans hold the top and the bottom positions when it comes to totals raised.
Incumbent Jill Norgaard reported $86,371 in donations while Don Hawker reported $653, most of that a $500 loan he made to his election committee.
Incumbent Tempe Democrat Denise "Mitzi" Epstein ranks second among all seven candidates in the amount of money collected for the campaign so far with $64,531 in total donations.
Chandler housewife Farhana Shifa has raised $35,195, making her campaign the second best funded among the four Republican candidates for the LD18 House seats, while Tempe lawyer-accountant Greg Patterson has raised $9,790. Shifa also got an early start on her campaign, raising about a third of her total last year.
But Norgaard dwarfed all the other House candidates in money collected in 2017. She started last year with a carryover of $13,603 and raised $41,551, including $22,646 in individual contributions and $18,800 in PAC money, to start out this year with slightly more than $50,000.
Among the two other Democrats, both from Chandler, Jennifer Jermaine has collected $29,312 in donations while
LaDawn Stuben reported $20,809.
But of the total Stuben has raised, $16,995 came from the Citizens Clean Elections Fund. As the only Clean Elections candidate in the LD 18 race, Stuben was required to forgo special interest and high-dollar donations and collect at least 200 qualifying contributions of $5 from registered voters to secure that funding.
Among the House candidates, Norgaard and Epstein have received the most support from political action committees, according to their campaign reports.
Norgaard reported a total $35,700 in PAC donations while Epstein has received $12,250 – including, in some cases, money from the same PACs that donated to Norgaard's campaign.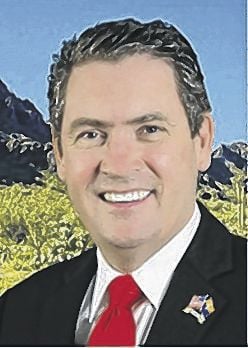 Shifa reported no PAC support. Aside from $1,260 in personal and family contributions, Shifa's war chest consists entirely of contributions from supporters, mostly people who donated less than $200.
Jermaine reported the most support from family, with $16,420 in donations from relatives – mostly her parents in Las Vegas and a sister at Stanford University in California. Her sole PAC contribution came from the Arizona List PAC, a group of pro-choice women based in Tucson.
The vast majority of funds collected so far by Patterson, who was a state legislator in the 1990s, also came from individual donors, with a total $1,050 coming from three PACs.
Raising money is a necessary distraction, according to the two LD18 House incumbents. "There is too much money in politics," Epstein said. "Fundraising is too big of a part of running for the state legislature."
Norgaard also noted, "It does take a lot of time to raise the funding if you are a traditional candidate, which means you raise the money for your campaign."
But both candidates stressed that money is almost an indispensable part of a political campaign.
"It is very important to communicate with voters and create a dialogue so I can listen to voters, as well as describe my positions," Epstein said. "That communication requires some spending. I believe in smart spending, not more spending.  Whether it's taxpayers' funds or campaign donations, I work to get the most value out of every dollar."
Likewise, Norgaard said, "Campaign funds assist candidates with getting their message out via events, signs, mailers and advertisements."
Arizona is one of only five states that have a vehicle for publicly funded campaigns involving legislatures.
Rather than spending their time hitting up lobbyists and lawyers for the $840 maximum contribution allowed under Arizona law, "clean" candidates for the Legislature instead collect $5 donations from 200 friends and neighbors.
Legislative candidates then receive $17,000 in a primary and about $25,500 in a general election campaign.
For a while, Arizona's clean elections law also tried to level the playing field by allowing "clean" candidates to get more public funds to all but match a big-spending candidate.
But the U.S. Supreme Court in 2011 voided that provision, with a majority of justices ruling that it "imposes an unprecedented penalty on any candidate who robustly exercises First Amendment rights."
And clean elections don't prevent special interests from trying to influence voters.
Norgaard noted that while candidate campaigns must identify their own ads, some special interests "send mailers for and against candidates that are not authorized by a candidate."
"If you want to know the sources of the mailer, read the fine print on the bottom and research that group," she said.
Up through June 30, Epstein led all seven House candidates in campaign spending with $36,414. Norgaard reported expenses totaling $20,786 while Shifa reported spending $17,406. Falling in fourth place for campaign expenditures was Jermaine, with $15,131.
But no one in LD18 has spent more so far than Schmuck, who reported campaign expenditures totaling $58,964 to Bowie's $25,585. Almost all of Schmuck's spending is broadly categorized as "in kind" expenditures.