The city of Chandler and the Ahwatukee Foothills would look and feel very different today if Dr. A.J. Chandler and famed architect Frank Lloyd Wright had a little better luck and timing.
If they'd succeeded, wealthy winter visitors—guests of the lavish San Marcos in the Desert resort—would be sipping drinks tonight and looking down at twinkling lights radiating outward from 32nd Street and Chandler Boulevard.
They and tens of thousands of other snowbirds and East Valley residents would be visiting a Taliesin West nestled in the San Tan Mountains instead of North Scottsdale.
But not even visionary giants like Chandler and Wright could turn back the tidal wave of the Great Depression. And as history so often proves, slight twists and turns and ill-timed insults can send well-laid plans ricocheting off in unpredictable directions.
The two men became business partners in the late 1920s. After they met for the first time, and Chandler had outlined some of his grand schemes, Wright wrote a letter back, which is recounted in his autobiography:
"I see in you a man worth a man's time to work one's best with."
Hungry to know more about this ultimately star-struck relationship, Jody Crago, administrator of the Chandler Museum, and associate Nate Meyers, curator of collections, went to work.
They dived into the extensive archives of the Frank Lloyd Wright Foundation and tracked down descendants of those who knew the men.
They compiled their findings recently into a fascinating exhibit/presentation titled "Frank Lloyd Wright and a New Vision for Chandler."
Even though Dr. Chandler and Wright never connected on a building for the ages, Crago and Meyers came to realize that Wright's experience in the lower Sonoran Desert was hardly wasted. In fact, it informed many of his most influential ideas.
"This was some of the most fun research we've ever done," says Crago. "You really get a sense of both Chandler and Wright. It started out as the stereotypical designer-owner relationship, but I think they grew to truly enjoy each other's company." 
What could have been
Broke, going through a divorce and in the company of Olgivanna, who became his third and last wife, the flamboyant Frank Lloyd Wright swept into the Valley for the first time in 1928 to work as a consultant on the Arizona Biltmore Hotel near 24th Street and Camelback Road.
The project's lead architect, Albert Chase McArthur, a former student, was using a variation of Wright's innovative textile block system to build the hotel, which probably irked the master. Wright only spent four months on the project.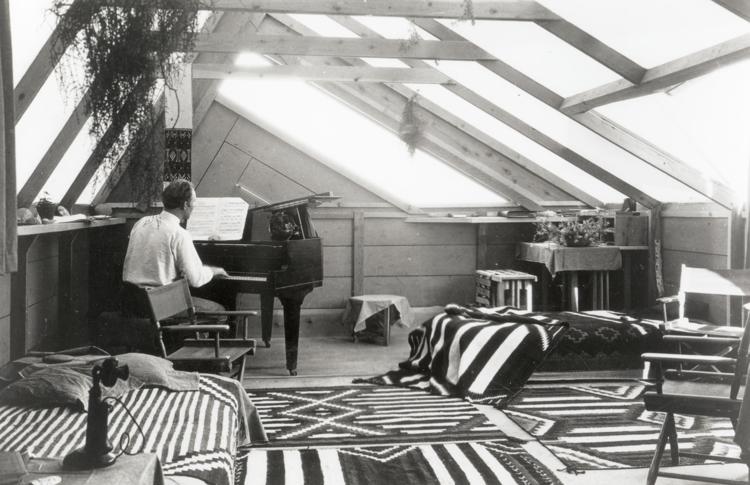 Hearing that Wright was in town, A.J. Chandler invited him over to the San Marcos hotel.
By this time, Chandler had amassed 18,000 acres of land and had transformed most of it into a verdant oasis, crisscrossed by an orderly network of canals. The San Marcos was a winter playground for the rich and famous.
Chandler wanted his crown jewel to be San Marcos in the Desert, rising from 1,400 acres of land he owned around the South Mountain foothills. After visiting the site, Wright eagerly accepted the commission.
According to Crago's research, Wright said: "There could be nothing more inspiring to an architect on this earth than [this] spot of pure Arizona desert ... at last here was the time, the place, and in Dr. Chandler, the man."
Chandler borrowed $900,000 against the San Marcos. He used some of the money to renovate the 15-year-old hotel, and set aside the rest for the new project. Wright got busy drawing so that Chandler could woo other investors.
Returning to Chandler in January 1929, Wright hit on the idea of building a camp on the site of the new hotel to house himself and his draftsmen.
His tent-houses at Ocatilla Desert Camp featured low wood walls and asymmetrical canvas roofs angled to the catch the desert sun.
In photographs of the camp, widely published in architectural journals back in the day, it's easy to see the lines of Taliesin West forming in Wright's mind, says Crago. Wright and his entourage stayed at Ocatilla until May, when they could no longer stand the heat, rattlesnakes, tarantulas and scorpions.
Wright's stunning final vision for San Marcos in the Desert probably exceeded even Chandler's wildest dreams.
Unlike the Biltmore, which used patterned concrete tiles as a decorative facade, Wright's blocks were meant to be structural. They were textured to look like the ribs of a saguaro cactus.
Built into the side of a mountain, the geometric structure—accented with copper and glass—featured three terraced floors of guest rooms on each wing. The terraces allowed the roof of each level to serve as a garden view for the level above.
Other plans
Excited by the way Ocatilla Desert Camp turned out, and seeing how America was turning into a mobile society, Wright designed the San Marcos Water Gardens, a quirky, down-scale motor inn resort.
It would have been built between Arizona Avenue and Delaware Street, an area now occupied by the Chandler Downtown Library and its grounds.
The concrete, wood and canvas cabins, plus a lodge with a dining room and kitchen, lined the banks of a small system of canals reminiscent of Chandler's irrigation network.
These water and automobile-friendly design features later became an integral part of Wright's celebrated Broadacre City, his vision of the ideal suburban development.
Crago says Dr. Chandler quibbled with Wright in correspondence about the impracticality of canvas as a desert building material, but Wright never budged, saying only fabric could give the quality of light he desired.
Not caring for the Mission Revival style of the original San Marcos, Wright also drew very detailed exterior/interior plans for the hotel's Prairie-style makeover.  
Wright brought his students down to the southeast Valley in the winter of 1935 to work on an intricate, 12-by-12-foot scale model of Broadacre, which represented a four-square-mile community. Dr. Chandler let them take over La Hacienda, a former polo stable he had converted to hotel rooms.
As the Great Depression wore on, it became clear to Wright and Chandler by 1936 that they'd never raise the money for San Marcos in the Desert. They planned a smaller hotel, Little San Marcos in the Desert, in the foothills of the San Tan Mountains.
Wright loved that desert landscape, too, and he let it be known that the area would be a fine place to build the winter home of Taliesin. Crago says J. Lee Loveless, mayor of Chandler then, organized a group of business leaders to buy land for Wright's western school of architecture.
Saying goodbye
The architect survived the Depression, and thrived afterwards, but his Arizona benefactor wasn't so lucky. San Marcos bookings dwindled. Dr. Chandler couldn't repay that big loan. He lost control of the hotel.
Wright had planned to return to La Hacienda the following year, but the new San Marcos president, Bobby Foehl, was in no mood to let Wright's group freeload for four winter months.
Furious, Wright immediately began looking for a new home for Taliesin West.
Dr. Chandler wasn't exactly destitute. He still had a stash of personal cash, and he was given nice lodgings at the San Marcos. Frank Lloyd Wright, displaying what some might call uncharacteristic sympathy and gratitude, contacted his friend.
Wright and Chandler drove around the East Valley one day, while the architect identified suitable building sites and discussed plans for a proper personal residence. Afterward, an aide asked Wright why he'd done it, knowing that this plan—like everything else—would never happen.
As the associate (and two historians a generation later) listened, Wright said:  
"Yes, but we gave him a wonderful morning, didn't we?"
– Reach Mike Butler at 480-898-5630 or atmbutler@ahwatukee.com.