A 90-year-old Ahwatukee widow is facing the possibility of six months in jail and a $2,500 fine because a neighbor and the city say her two 20-pound dogs bark too much.
Dolly Dentz of Ahwatukee Lakes said her six-month ordeal has been so stressful that she has broken down in public worrying about her fate, which ultimately could be decided at a trial in Phoenix Municipal Court.
How Dentz ended facing a charge in the same crime classification that includes drunk driving, domestic violence and graffiti vandalism dates back to late last year, when her next-door neighbor, Jerry Angerman, complained to Dentz about her dogs.
Bob Dentz, her son, gave her Fluffy and Boots about two years ago.
And that's about the extent to which Angerman and Dentz agree.
Dentz, who at one point told her son she wanted to move and sell the home she has owned for 37 years, said that Angerman approached her on the street last December. She said he told her that her dogs were barking too much and that she needed to get them to stop.
"They really aren't barkers," she said. "They'll bark if someone walks by or if they see a rabbit, but that's all."
Bob Dentz said Angerman made his mother so upset she cried.
"He said he was going to call the police and have the dogs taken away from us," her son said.
Angerman disputed their version, saying he had gone to Dolly Sentz's  home to talk to her about the dogs.
"They were ok for a time," he said of the dogs, adding that he and his wife were friends with Dolly Dentz before the dispute began.
While the dogs had been quiet for nearly a year and a half, Angerman said, late last year "they started barking and there's one of them that has a real problem."
"One of the dogs is so hyper, I don't know how she can live with it. We can hear the dog when we're in the house and the doors and windows are shut," Angerman said. "We live in a retirement community and we have a right to have some peace."
Angerman said after he explained the problem to Dolly Dentz, "She said that's what dogs do: bark. I said I understand because I've had a lot of dogs in my lifetime….Then she slammed the door in my face."
Later in December, Bob Dentz said, he and Angerman ran into each other outside Dolly Dentz's home.
Bob Dentz said, Angerman "came up to me and says, 'We got a big problem here.' I didn't even know who he was. He said, 'Those dogs are keeping us up every day and every night.' I asked him 'How about last night?' and he said they kept him up way past midnight and I said, 'You're full of it because the dogs were with me last night.'"
Angerman said Dentz was immediately confrontational and even menacing.
"The son came up and I asked him, 'Would you please have your mother do something about the dogs. We know her well and she's been a good neighbor until she got these two dogs. He got right up in my face and said, 'You monitor whatever you want. I'll get you.'"
He said Dolly Dentz goes out every Saturday night and the dogs bark until she gets home.
Dolly Dentz called the assertion untrue, adding, "I wish I could go out every Saturday night." Her son said Angerman has been the menacing one.
Early this year, a police community action officer arrived and told her "there had been a complaint about my dogs and that I'd be getting a letter in the mail," she recalled.
A few weeks later, the "letter" arrived. It was citation for failing to keep Fluffy and Boots quiet.
Both Angerman and Dolly Dentz say the subsequent four months have been stressful.
As the city recommends generally in barking dog case, Angerman began keeping a daily log on what time the dogs bark every day and for how long.
Dentz and her son said they received a letter telling them to appear for mediation and they threw it out. "We didn't know what it was," Bob Dentz said.
Then they decided to seek a lawyer – only the first one they contacted told them the fee would be $6,500 and that they probably would lose in court. Another told them the same thing, but offered to handle the case for $4,500.
Eventually, they got a court-appointed lawyer and went mediation conference.
"They wouldn't even sit in the same room with us at the mediation center," Dolly Dentz said opf Angerman and his wife. "The mediator had to go back and forth between two rooms."
"We agreed to get barking-dog collars, keep the doors closed overnight, and said if they bark, we'll stop them," Bob Dentz added, "but Angerman said he wanted her to plead guilty. He wanted her on probation."
Angerman said he is not allowed to discuss what went on mediation, saying only, "It didn't work out."
"We did everything the city ordinance says we need to do and they just ignore us," he complained. "She keeps asking for a continuance. I don't know what else to do."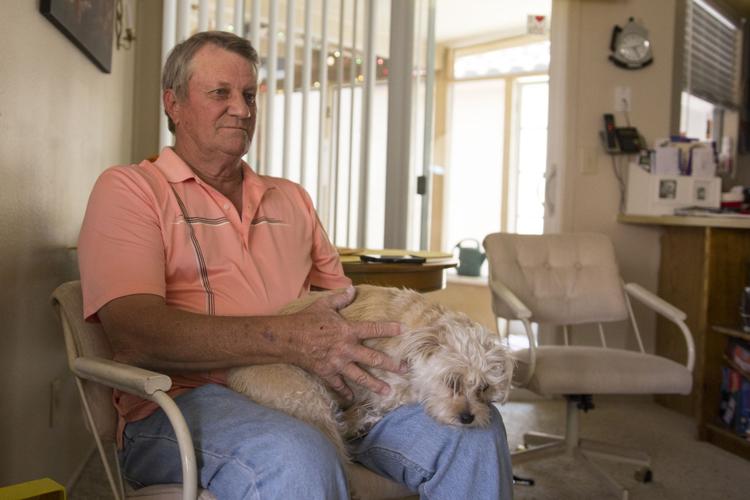 Since April 10, Bob Dentz said, he and his wife have been keeping Fluffy and Boots fulltime at their home.
Sometimes brings them over to his mother's house for a couple-hours visit. Most times, she visits them at his.
"I miss them," she said,
To reach the level of a citation, the city requires three complainants – no more than two from the same house. Angerman and his wife are listed as complainants, as is the neighbor who lives on the other side of Angerman, two houses away from Dentz's.
Bob Dentz said Angerman's complaint should be with the owner of a dog across the fairway behind their home. Angerman said that dog starts barking only when Fluffy and Boots do.
Dolly Dentz said she has bark collars – which send a small shock when th dog barks – but she isn't using them now because they stay with her son most of the time.
Angerman said, "I'm sorry it's gotten to this point. I'm not 90 but I'm close. I have a life to live."
He claimed he can't drop the complaint because "it's out of my hands in in the hands of the court, nothing can be done."
Matthew Heil, a city Law Department spokesman, said the case could be dismissed "if the matter had been resolved to the satisfaction of the parties."
The city filed 25 barking dog complaints last year, he added.
Bob Dentz said that when he asked Angerman to drop the case, he complained that he would then have to start the whole process over again if the dogs started barking.
"This isn't right," Dentz said. "We're in court with drug dealers, shoplifters, people who have car accidents with no insurance. My mother is not a criminal and she's being treated like one."
Added his mom: "In Connecticut or New Jersey, this would have never made it this far."