Football draws a full circle for Arizona Rattlers quarterback Cody Sokol, but the circle is imperfect — featuring sharp turns and odd curves as if a child drew it.
With a baby on the way and a rekindled career on the gridiron, Sokol is hoping his haphazard journey can serve as an inspiration for the next generation now that he is playing and starting locally for the Arizona Rattlers.
"Football is not the most important thing in the world," Sokol said. "But it's something that's given me paths and great opportunities and developed me into the man I am today."
Sokol's football career began at Desert Vista High School, where he led a talented and tight-knit team into his final year in a Thunder uniform in 2009. Desert Vista's fortunes faded when Sokol broke his foot in the second game of the season.
After sitting out the rest of the season and watching his team finish 2-8, Sokol's scholarship offer was pulled by Oregon State.
He had few options in the football realm, so he turned to Scottsdale Community College, where he had an opportunity to prove once again that he was worthy of a Division I program.
"I learned real quick that it's a business," Sokol said. "Not everything they promise you is kept — you've got to make your own recruiting journey."
Faith instilled by his high school coaches kept Sokol grounded during a dark time. His involvement in the Fellowship of Christian Athletes is something he points to as a guiding light when things weren't going his way.
He also had faith in his abilities is a quarterback, and those prayers were answered quickly by the likes of Wyoming, Idaho and other low-level Division I schools. But Sokol wasn't satisfied — he wanted the kind of offer that showed Oregon State it made the wrong decision.
"It wasn't anywhere that I was really set on going to," Sokol said. "So I came back my sophomore year and that's when I was an All-American and had 28 offers, and my final three were Arizona, Cincinnati and Iowa."
The winding road home would have been considerably shorter if Sokol chose to stay in state. Instead, he chose Iowa, the state where he was born and still has a number of family members.
The Hawkeyes' pro-style offense seemed like the perfect fit, but Sokol never attempted a pass in two seasons.
Sokol graduated from Iowa without fulfilling his dream of starting for a Division I football team. That opportunity finally arrived when he transferred to Louisiana Tech.
At LaTech, He started all 14 games, throwing for 3,436 yards and 30 touchdowns. But seven rounds of the 2015 NFL Draft came and went without Sokol hearing his name called.
He signed with the Kansas City Chiefs as an undrafted free agent, was waived, bounced around a handful of practice squads, and found himself out of football. The frantic search for a permanent football home continued.
"I didn't really get an opportunity to go to the CFL, and the Arizona Rattlers called me up," Sokol said. "They told me they wanted me to do a private workout."
The Rattlers provided an opportunity to return home and continue a football career in disarray, but Sokol wasn't sold. He had the NFL on his mind — and still does — but that desire led him to reject the Rattlers initially and join the A-11 Football League.
The league folded before it played a single game — and once again Sokol was out of a job. He went to work in Arizona as the quarterback's coach for Scottsdale CC and continued his workout regiment.
"I was kind of in that in between mode of whether I wanted to start my career or continue playing football," Sokol said. "I still had that fire — I still had years left and something to give to the game."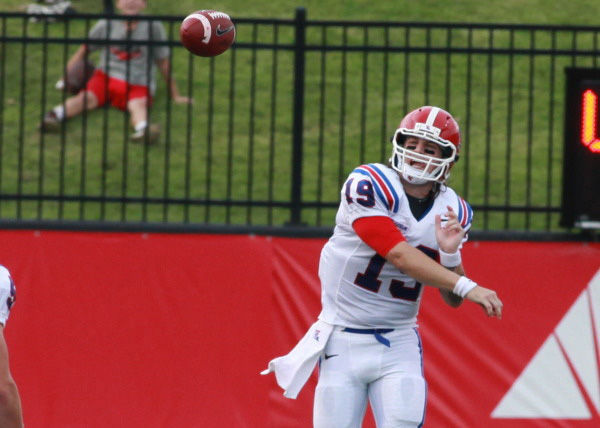 After an entire season where he wasn't under center, the Rattlers called again and brought Sokol on for this season. Now, he's their starting quarterback — settled in Phoenix just in time for a baby due in May – after taking over the last two games.
It's perfect timing and the culmination of years that included pain, regret and uncertainty. Sokol, who has completed 32 of 58 passes for 389 yards with eight touchdowns and an interception in two starts, can play football in front of family and friends again, just as he did at Desert Vista.
"Cody's been a great example, he's around DV a lot, works out with us in the weight room," Thunder head coach Dan Hinds said. "Our boys are able to see how determined he is and how hard he has worked to get to this point in his life."
Sokol has navigated challenges that would deter most athletes and emerged with a new perspective. He wants his atypical homecoming to inspire his future child and all the children in the stands at Rattlers games.
"I'd say never give up on your dreams, no matter who's telling you that you can't do something," Sokol said. "You can."