Desert Vista passed its opening-night test with a 42-14 rout of Palm Springs, Calif., in a high school football on Aug. 17 at DV.
"Being 1-0 is a good feeling," coach Dan Hinds said. "It sure beats being 0-1."
The Thunder will enjoy it while they can. This week, they travel to northern San Diego to face the surprising Carlsbad Lancers (1-0), who opened with a stunning 41-13 romp over California 3A defending champion Spring Valley Steele Canyon. Kickoff is 7 p.m.
It took the Thunder a half to work through opening-night jitters that included fumbling away their first offensive snap of the season to Palm Springs.
Both teams played sloppy initially, combining for 14 penalties in the first half.
"There were a little bit (of nerves)," said Desert Vista's Parker Navarro, a junior making his first start at quarterback. "Once we got to the second quarter, I think they were all out. Coming into the game I think we were ready."
Navarro settled down, passing for 146 yards and 2 touchdowns, adding 42 yards on the ground and another score.
"I said in halftime, 'Let's just relax and play our game'," Hinds said. "We made some mistakes in the first half that we normally wouldn't make. They were all a bit nervous. Our kids were overly keyed up."
The Thunder outscored the Indians 28-7 and had 258 yards of offense compared to Palm Springs' 78 in the second half. On the first possession of the second half, Navarro threw his second touchdown pass of the game, a 79-yard dime to junior receiver Elijah Ervin, giving the Thunder a 21-7 lead.
Tyson Grubbs, a junior, led DV with 117 rushing yards and two touchdowns on nine carries, gaining 71 of his yards in the second half.
Desert Vista would add two more scores before the end of the third quarter, one of which was a 27-yard run by Grubbs.
"We realized that this team never stopped us, we stopped ourselves in the first half," Hinds said. "We got our run game going a little bit and we knew we were going to come out in the second half and run the football."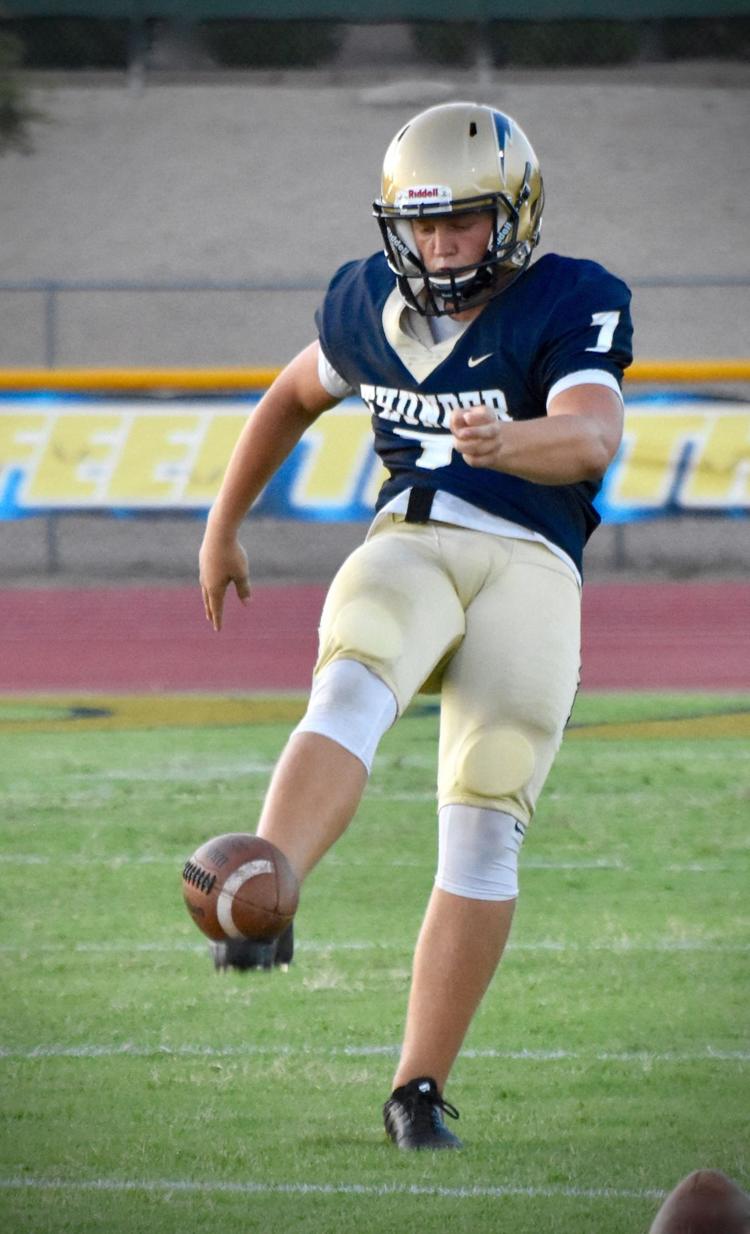 The Thunder likely won't have a half to work out their nerves this Friday.
That Carlsbad lit up Steele Canyon's defense was a surprise, given that the unit had eight returning starters from its 12-4 state-championship team.
Carlsbad was coming off a 6-6 season in which it started seven sophomores. Still young but now with a year of varsity experience, they're clearly improved.
Lancers quarterback Keoni Quintana passed for three touchdowns, running back Luke Armstrong rushed for three scores, and receiver-defensive back-return specialist Asa Turner, a Washington commit, broke the game open with a big punt return.
Although the DV defense kept Palm Springs out of the end zone most of the way, Indians' quarterback Isaiah Goad, a freshman, made his high school football debut completing 11 of 30 passes for 162 yards and a touchdown.
This week, Carlsbad's more-experienced Quintana is expected to offer a stronger test to the Desert Vista defense.
AFN staff contributed to this report.