Sand volleyball has been gaining momentum since the Arizona Interscholastic Association gave it a shot in 2012 and Ahwatukee schools have finally joined.
Desert Vista High School had plans to start last year, but was unable to get enough participation to field a team.
This year, Horizon Honors, Mountain Pointe and the Thunder all are fielding teams.
They're part of the sport's rapid growth in Arizona, which was the first state to add sand volleyball as a pilot program in 2012 with designs of it becoming a fully sponsored sport by the AIA in 2018.
There were five teams in 2012 and all games were played at Victory Lanes. It grew to two divisions last season with a total 25 teams and now 2017 is underway with 44 teams, including 31 in Division I.
Sand volleyball traces its popularity to last summer's Olympics, and the NCAA's sponsorship of it as a full-fledge sport – meaning scholarships are available.
Throw in the fact that a program like Horizon Honors is coming off its first state title during the indoor season and the game is catching on at a rapid pace.
"I know a lot of us just wanted to keep playing even if it was sand," senior Juliana Castronova said. "We were all excited to keep playing. It's a fast-growing sport and we knew we could be pretty good with a lot of our players from indoor joining the team."
The Eagles play in Division II and play their home matches at Pecos Park, and the team won its first four matches heading into this week's action.
Players clearly have adapted to what really is two separate games.
Sand volleyball has just two players on the court, and each team fields five duos in competition. The team match is played like high school tennis; a team must win three of the five twosomes.
"It's a completely different game," Horizon Honors coach Kris Maglunog said. "It is very important to be a good partner. The key is getting a partner who works hard for you and you work hard for them. There is no hiding out there.
"I love that it models the college system and it is bringing out a lot more girls, and not just the club players."
Mountain Pointe, which split its first two matches, and Desert Vista, which formed its team late and didn't have a match scheduled until this week, have a mix of indoor and sand players.
"The season outlook is good," Pride coach Tim Church said. "It is hard to say how good we are with varsity sand being so new to Arizona, but we expect to be competing with the top teams in the state at the end of the season.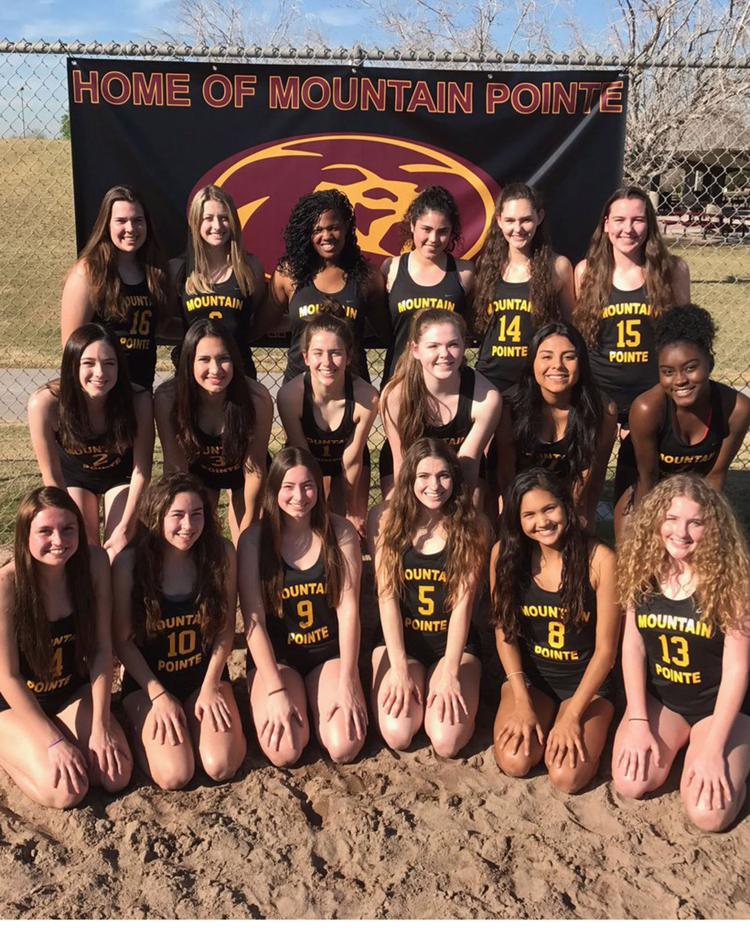 "Staying healthy and scheduling conflicts will be everything for us," Church added. "If our girls can manage their club indoor commitments with our regular season schedule and we are at full strength for playoffs, we look forward to challenging opponents deep into the playoffs."
The Pride, which plays home matches at Kiwanis Park, made a run to the state finals during the indoor games and many of those players are already accomplished in sand.
Lauren McMurray is a senior who is committed to playing sand at Cal State Northridge, while Gabby Leo is a junior who recently committed to play indoor and sand at Pacific University.
Freshman Rebecca Morse is the defending AAU National Beach Champion in her age group and has multiple unofficial college offers already.
The Thunder's first match in history is at home today, March 15, against Xavier, which has won the state title every year.
"That will be a unique inaugural game," said Desert Vista coach Matt Cohen, who has coached the game at the college level in Florida. "We will see what we are doing right early on against the dominant program."
The Thunder, which plays home matches on campus, had a decent turnout this year after being unable to get enough competitors last year.
There were as many as 20 players coming to practice, but the club season posed scheduling conflicts. However, the team should have no program fielding the 10-player team.
"What is really cool with sand volleyball is the game isn't always predicated on the best players," Cohen said. "There are five separate teams playing for the team so you need to deep just as much as you need to be good.
"It's a completely different game where you have to deal with the elements. The sand, sun and wind all play a factor. The three elements along with approach and tactics make it a pretty unique game."
– Contact Jason Skoda at 480-898-7915 or jskoda@ahwatukee.com. Follow him on Twitter @JasonPSkoda.
– Like and share this article on the Ahwatukee Foothills News on Facebook. Follow the AFN on Twitter @AwatukeeFN.