After nearly two years of studying flood risks in Ahwatukee that could cause more than $5 million in damage to 492 homes, apartments, commercial buildings and other structures, county and city officials have one piece of advice for owners and renters in harm's way.
Get flood insurance.
But even if you got it today – in the middle of monsoon season – you'll still have to wait 30 days before it takes effect.
The advice emerged Monday during an Ahwatukee Foothills Village Planning Committee meeting over a frustrating fact: While city and county officials now know where the problems lie, there's little money to fix them.
And in cases where flooding issues are linked to other property owners' lack of maintenance, officials aren't sure if they can force those owners to correct the problems.
"It's frustrating," said Karen Young, who appeared before the committee as it discussed the Maricopa County Flood Control District's final version of the nearly two-year-long study.
That study pinpoints 21 intersections, 15 streets and segments of major arterials, two hillsides and a channel entrance behind Lomas Elementary school as being at risk for heavy damages in a so-called 100-year flood.
Although the term "100-year flood" is a simple definition of a catastrophe that statistically has a 1 percent chance of occurring in any given year, Young discussed how her 80-year-old mother had already been hit twice by fate in three years.
Her mother's home, near the clubhouse in Ahwatukee Country Club, incurred $14,000 in damage in 2014 and another $4,000 last year. Since then, she's also forked out $3,000 on flood prevention improvements.
To her dismay, she also heard Hasan Mushtar, the city's flood plain manager, concede that owners might not be able to get flood insurance if they've incurred flood damage before.
The county doesn't even know how much it would cost to correct all the problems it identified.
It took only six hazards, further studied them and determined that eliminating them will each cost between $100,000 and $2 million.
Only one was advanced into the grant-seeking process.
That project – construction of a flood wall and other preventive measures on South Manden Street, a frequent target of runoff from South Mountain – will cost an estimated $1 million.
The Federal Emergency Management Agency already rejected a request for partial funding last fiscal year, so local officials are hoping FEMA will change its mind.
Mushtar told the planning committee he hopes funding will come through so that "either this year or next it will go into final design." It will then require four months of design and up to another 12 months' construction.
As for the other five projects identified for "immediate" work, no funding is in sight.
And the remaining hazards identified by the county are even deeper in limbo; corrective work has not been fully proposed, so there are no estimates on what potential fixes might cost.
"We can't get rid of the risk immediately of every problem, so we need to warn homeowners in those areas about getting flood insurance," said committee chairman Chad Blostone. "We'd like to do it quickly."
Mushtar said it would take at least two weeks for the city to put together a warning letter for property owners in the flood-prone areas, though he said the review process could take longer before a letter would be ready to send out – meaning a warning like would not arrive in owners' mailboxes until the monsoon season is practically winding down.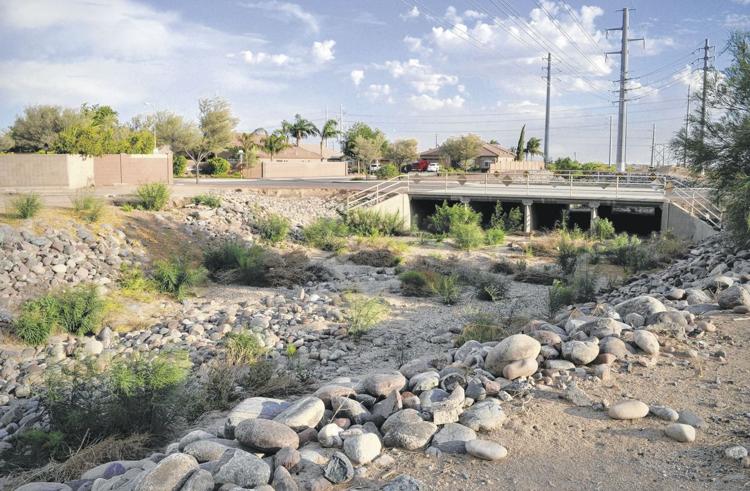 Blostone's sense of urgency is based on the fact that regular homeowner insurance will not cover damages caused by water from a source outside the insured property – such as hillside runoffs or fast-moving downpours that overwhelm drainage systems.
Meanwhile, officials had no immediately clear answers on another problem that is associated with some of the flood-prone sites: inadequate maintenance on some nearby property that might not even be in the danger zone.
That situation apparently is exactly what happened to the home of Young's mother because a channel on the Ahwatukee Golf Club's course may need to be deeper.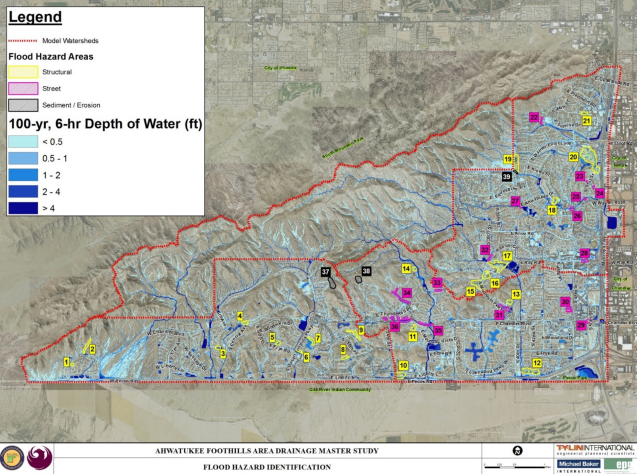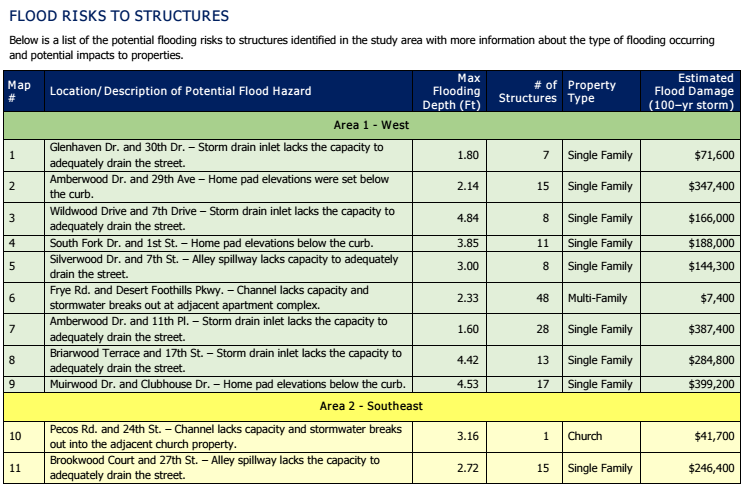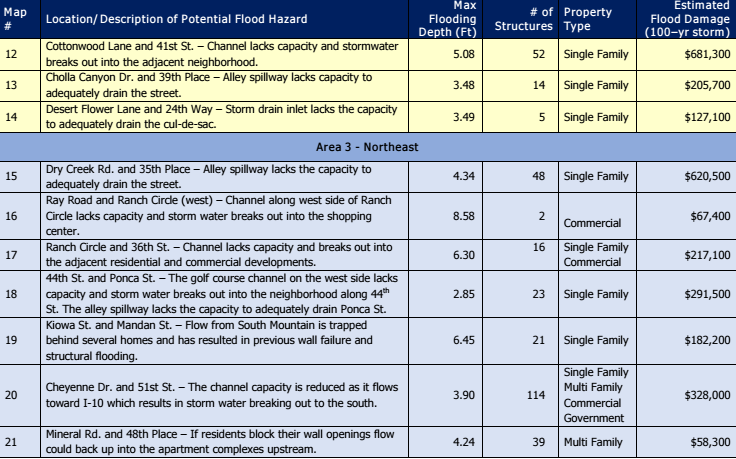 "Is there something you can do so this private property owner can be forced to correct the problem and if so, what?" Young asked.
No one at the meeting knew, though city Councilman Sal DiCiccio said he would find out, promising to set up a meeting over the next week between Young and city code enforcement officers to see if golf course owner Wilson Gee's company can be ordered to fix the problems.
Mushtar said city officials have had discussions with the owner to rectify the problem but that little has been accomplished.
"We can start the discussion again with the property owner," he said.
DiCiccio said more action than that was necessary after Young said the golf course owner is "not going to do it voluntarily because they're afraid that would admit liability."
"Apparently, they don't mind the government or the Ahwatukee Board of Management from coming onto their property and doing it for them, but why should ABM or the city do it?" Young later said in an interview.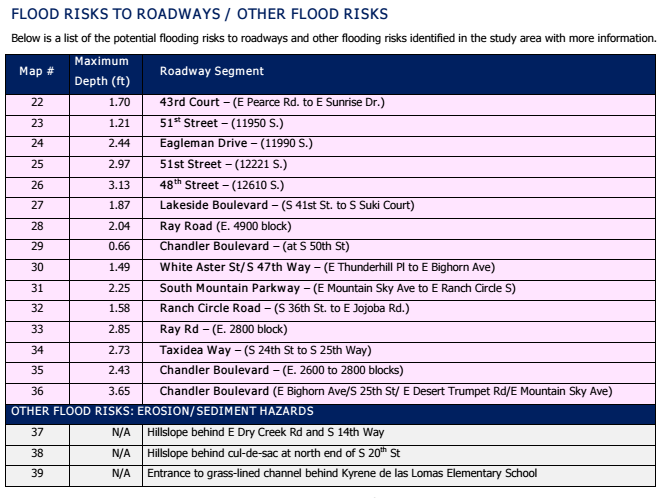 Meanwhile, Mushtar reminded the audience that the county study "was not meant to point fingers at anybody. It's to identify problems."