An Ahwatukee teen is among 22 Girl Scouts–Arizona Cactus-Pine Council young women who recently earned the Girl Scout Gold Award.
Ashaya Stewart, 16, organized a project to restore the fellowship hall at Tanner Chapel AME Church, the oldest African-American church in Arizona.
The church was damaged by a fire in 2017 and Ashaya, a member of Troop 436 for seven years, wanted to restore the basement space used by community groups.
She secured vendors and volunteers to clean and paint the church's Fellowship Hall, the kitchen, pantry and restrooms and wax the floors. She also oversaw other improvements, including carpeting and redoing the stage.
"When I heard that it caught fire I was devastated because I consider that place my second home," said the Desert Vista High School sophomore.
Ashaya, the daughter of Askia and Shnelle Stewart, added that she is a third-generation member of the church as well as the secretary of the 5th District of the Young People's Division of the African Methodist Episcopal Church.
In order to earn the coveted Gold Award, a Girl Scout must create a project that continues to give back to the community long after she moves on. "While often compared to the Boy Scouts' Eagle Scout merit, the Gold Award requires sustainable change," a spokeswoman for the Pine Council said.
"Girls who pursue their Gold Award aspire to transform an idea and vision into an actionable plan with measurable, long-term and far-reaching results. A young woman who has earned her Gold Award has become a community leader in the truest sense. Her accomplishments reflect outstanding leadership and civic engagement," she added.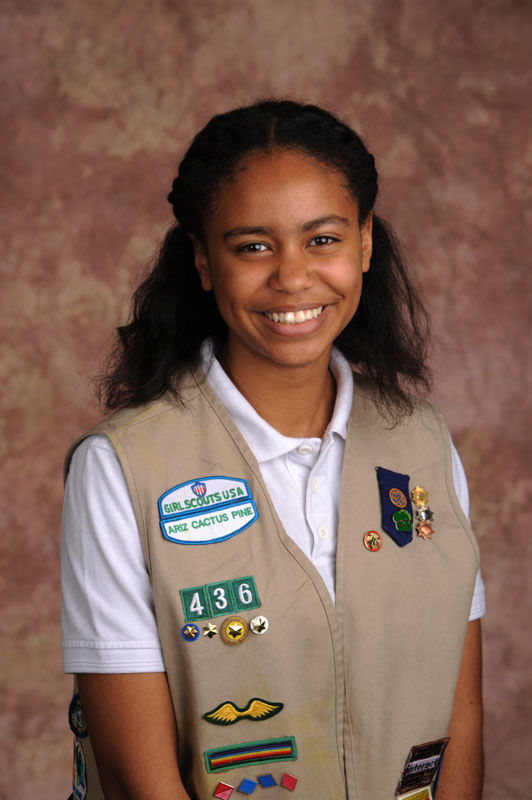 For most Girl Scouts, the spokeswoman noted, "this award is the culmination of more than 10 years in Girl Scouts. Gold Awardees distinguish themselves in the college admission process, earn college scholarships and enter the military one rank higher."
Nationally, about a million Girl Scouts in grades 9-12 have earned the Gold Award or its equivalent since 1916.
"They are living proof that empowering girls to lead is one of the greatest investments we can make," said Tamara Woodbury, CEO of GSACPC.
"Girl Scouting is all about giving girls the support and guidance they need to step into impactful leadership roles. By earning the Gold Award, these young women are demonstrating incredible courage, confidence and character, and that they are ready to become tomorrow's leaders – in our communities, our country and the world," she added.