Aunt B bandmates Shane and Megan Baskerville don't identify with the stereotype of late-rising, hard-partying musicians.
And neither do their students.
The Baskervilles run the School of Rock in Ahwatukee and, respected musicians in their own right, their seven-member band has done well in greater Phoenix.
Together with franchise owner Steve Gentilini, they tapped into the popularity of the 2003 movie "School of Rock" to change the standard approach to music education, making it more of a fun experience and performance-based.
It's working. Since opening their three schools providing after-school and Saturday lessons with teachers who are, for the most part, working musicians, numbers have increased.
Currently, the Ahwatukee School of Rock has 85 students while their schools in Gilbert have 110 and 200 budding musicians, respectively.
Managing the three schools spread across the county requires a great deal of time, travel and discipline.
"We work a lot," laughed Megan, who also fronts Aunt B, which plays soul, ska and, of course, rock. "We have an incredible staff, and that's invaluable to us."
Megan is the main day-to-day operations manager, while husband Shane "floats" among the three schools in his Ford Escape.
"It gets great gas mileage and holds lots of gear," said Shane, guitarist with Aunt  B.
Their schools are of good size: The Ahwatukee location at 4645 E. Chandler Blvd., Suite 114, has 2,400 square feet while the Gilbert School of Rock at 885 E. Warner Road has 2,750 square feet.
Both opened in 2014.
Finding their way from Minnesota to Arizona was a serendipitous moment when the couple was accompanying the 2011 School of Rock All-Stars on a tour.
"Of 20,000 kids who apply, 170 are chosen," explained Megan. "It is the ultimate School of Rock goal to be on this annual tour."
On that tour, Megan served as tour coordinator and Shane was music director not only of this tour, but three Minneapolis School of Rock locations. In total, he has worked with School of Rock for 13 years.
It was while on the bus that Steve Gentilini, president of Dunham Associates, was asking the School of Rock chief operations officer why there wasn't a franchise in Arizona, where he often came to as part of his job.
"We were getting tired of the cold, so we chimed in, 'We'll do it,' and six months later, we were here," said Megan.
While opening the Scottsdale location, the trio researched demographics and selected Gilbert and Ahwatukee. Not only were the store locations excellent, but "the cool family vibe" of both reminded them of the Midwest.
Their philosophy of making music fun and available to all personalities has gained them fans.
"A lot of kids haven't found their tribe, and we work really hard with our staff to make School of Rock a place of inclusion, a place where they can come and just exist," said Megan.
A couple who have "found their tribe" are avid enthusiasts of the schools and their programs.
Victoria 'Torri' Ross, a Desert Vista High School junior, has been with School of Rock for nearly five years and says its like "a second home."
"I could talk endlessly about how School of Rock is such an amazing place. I really appreciate having such a loving group of people who genuinely care about one another. I think that's super-cool and my favorite thing about School of Rock," said Ross, a self-described multi-instrumentalist who plays guitar, bass and drums, all for which she continues to take lessons in Ahwatukee. She also sings .
"For a while, I was doing both Ahwatukee and Gilbert purely because of the performance show Gilbert was doing; I did a Red Hot Chili Peppers versus the Beastie Boys at Gilbert this past season," said Ross, who at 15 says she's the youngest Desert Vista junior she knows.
Brophy College Preparatory sophomore Michael Valentine started School of Rock in Ahwatukee more than four years ago at age 11. He began with guitar and vocal lessons before adding keyboard.
Valentine started piano lessons around age 5, then moved onto guitar. He played guitar in middle school band at Summit School of Ahwatukee and realized around the same time that he loved to sing.
"I found School of Rock and haven't looked back," said Valentine, 15, who says his main instrument now is vocals.
"I think no matter who you asked, everyone would agree that the atmosphere of School of Rock is what makes it so great. Everyone is there to support each other and just have fun," he said, adding:
"It's a stress-free environment where you get to play music with your friends, and have a direct connection with your band director. I've had many teachers through my years there, and never had a bad experience."
He said since attending School of Rock, he'd grown as a musician and a person.
"I've done more musically than I could ever have dreamed of. I've been in the Sugar Skulls house band three times, I've started my own band, and I've gone on a national tour twice," he said. "The opportunities that it has to offer can't compare to any other music school. It's simply the best."
Sugar Skulls is a touring band that Valentine describes as the "varsity" musicians.
Both Ross and Valentine made a point of mentioning Jenny Weintraub, studio coordinator at Ahwatukee School of Rock, agreeing that in her capacity, she has impacted their lives and those of other students.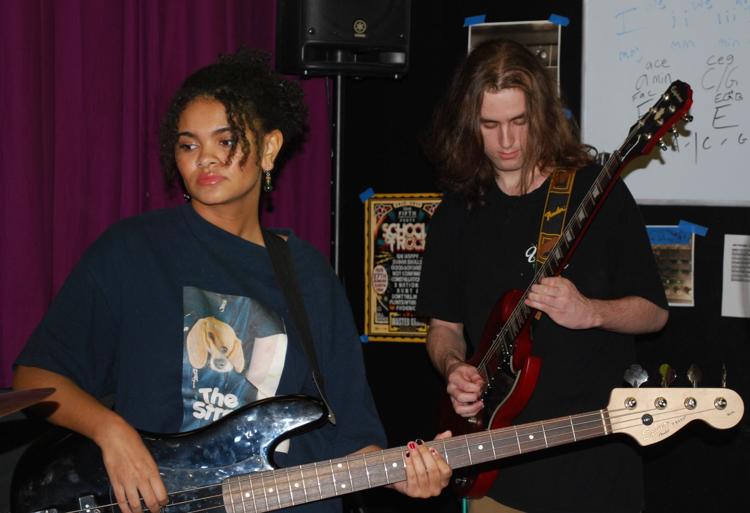 "She is the most loving, caring and genuinely nice person I've ever met," said Ross, who assisted in teaching Rock 101 classes.
"She may not teach lessons, but she positively impacts our lives every day in more ways than one," agreed Valentine.