Ella Marie White will be one of approximately 100 dachshunds competing in the 22nd annual Wienerschnitzel Weiner Dog Race at Los Alamitos Race Course in Cypress, California.
The doxie-dash, set for Saturday, July 22, is a highly-competitive 50-yard run that has dachshunds and their owners flocking into Southern California from throughout that state and those surrounding.
Entering the event was a long-held idea of Ella Marie's owner and "mom," Karen White of Ahwatukee, who has lived with her black-and-tan standard dachshund since purchasing the 3-month old pedigreed puppy in 2007.
At age 10 and weighing in at 29 pounds, Ella Marie isn't what you'd picture as a race dog, but, then again, what dachshund is?
At the dachshund races, often the true attraction isn't the racing action itself, but the resulting mayhem when the short-legged, long-bodied, fun-loving breed exit the starting pen and do whatever they wish to do ­– whether that's running their little legs off, or not.
"It's fun to watch the dogs because you never know if they'll run toward the finish line, or if they'll stop to sniff and visit other dogs, or just meander," said Los Alamitos spokesperson Orlando Gutierrez, Los Alamitos Race Course marketing director and a former dachshund owner.
"It's very popular with the crowd, many of whom have never come to a race track before," Gutierrez added.
The Wienerschnitzel Wiener Nationals include 10 trial heats with the competitors racing approximately 50 yards. The course record is six seconds, though Gutierrez said the dogs that cross the finish line usually cover the distance at eight to nine seconds.  
But, he stressed again, not all the entrants cross the line.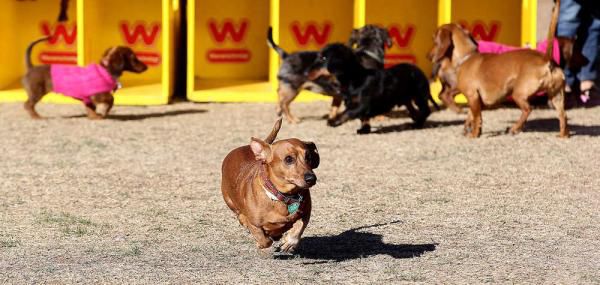 The winner claims the title, "Fastest Dog in the West" at the closing ceremony, earns $1,000 and a custom-built Wienerschnitzel Dog House. Last year's winner was a 2-year-old San Diego pup named Darcy, one of the youngest ever to win the race.
Darcy is returning to defend her title.
Their portion of the night's racing follows the evening's line-up of horse racing. Los Alamitos Race Course is known for thoroughbred and quarter-horse races.
As with other dachshund races nationwide, the money earned from tickets and t-shirts is earmarked for charity.
In this case, the recipient is the Seal Beach Animal Care Clinic, which since 1996 has been the beneficiary of more than $240,000 from the Wienerschnitzel Wiener Nationals fundraiser.
"Los Alamitos has a great time hosting the races, and it brings the biggest crowd of the year," said Guitierrez. "The best part to me is reading the entries and the reasons as to why people have entered their dog to run.
"I remember one entry from our second year, 'written' by a dog named Thor,  said he really needed to win the money because just days earlier, he'd chewed up his mommy's teeth and needed to replace them. It always makes me smile when I think about it."
Participants for this prestigious national race are determined by creativity of their entries.
Ella Marie, with a little assistance from her mother, attracted the judge's attention with her description of herself, concluding her five-paragraph epistle with "Respectwoofly."
The letter read, in full:
"My name is Ella Marie White and I'm a very clever dachshund.  I may fool you with my slovenly manner at times, but, boy – let me tell you – if there is food to be had or a toy baby to be eviscerated, I'm your gal. 
"My mom really loves me and takes me everywhere with her. I have sunglasses and she even bought me a doggy stroller so when I get too tired or hot – we live in the dessert – I can rest while she finishes her walk. 
 "I know how to do lots of things, like play dead at the command 'bang.' And when I hear, 'who's in the kitchen?' I skedaddle. I'm very clever, like I mentioned before; if you leave food unattended, it will be consumed; and if you leave your purse (with food, gum or mints in it) on the table with the mistaken belief that I can't possible reach it….well, let's just say, you'd be surprised.
"I can also open jars that are in closed cabinets, and reach food in the pantry if you happen to be foolish enough to leave something on the floor that I can use as a stool.
"These antics might cause resentment except for the fact that I'm such a lover girl. I sleep in bed with my mom with my head on my pillow right next to her. I lounge on the sofa, and I love to be held like a baby. So, basically, I'm irresistible.
"The enclosed picture may not reflect just exactly how fast I am, don't let that dupe you into thinking I can't be fast, because if the motivation is right – read: food, stuffed baby or my mama – I can surprise the heck out of ya."
Her entry, along with other racers, are included in a special program created for the event, which has expanded exponentially among participants as well as spectators.
"The first year of the event we struggled to get 24 dogs in the race – we had to knock on doors, just about, to get people that we knew to run in the race. That first running was a lot of fun and it brought a great crowd," Gutierrez said, adding:
"The following year, the field grew to 64 dogs, and 80 the year after. Now we get anywhere between 200 and 300 dachshund owners entering their prized pup to the event. This year we're expecting over 100 doxies racing."
To be a true contender, Ella Marie is amping up her training – which includes going lighter on the dog treats.
Though triple digit temperatures keep Karen and Ella Marie White away from their favorite exercise spot at Thistle Landing and 48th Street this time of year, exercise remains key to keeping her dog healthy – even when she's not racing.
So, summer mornings the pair are often found walking and running shortly after sunrise and sunset, and weekend days walking laps at the local Home Depot.
"I'm trying to get her used to running in deep dirt," said White, who also has quarter horse that runs at Los Alamitos track.  
Her boyfriend "Wade (Denny) is a great support," she added. "In fact, he's driving back from a rodeo in Salinas, where his son's competing, just to hold her for me at the starting gate on race day."
 The Wienerschnitzel Weiner National Dog Races is the subject of the 2013 movie, "Weiner Dog Nationals," which features a rescue dachshund vying for the crown.
"We love to see dogs that have been adopted from rescue shelters participating in the race. All the owners and the dogs have a great time running in front of a huge crowd that's cheering them on," said Gutierrez.