Fifteen years ago, the East Valley and the rest of the United States froze and watched in horror as planes hijacked by terrorists crashed into the World Trade Center in New York City, the Pentagon and a field in western Pennsylvania.
Many Americans cried as the tragic news footage was seared into the nation's collective memory, playing repeatedly on news reports as more than 3,000 victims were mourned, the worst foreign attack on U.S. soil since Japan bombed Pearl Harbor 60 years earlier.
It seemed as if the world was coming to an end that morning.
Others in the East Valley suffered a personal loss that would change their lives forever. Donna Killoughy Bird lost her husband, Gary, the father of their children, Andrew and Amanda. Rana Singh Sodhi of Gilbert lost his brother, Balbir, and Balbir's son lost his father.
At first glance, Killoughy Bird and Singh Sodhi would appear to have little in common. Killoughy Bird is a retired commercial litigation attorney who grew in Chicago and is a devout Catholic. Singh Sodhi grew up in the Punjab region of India, immigrated to the U.S., launched a successful business career and is a devout Sikh.
But Killoughy Bird and Singh Sodhi, who had every reason to be bitter and even hateful after suffering such tragic losses, both have devoted the rest of their lives to serving humanity. They have both chosen to embrace tolerance, acceptance and the pursuit of peace.
Gary Bird, 51, of Tempe, a community volunteer and real cowboy who grew up riding horses on ranches near Cottonwood; Delta, Colorado; and Kingman, was the only Arizonan killed in the World Trade Center attacks.
Bird's death seemed like a cruel irony, while Balbir Singh Sodhi's murder seemed like a tragic case of mistaken identity and an example of the ultimate cost of hatred and bigotry.
Bird had spent most of his life helping others through his family and his volunteer work with the Tempe Boys and Girls Club and the Tempe Jaycees Club. He had just landed his dream job as a risk manager with Marsh & McLennan Companies, a professional services and insurance firm. Bird was attending an orientation meeting when the company's office was obliterated by a hijacked plane. He was one of more than 60 Marsh employees killed.
Killoughey Bird takes solace in knowing that her husband lived such an exemplary life that he is still remembered 15 years after his death. She described him as a humble, quiet servant of humanity who looked for opportunities to help others and always delivered on his promises.
"Every year, in the weeks before 9/11, I remember how blessed I was by God to have him," Killoughy Bird said. "In the short time that God puts us on earth, if we live our lives the way Gary lived, we will be remembered."
Killoughy Bird said she was touched by a letter she received after her husband's death from a woman who had never met either of them. The woman recounted how she rode the same bus to downtown Phoenix with Gary, and how she observed that Gary would give up his seat for an elderly or handicapped person.
"Everyone who knew Gary admired him," said Dr. Jeff Eger, a Mesa optometrist. "Everyone knew Gary made Tempe a better town."
He said that he served with Gary on the board of the Tempe Jaycees, and that Bird was his friend and mentor.
"I would like to think because Gary was so unique, authentic and unselfish, that he would be a role model for a 'we' society instead of a "me' society," Eger said.
Balbir Singh Sodhi, 49, who immigrated to the United States from India because of his love for the Bill of Rights and its guarantee of freedom of religion, did not die in the terrorist attacks, but he died four days later because of them.
Singh Sodhi was gunned down in front of his East Mesa gas station on Sept. 15, 2001, by Frank Roque, an angry man who mistakenly thought he was retaliating against a Middle Eastern terrorist. Singh Sodhi, who had no connection to the Middle East, was wearing a turban in observance of his Sikh religion.
Singh Sodhi's murder was the first hate crime slaying in the aftermath of 9/11. He would not be the last Sikh targeted, even though Sikhs were not implicated in any terrorist attacks. A Sikh truck driver was wounded in a shooting in North Phoenix but survived his injuries. Other Sikhs were harassed.
In his diary, Singh Sodhi had thanked Guru Nanak, the founder of the Sikh religion, for the all the blessings in his life. He had driven a cab, saved his money, bought the gas station and had a family. It was the perfect American Dream, until it was shattered by ignorance. Singh Sodhi wrote that he was ready for any mission the Guru had in store for his life.
A Mesa jury sentenced Roque to death, but that sentence was later reduced by the Arizona Supreme Court to life in prison without possibility of parole because of concerns about whether Roque was mentally ill.
Singh Sodhi quickly emerged as a powerful symbol of the need for diversity, tolerance and acceptance. Rana Singh Sodhi, a Mesa restaurant owner, businessman and Balbir's brother, has dedicated the rest of his life to educating others about the Sikh faith and preaching acceptance and inclusion.
"His death will not be in vain," Rana said. "It's more awareness of different cultures."
Rana and his family remember Balbir every year on the anniversary of his death at a memorial service held outside the Chevron station at 80th and University Drive. The event features Indian food and prayers for tolerance. The 15th anniversary, he said, holds no special significance to him.
Rana owns the Guru Palace restaurant in Mesa.
Three years ago, Rana said he was buying some flowers for the memorial service when he came across some people he never expected to see again. It was Frank Roque's daughter and his wife.
Rana said he recognized Roque's daughter because she testified on behalf of her father during the trial.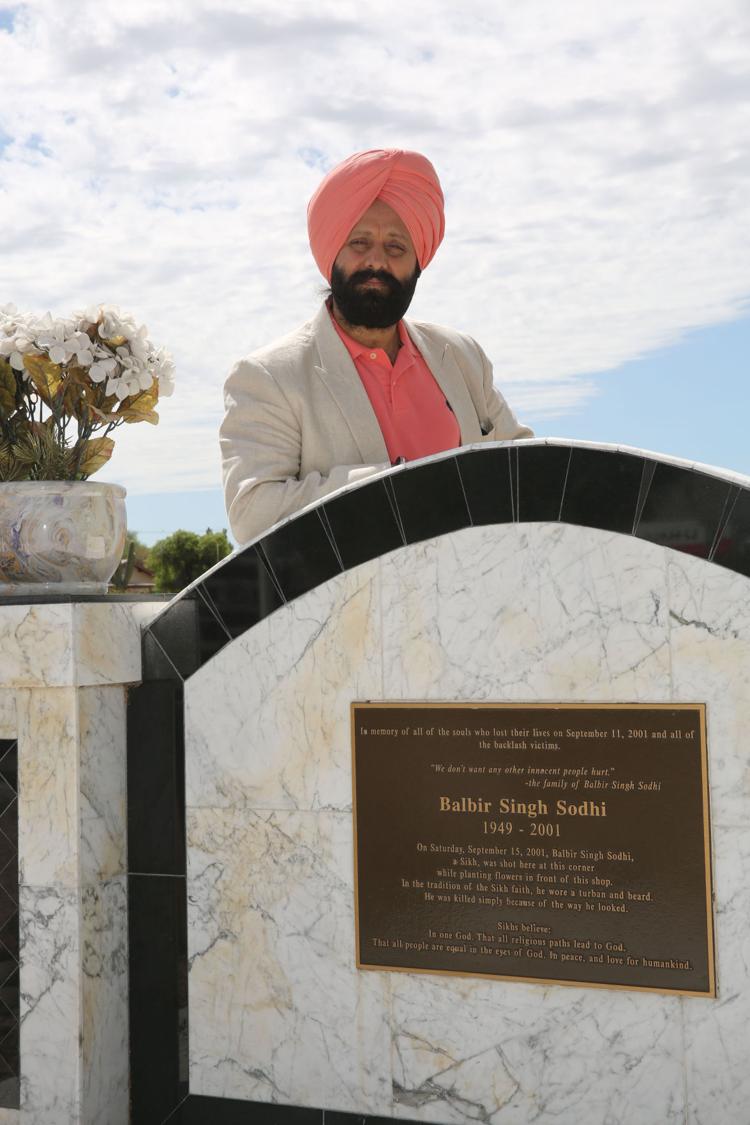 "I said, 'Your Dad killed my brother," Rana said. "She said, "I'm so sorry."
Rana said he invited the Roques to the memorial service but they declined, saying they might come some other time.
"His memory is part of American history. His turban is in the Smithsonian, with his bracelet, his clothing and his diary," Rana said.
Rana said he is also scheduled to appear as a panelist on Sept. 27 at Rio Salado Community College at a forum titled "Hate, Terrorism and 9/11." He also is scheduled to speak at events in Tucson, Denver, Portland, Los Angeles and Detroit.
"I think all of the victims have the same value to their lives. Everyone who lost their lives deserves the same respect and honor," Rana said.
"Hate never brings peace," he said. "I don't know how long I will live but this is for the rest of my life."
Killoughy Bird retired from her law career, sold the south Tempe horse property where she lived with Gary and raised her children, and moved to Scottsdale.
But like Rana, Killoughy Bird still believes she has an obligation to use her rich and unique experiences in life to help others.
After Gary's death, she and her family established the Gary E. Bird Family Foundation scholarship through the Catholic Diocese of Phoenix. It awards a scholarship yearly so that a seventh grader from Our Lady of Mt. Carmel Catholic Church in Tempe can attend one of the six area Catholic high schools.
Killoughy Bird worked with author Charlotte Rogers Brown to publish a memoir titled "Nothing Will Separate Us: A Widow's Memoir of Faith, Grace and Miracles Since 9/11."
She said she has studied the lives and works of people who "radiate peace," including Mother Teresa, Mahatma Gandhi and Martin Luther King Jr.
"That is my mission in this world, to be an instrument of peace," Killoughy Bird said.