When a parent or parents lose a baby – either stillborn or shortly after birth – there are area angels ready to step in during the painful experience, providing them and their infant with a white lace or satin bereavement gown.
In Ahwatukee, those angels are a trio of friends who joined together to design and sew these bereavement gowns, made from donated wedding dresses.
They are officially known as Sew Sweet Angel Gowns – Debbie Sinfield, Joann Cooper and Yvonne Leake.
Sinfield and Cooper began their mission over cups of coffee, when Cooper mentioned she'd sewn bereavement gowns while living in Michigan and attending a National Christ Child Society chapter.
Founded in 1887, the society and its volunteers serve children in need, and one of their outreaches is the bereavement program. The Phoenix chapter, to whom Cooper belongs, doesn't have that particular program among their many offerings but does do layettes.
"When Joanne shared the idea with me, I thought it would be fabulous to do in Ahwatukee, so we recruited our friend Yvonne, who does a lot of sewing," said Sinfield, a retired RN and mother of two sons.
When Leake, a pediatric nurse, heard about the plan to provide bereavement gowns for the grieving parents, she was in.
The trio, who belong to different churches, were determined to gather weekly to create and assemble the bereavement gowns.
There were a few other steps required, however.
First, they needed donated wedding gowns.
Like many Ahwatukee residents looking for help or advice, Sinfield went to Facebook and explained their need for wedding gowns to create the bereavement outfits and "create a little comfort to the hurting families."
"I decided to wait and see what God would do, and the response was awesome," she said.
Within weeks, she had 40 by the end of October.
With the bridal dresses in hand, it was time for the real work, which starts with deconstructing the gowns and cutting the fabrics. Their first meetings were at Bridgeway Community Church at 2420 E. Liberty Lane in Ahwatukee.
"Though we're not techinically under the church auspices, they were kind to allow us to use their building," said Sinfield, a Bridgeway congregant who has lived in Ahwatukee 25 years.
For Cooper, a friend's loss of a child early in her pregnancy was an impetus to sewing bereavement gowns.
"I was a nurse at a Michigan hospital and had the privilege of sewing and delivering these gowns to our labor and delivery department. The nurses were so grateful to have something to clothe these beloved angels in to present to their grieving parents," she recalled.
"And when the parents left the hospital, they had something tangible to take with them to remember their beloved child. I cannot imagine the grief they were going through to go home empty-handed."
She was there to present her friend with one of the gowns when her child was stillborn.
"The look on her face will be with me forever," Cooper said, adding:
"I hope these gowns provide some shred of comfort to know that someone has thought of them, and prayed for their little angel."
Leake is a pediatric nurse who volunteers at nonprofits like Neighborhood Christian Clinic to keep her RN license active. The mother of three has lived in Ahwatukee 17 years.
A lifelong avid seamstress, Leake not only sews the most, but found the pattern to be used. She said the cutting of the precious bridal gowns is done with care.
"I think it's important the brides who donate their gowns know we're mindful; we're very diligent at taking apart a gown and salvaging the materials," Leake said.
"A lot of the gowns are from the 1980s, when I got married, and they're what I call Cinderella gowns," she added "There's so much lace that you can use a bunch for trims. Whatever we have left over, we drop into another gown."
When each bridal dress is collected, the donor is told that the bereavement gowns it leads to will be given in their name unless they want to honor someone's memory.
"We don't want to simply collect the dress," Sinfield said. "We want to let them know what we have created. While we have no contact with the grieving family, we want the donor to know where the infant gown went."
Phoenix Children's Hospital was among the first to receive the gowns from the Sew Sweet Angels.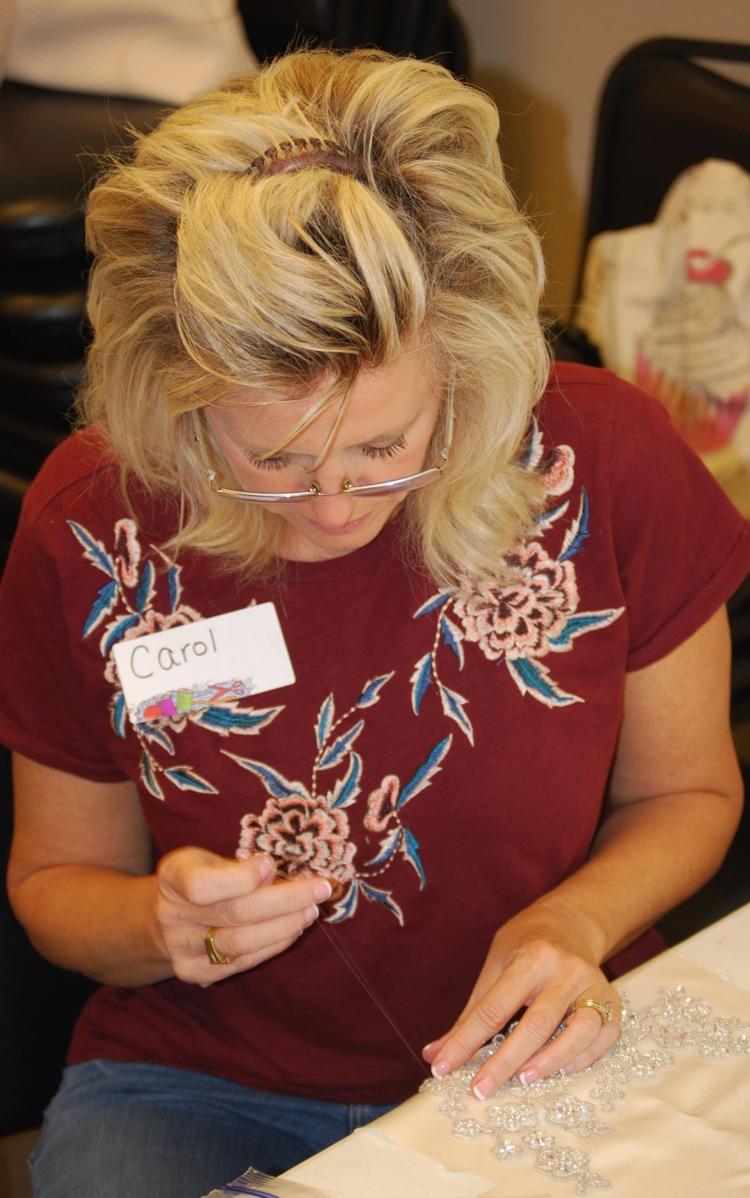 Bereavement gowns will be made available to other interested hospitals for distribution, and some go to Christ Child to supplement the group's layette program.
Kristen Martinez of Ahwatukee was one of the first women to donate her precious wedding dress, which she wore two years ago when she married Nick Martinez at Mountain Park Community Church.
"It was cream lace and flared out a little at the bottom; it was beautiful and I felt beautiful in it," said the 12-year Ahwatukee resident.
"A wedding dress is such a significant sentiment. Yes, it is expensive, but it is for one day. I hated that it just sat in my closet. I thought about selling it, but I just couldn't bring myself to do it," she said, adding:
"I saw the posting on Facebook, and when I saw it, I knew I wanted to donate my dress."
Martinez had a special reason for her donation.
"At the end of July, one of my closest friends had a stillborn she named Landon Jeffrey. I told her I was going to donate my dress in Landon's honor," she explained.
"To know that my dress, the dress that made me feel so beautiful, can be made into something so meaningful, was the perfect decision. In the midst of such heartache, I can only hope that it brings some comfort to see your baby in such an angelic dress."
The trio of women are encouraging other locals to join them in Sew Sweet Angel Gowns.
"We totally would like other women to join us," said Leake. "We wanted to make this an Ahwatukee thing. If they're going to come and volunteer their time, we'll find something for them to do, regardless of their skill level."
Information: SewSweetAngelGowns@gmail.com