Mention the word "Olympics" and many people conjure an image of well-toned young bodies ready to test their prowess and endurance.
But a group of Ahwatukee Olympians beg to differ as they prepare for one of Arizona's biggest sporting events – the 2018 State Senior Olympics.
Olympic games are not just for the young, but the young at heart as well, they say.
Residents ages 50-100 years of age can now register for one or more of the competitive sports to be held in venues across the Valley starting on Feb. 17 and running through March 11.
Don't think these competitors are any less aggressive in their pursuit of athletic excellence.
Take Gloria Tolaro of Ahwatukee, for example.
She does 50-yard freestyle, breaststroke and backstroke swim sprints, as well as 100, 200 and 500-meter freestyle and relays.
She's 86 years old.
"Whether you medal or not, the fun and camaraderie of the event are equal rewards," she said.
The Arizona Senior Olympics began in 1982 as the City of Phoenix Olympic Games but was cut from the city budget in 2008 due to the recession.
In order to continue this popular senior event, the nonprofit Arizona Lifelong Fitness Foundation was born.
"The all-volunteer program group provides an opportunity for senior athletes to not only exercise, train, participate in their favorite sport and stay fit and strong, but to socialize and be rewarded for their efforts," Tolaro said.
The Senior Olympics features 31 sports, including track and field, tennis, golf, swimming, powerlifting and cycling. It is an "open" meet, so Arizona residency is not required.
Participants compete in five-year age groups, and medals go the top three finishers in each event.
The Arizona Senior Olympics is a member of the National Senior Games Association, which sponsors the National Games every two years. This is a qualifying year for the 2019 Summer NSGA games to be held in Albuquerque, New Mexico.  
Bob Burns, 73, who splits his time between his Ahwatukee home and another in South Pasadena, California, is an avid Olympian who specializes in tennis, a game he has played for six decades – including 10 in the Senior Olympics.
He has earned five gold medals at the state level and one national medal.
"From the very start, I had a real passion for tennis and was able to play better than average, which I can't say for other sports," Burns said.
"When I retired eight years ago, I decided to re-engage myself in tennis for two reasons: First, it's an easy way to stay in shape if you play three to five times a week, and second, after I sold my company and became fully retired, I soon realized something was missing.
"It's a crazy thing, but 38 years in the clothing business made me a very competitive person, and tennis, especially senior tennis, gives me as much competition as I can handle."
He calls the senior games – which include both team and individual sports – "a great way to meet so many other like-minded sport people and take your sport to another level by leveling the playing field via your age. That is to say you compete with a team or another person who is in your age bracket."
Besides, he added, the Senior Olympics offer him "another way to test my skills and physical ability against other players in my age bracket."
When training for a senior game or tournament, Burns works aggressively, spending an estimated 20-30 hours a week for as long as two months before he competes.
Merilee Reynolds, 68, also of Ahwatukee, has been powerlifting for the last six years or so.
Her hard work paid off last year when she won a gold medal in her first entry into the Senior Olympics.
"It keeps me young," she said of her gym work. "The senior games are fun."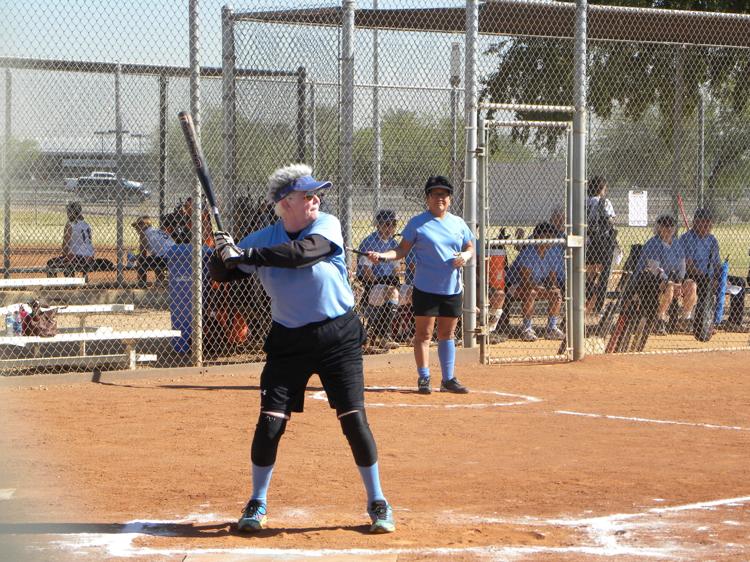 At age 78, swimmer Ken McKinney can boast a passel of medals for his participation in senior games.
He has logged eight All-American awards, two national records and ranks among the top 10 seniors for five different swimming categories.
Indeed, he has so many medals that he donated more than 60 to a Tucson organization that gives them to special-needs children when they accomplish a task.
McKinney offers his services to anyone whose medals and ribbons are gathering dust. He'll collect them and ship them off so they can be put to good use like he's done with his.
Likewise, 81-year-old competitive swimmer Al Worth sports eight All-America awards, two national record as a top-10 rating in freestyle.
Not all of Ahwatukee resident Pat Lawlis' time was spent fighting the South Mountain Freeway.
At age 72, she also has collected dozens of medals for her participation in softball.
A pitcher, she has been participating in senior games for 17 years.
Besides enjoying "health benefits from continued activity and mental health benefits from continued socialization," Lawlis said, "I love sports…It keeps me active and also involved with many women my age."
People interested in joining the fun can find more information and register at seniorgames.org or call 602-274-7742.