Just walking into Carlos Monge's Body by Design Training Studio, Diolenda Sellers is often the focus of attention, especially from newcomers.
The Ahwatukee resident is 91 years old and works out with Monge, a personal trainer, exercising alongside others who are three or more decades younger.
She's fit. And she says anyone can be that way. She says it's just like the adage of mind over matter.
"My body prefers I don't work out. My body wants to sit around and watch TV and eat bonbons, but my mind tells me it's time to get up and go work out," said Sellers, her eyes smiling behind her black frame glasses. "I think exercise is the most important favor we can do for ourselves."
Sellers isn't a large person, but her personality and enthusiasm for life make up for her 5-foot, 105-pound frame.  
Though intensely focused during her hour routines that include cardio and strength training, her smile is what you notice even before her impressive biceps.
"People say they don't have time to exercise but I find if you take time to exercise, you get more time," she explained. "It's not only for the body, but it helps your emotions and your mind and as we age, keeping our mind sharp is even more important.
"And I find after a work-out with Carlos, I walk out with a bounce in my step."
She likes to recall how she came to Body by Design in Ahwatukee.
"I saw his website said '40s, 50s, 60s, plus' so I called and asked, 'How plus? How about 90?' There was a quiet moment and then he said, 'why don't you come in and try us out?'"
It proved to be the right choice, she said.
"I exercise with Carlos three time a week and I never know what my program is that day until we get started. We always do stretches before going into exercise, which is very important for the body," she said, adding:
"I have seen very few facilities that offer space to do stretches and that's an important part of the program with Carlos. Stretches seem to prepare the body for the exercises ahead."
She said her training includes correction of form when and if needed.
"If I'm doing something incorrectly, Carlos is there to correct me. He not only corrects me, but he asks if I feel any pain in the area the exercise should be affecting," she explained.
"When I complete that exercise, he again asks how I feel to be sure it is an exercise I can continue to do," said Sellers. "One of the things drummed into me early on in exercising – and I did a lot of reading as well as listening – is it's better not to do an exercise than to do it incorrectly."
Monge's Redefine Prime program for clients 40 and up includes personal attention, a change from Seller's previous experiences.
"My trainers in the past have met with me for an hour, showed me the exercise, had me do it once or twice, wrote it down on a program and on to the next exercise," she recalled.
"I would do that program for four to six weeks on my own until I felt ready for the next training. With Carlos, he is there every step of the way the entire hour I am exercising."
Monge proudly admits he has a great deal of admiration for "D." "It's true you can't go back in time, but that doesn't mean you can't keep exercising. D works with a group in their 50s and 60s and is a great inspiration to everyone here," said Monge, himself a 56-year-old with two children, 11 and 6. "And I love training D because she's full of wisdom."
Peter Bradt, an Ahwatukee resident for 15 years who is in the same class with Sellers, said she constantly amazes and encourages him.
"I was very impressed with the fact that D is 91 and still moving around and acting like she's 70 or 75," said Bradt, 64, adding:
"There's hope for me as D and I stretch together and walk side by side on our treadmills. She has a great sense of humor and is an inspiration to me."
Sellers said she's aware she's being watched by those decades younger than she.
"Since I'm the only one of this age at the gym, I think they like to see what it will be like when they're older. I've always been an active individual. I dreamed of being a dancer and traveling around to investigate all the states,.
"I still love to travel and in this past year have been to Colorado, Montana, Hawaii, Japan and Spain. It was my second trip to Spain."
It was when she was a young mother of four boys that training became second nature. She recalls exercising with fitness guru Jack LaLanne in front of her television set.  
And then it became more.
"I worked out in Oregon," she said. "In fact, when I was 79 I went to my trainer at the gym and asked how to keep the skin under my arm from jiggling.
"He looked and said, 'Where did you get that muscle?' He then asked me to join the team for dead-lifting. I could lift 165 pounds and was getting ready for a competition in Reno, but my husband's cancer was worse, so we came down to Mayo."
After her husband of 53 years passed away, Sellers opted to live in Ahwatukee full-time.
Seller's backstory is as interesting as her current lifestyle.
 She's of Portuguese descent on both sides, and is first-generation U.S. born. Her father was the oldest of 22 children (five sets of twins) who settled in Massachusetts. At age 21, she left her job with Bethlehem Steel in New Haven, Connecticut, "to make a life of my own" in Southern California, where she found work at North American Aviation.
"In those days it was tough for a woman to get very far in life, and we're still struggling though we've made some progress," she observed.
Her Portuguese name of Diolenda is unique, and she's learned to shorten it for the convenience of others.
"I went by the name of Lenda for many years because people had difficulty with my name, but when I was on the board of Christian Women's Club in Oregon, there were three Linda's so it was voted that I use my full first name and that is how I began using it again," she explained.
"With working out at Carlos I could see that it would be difficult again so I suggested they call me 'D,.' I think they gave a sigh of relief."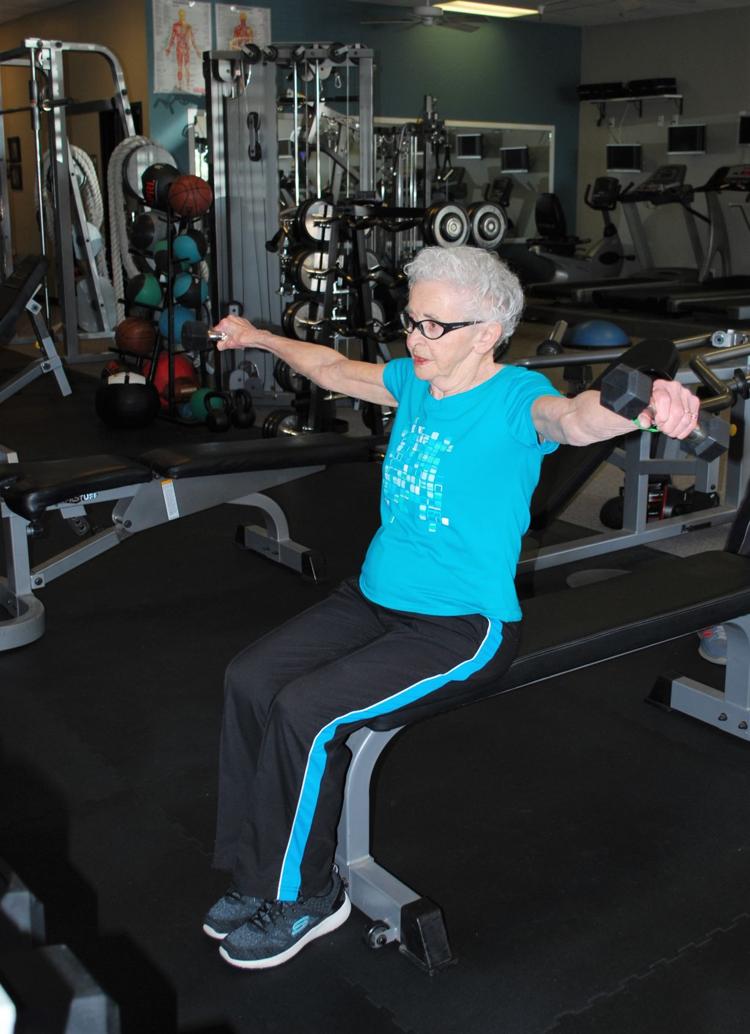 She said working with Monge has been both physically profitable and pleasurable.
"I feel so comfortable working with Carlos; he pays attention to each of us and our age," she said.  
As age-defying as she may be, Sellers has definite opinions about age.
"I think people get old sometimes because they think old. It's just a number. It's how you feel about it. After all, we only have one crack at it," she said.
Monge said just knowing Sellers has been "a blessing" in his life.
"There's a verse in the Bible that says, "Gray hair is a crown of glory, it is gained in a righteous life." (Proverbs 16:31) This is who D is. She practices what she preachers, she lives a righteous life through faith," said Monge.
Faith is important to Sellers and she's not hesitant to speak of it when asked.
"My faith is very definitely a focal point of my life. Without my belief in God and His Son Jesus Christ, I wouldn't be who I am. I have a hand-written message on my refrigerator that I read every day and it says, 'Life is a gift from God. What you do with it is your gift to God.'"