At a time when attendance nationwide is steadily dropping –and taking financial support with it – how do you design a church for the future?
Ahwatukee architect Steve Barduson's answer to that question is reflected throughout his design of the new Mountain Park Community Church.
Sustainability is the key, said Barduson.
Though Mountain Park has withstood the challenges of dwindling attendance that beset so many churches throughout the country, Barduson believed sustainability still had to be a goal in designing his 80th church in the Valley.
That term not only carries an environmental meaning, although Barduson calls the new church at 48th Street and Frye Road "the most energy-efficient building in Ahwatukee" because of its thick triple-insulated walls and a control system that senses when rooms are empty or occupied and automatically adjusts lighting and heating and air-conditioning.
Sustainability also refers to creating ways for the church to survive.
That's why the church has an industrial-grade kitchen that can be used for making meals and catering events. That's why it offers six separate spaces that can be rented for meetings, weddings and special events – including a shaded rooftop area with panoramic 360-degree views. That's why the infrastructure exists for a drive-through coffee shop on the 48th Street entrance way.
It even can house a preschool or daycare center if the church decides to start one – or rent the space to an independent operator.
On the other hand, it's also a house of worship. And that's why everything from the color choices to the building's interior flow is designed around the principle that "everyone has to connect," Barduson said.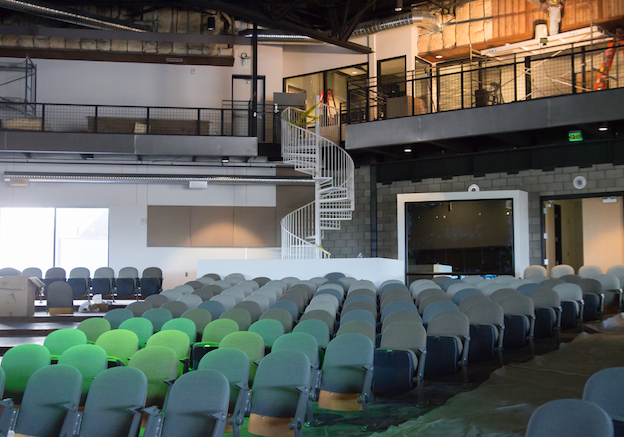 And like the old building on Pecos Road and 24th Street that it will replace, the new church is designed to be a community center where people not only gather to worship but also gather for secular social occasions as well.
Barduson is a longtime member of Mountain Park's congregation, which will gather Sunday for a final service in the old church he designed nearly 20 years ago and which will soon be leveled for an interchange along the South Mountain Freeway.
He approached the design of the new Mountain Park Community Church with the same goal that governed his design of 79 previous churches:
"How do you take the theological side and the culture side and put them together and have them physically represented in a building? Taking scripture and congregation's cultural DNA, how can we ensure that people who come into that building will feel what that church is about?"
For one thing, he said, "Mountain Park is transparent; this is who we are. And the best way to depict that is glass."
Glass permeates the building, from the see-through lobby through every classroom. Some windows are ground-level, so that young children can see outside. Many rooms are equipped with moveable partitions resembling all-glass garage doors.
The church literally has no backside.
The 48th Street side may look like "the front," but it's one of two fronts.
Not visible from Pecos Road or 48th Street is the ceremonial entranceway overlooking a barren stretch of desert and featuring a glass tower.
A thin, cross-shaped conduit for an LED light runs along almost the entire length of the tower and will be visible for miles at night.
Also on that side, the exterior of the building's classroom wing is a rusting wall meant to blend with the colors of the desert.
Other LED lights installed around that entryway will change colors during different seasons.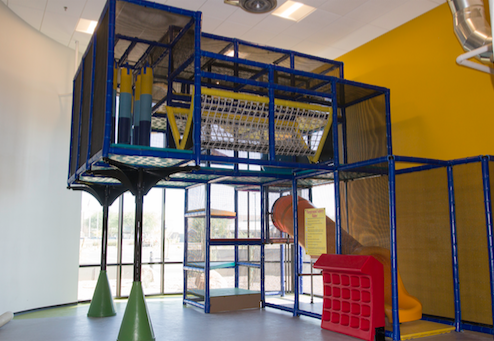 Inside, the first thing one notices after the spiral staircase with its uncarpeted hardwood stairs is a long marble reception table that Barduson intentionally wanted to look "like an Apple Store display table."
Off to one side is a place he calls The Pub, which he calls "the most multifunctional spot" in the building. People who use the area, furnished with tables and chairs, will be able to have coffee, a meal or even take cooking classes, thanks to the large kitchen equipped with industrial-grade appliances.
Barduson's desire to create a multigenerational building even extends to the different colors of the shadowboxes framing entryways to various sections of the building  – green for young children, blue for older students, and so on.
Barduson said part of Mountain Park Community Church's cultural DNA is fun.
Outside there will be a basketball and volleyball court, a prayer garden, and even room for a garden to grow vegetables for needy people.
And though the congregation scrapped plans for a two-story slide in the main lobby for now, the interior is designed and decorated with fun in mind as well.
For example, near an area where moms can socialize is a children's play structure that looks similar to the gym setups in some McDonald's restaurants.
Like so many aspects of the new church, a sort of divine intercession provided it.
A church in Scottsdale no longer could use the $100,000 play structure, and a member of the Mountain Park congregation just happened to hear about it.
Even more fortuitous was how Mountain Park Community retained the site on which the new church is located.
The Arizona Department of Transportation had owned the site and agreed to sell it to Mountain Park once it was ready to take the old church. However, that agreement apparently got lost and ADOT scheduled it for auction.
Five days before that auction, a member of the congregation saw the land listed and alerted church leaders, who were able to have it removed from the list of properties that were to be sold.
A two-story section for teens offers a stage for bands on the lower level and couches and overstuffed chairs on the upper level with moveable partitions for classes and quiet conversation.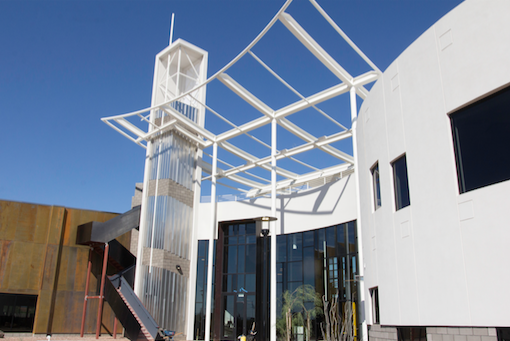 The main assembly area, which can seat around 1,200 people, visibly differs from that of the old church: it is wider so that the back row of seats is much closer to the stage, which is flanked by two Jumbotron-sized screens.
In the rear are three balconies with three to four rows of seats that Barduson likens to stadium suites, joking that men who might not normally want to go to church might find them comforting.
The crowning point of the church is its 5,000-square-foot rooftop reception area covered by the dramatically shaped canopy visible from the street.
It is designed to be rent for private parties or other social gatherings and just doesn't provide an ideal place for wedding receptions. With stunning views of the desert and mountain range, it also offers a picturesque spot for formal photos of the wedding party as well.
Barduson said the church doesn't have all the features congregation leaders initially wanted because of costs. Some things, like LED screens for some walls, will have to wait, although the wiring has already been installed.
"We had to recalibrate our vision, narrow the vision," he explained.
"It was really hard to say no because I had to say no from the senior pastor down to the custodian….The other part that was hard was the relationship-process of getting something built. It was hard because we knew each other. It required some hard decisions. But like a family, we sat down and figured it all out."