She may be studying in Illinois, but Abigail Ihrke never left her Ahwatukee roots far behind.
And because of that, she started a sustainability project that has become an environmental milestone at Bradley University, where she is a senior with a double major in French and finance.
As a result of her efforts, the campus cafeteria now doesn't just throw out waste and instead has hooked up with a company that converts food waste into compost.
The daughter of Angela and Joseph Ihrke of Ahwatukee, Abby got interested in the project through years growing up here.
"I have always been passionate about the environment," she said. "Being from Arizona and being surrounded by an incredible setting of mountains and desert, the love for nature was instilled in me," she explained.
"With that, I wanted to be able to learn more about what I can do to help maintain the integrity of our environment and, in turn, hopefully educate others as well," she said, adding:
"I wanted to be able to make a contribution, as small as that contribution was, because I believe every action taken is meaningful one."
Her project emerged from research she was doing for a school paper as she was interviewing the head of the university's dining services.
"I started to get a grasp our university's contribution to the food waste epidemic," she explained, realizing through her interviews that "every pound of waste costs the school $1.70.
" We have two school cafeterias that average 260 pounds of post-consumer each week. Assuming this information still holds true, we are spending approximately $34,000 plus each semester for students to throw away food."
So, last year with the blessing of the university administration, she rounded up some students and set up compost stations around the cafeteria, educating classmates, faculty and staff on what can be composted and how to do it correctly.
The material they collected they delivered to a local garden.
"The dining services staff was nothing but supportive during the process. In fact, because they are first-hand witnesses to all that is wasted, they were, and still are, eager to help create sustainable change," Abby said.
By the end of her spring semester this year, her work came to the attention of an Illinois company called Better Earth Logistics, which does industrial-sized composting through contracts it has with a number of big companies.
"After communicating back and forth and after getting to see their facilities, I proposed the idea of contracting Better Earth to service Bradley," she said.
And as a result of her work, the company is taking all the university's food waste.
Abby said the whole project has taught her "that we all have the capacity to make some incredible changes in the way we live."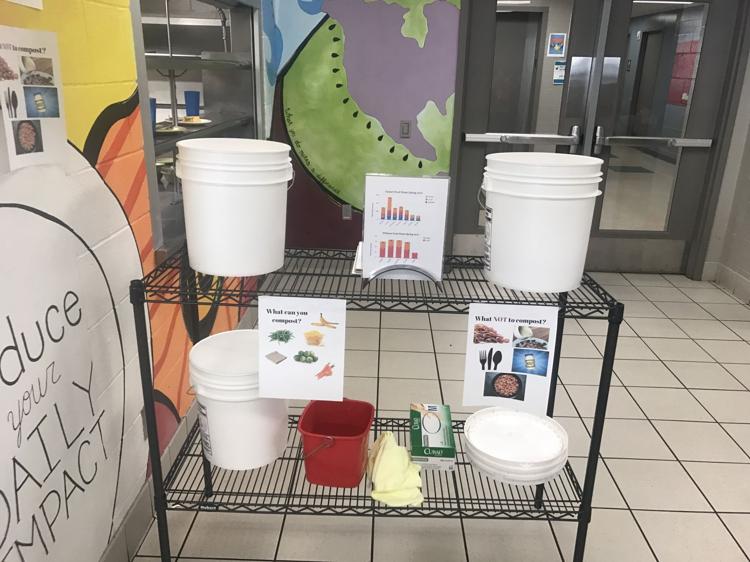 "The resources and opportunities in sustainable living are nearly endless," she added. "I believe the biggest thing, however, is that there is a lack of education on this topic."
"The experience has also taught me the value of 'putting yourself out there.' Most people are eager to help and/or connect you to the resources necessary to fulfill your dream. If not, the worst case is you get denied and simply revise and try again."
Though she expects to go on to graduation, she also has an idea what she would like to do once she's done.
Not surprisingly, she said, "long-term I would like to work with a sustainable company."