Some dates you just don't forget.
For George and Ann Hyduchak, it is Nov. 30, 2015, the day their son, Jace, was diagnosed with leukemia.
He had turned 5 just a month earlier.
It's been a long, heart-rending journey but one with a happier ending than many.
Jace is in remission, and has been named an honorary race starter for the March 11 Run to Fight Children's Cancer sponsored by Grand Canyon University Foundation.
This is the seventh annual run/walk and the second for which the Hyduchaks have organized a team fittingly called "Jace's Defenders."
Their Facebook site of the same name states:
"Support the children who are fighting cancer today because it may be your child who is fighting cancer tomorrow."
The family knows that tragic fact all too well.
"Jace's diagnosis opened our eyes to a world we were blind to before," admitted George Hyduchak.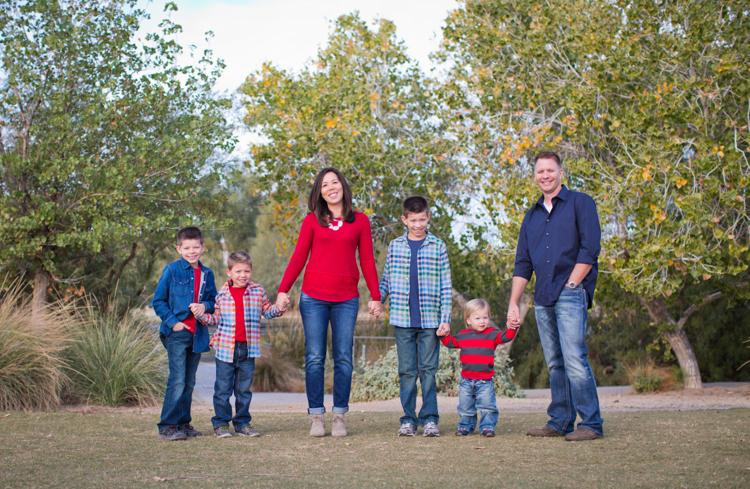 Their eye-opener came when they took their son, the third of four sons ages 12 years to 22 months, to the doctor, following a Thanksgiving weekend of lethargy and an onset of bruising.
"We could tell he was really sick and then there was a tinge of blood on his pillow and that alarmed us a bit," recalled his mother.
The doctor's appointment brought more concern.
"The doctor didn't allude to anything seriously wrong but her demeanor was different," said George. "She ordered blood tests and said she'd call us later in the day."
As the hours ticked by and no phone call came, the parents grew more hopeful that perhaps it wasn't as serious as they were thinking.  But then the phone rang at 8 p.m. and they were told to get Jace to Phoenix Children's Hospital immediately.
"It was the worst news you could ever hear – 'your son has leukemia,'" said George, still evincing the pain of that call. "That was probably the worst day in my life."
The official diagnosis was acute lymphocytic leukemia (ALL), a cancer of the blood and marrow.
"Turns out his hemoglobin was off the charts low," said Ann. 
Grandparents rushed from Scottsdale to care for the other boys as the Jace and his parents hurried to leave.
"Jace was crying because he didn't know why he had to go to the hospital; we were both crying, though not in front of the kids. We told the boys Jace was really sick," said Ann.
"We didn't sugarcoat it but we told them what they needed to know when they needed to know it," added George.
The couple recalled how horrible the next month was as their son went through chemotherapy, steroids and complications from surgery needed to install a port to his heart.
"It was really a rough road," said George. "Typically, kids gain weight with steroids but he went down from 47 to 37 pounds."
Two days before Christmas, Jace was discharged. There were still many medication issues and infections compromising his recovery.  
"Chemo was pretty rough the first few months; it took almost a year to gain his weight back," George said.
Last August, Jace reached the maintenance stage and entered kindergarten at Kyrene Monte Vista Elementary School.
 One day after enrolling, he was out with a fever and readmitted to the hospital for eight days. Since then, it's been relatively smooth sailing.
"We just take it one day at a time, one phase at a time," said George.  "That's all we can do."
Last year, while Jace had yet another overnight at Phoenix Children's Hospital, Ann went online to find a walk or race benefiting pediatric cancer.
 The family had done charitable fundraising run/walks in the past, but now, this was personal.
"I wanted a way to give back what we had already received from my family, George's family in Tucson and Pennsylvania, friends and neighbors. I found Run to Fight Children's Cancer and we organized a team," said Ann, a full-time mom and Realtor with West USA/Ahwatukee office.
"Emotionally, it was huge for us," said George, an electrical engineer and technical-support engineer for San Diego-based Cymer. "I think it was a way for us to unite our little community of supporters."
Their first participating year, the Jace's Defender's team was the largest of any with 127 persons involved.
"We definitely want to raise funds for research and raise awareness for children's cancer," said Ann adding that as of Feb. 3, they have met their initial personal fundraising goal of $2,500.
"We're are pushing forward to raise as much as we can. Anyone can donate - even walkers and runners but you don't have to join the walk to donate." 
Jace is doing well these days, even playing basketball on a Ahwatukee Foothill YMCA team. He is playful with his older brothers, Bryce, 12, and Caden, 9, and tender with his 22-month old brother Brig.
This year, as honorary race starter, Jace will not only participate, but sound the horn at the starting lines for the 10K and 5K races at the school's main entrance, and continuing around Grand Canyon University campus.
To learn more about Jace Hyduchak's journey, visit www.caringbridge.org/visit/jaceh. For more information on Jace's Defender's or to register for or support this year's team, see www.facebook.com/jacesdefenders.