Esperanza Lutheran Church weekend will give Ahwatukee residents a chance to tingle their taste buds while helping Syrian refugees.
A group of 30 women who fled the war-torn Middle Eastern country will be selling a variety of native desserts 11 a.m.-1 p.m. Sunday, March 12, in the church's parking lot, 2601 E. Thunderhill Place, Ahwatukee.
A similar bake sale by the group, Syrian Sweets Exchange Phoenix, drew an estimated 800 people last month to Day Spring United Methodist Church in Tempe, said Tan Jakwani, one of the organizers.
"People were lined up in the rain, and we sold out faster than we expected," Jakwani said. "We had to apologize because so many customers left empty-handed."
The Valley group was inspired by a similar program that Syrian women refugees have been conducting in Tucson, said Jakwani, who is outreach coordinator for a Scottsdale mosque.
"All of us belong to the Syrian Refugee Connection Facebook group, consisting of volunteers from different backgrounds and faiths coming together to help refugees rebuild their lives," said Jakwani. Other organizers are Sadia Zubairi, Shy Khan, Lama Hiraky, Nancy Speidal and Tracy Nishida.
"The bake sale is entirely a humanitarian effort by volunteers of different backgrounds and faiths who are actively assisting refugees in Arizona," she added.
All proceeds from the bake sales go directly to the bakers' families, who often are subsiding on low wages earned by their husbands.
Jakwani said the sales accomplish two other purposes – introducing the refugees and the community to each other.
"It's like a cultural exchange," she said. "The community gets to learn about the refugees and the refugees meet their new neighbors."
The bake sale is a more comfortable way for the women to reach out, Jakwani said.
"Many of the Syrian women are great bakers," she explained. "When people come over, they typically welcome their guests with baked goods."
Each woman bakes in her own kitchen, "where they feel more comfortable," Jakwani added. "Syrian women like to work out of their home and baking is one of their passions."
They also have been trained by a Tempe baker and have their county Health Department food handlers license, she added.
The Tempe baker trained the original group of bakers, and they in turn have trained other women. Additionally, the bakers wear gloves, so volunteers handle cash. In addition, translators are at each baker's station to assist the interaction between the bakers and their customers.
Each woman will bake around 100 of their specialty, which they will sell for 50 cents to $1.
They all will have boxes for people who want to buy more than one or two and take them home.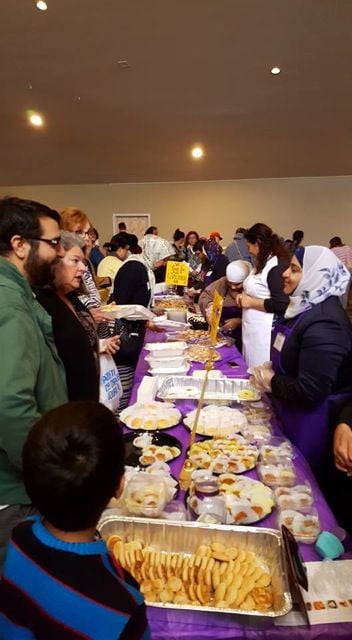 "A lot of people take home a box of baked goods," Jakwani said.
Indeed, as the bake sales have been progressing around the Valley, the bakers are picking up orders for parties and other special events.
Jakwani also said she and other organizers are negotiating with several food stores and farmers markets to widen the distribution of their products.
"The women are super-excited," she said. "We're happy about the way it is going so far. We're working on helping them and want them and their new American neighbors to get to know each other as well."