As a federal judge dealt a major setback to opponents of the South Mountain Freeway, new concerns about the controversial thoroughfare have shifted the focus more from whether it should be built to how it will.
Those concerns prompted several angry outbursts Monday at the Village Planning Committee meeting when a standing-room-only crowd of about 300 people several times booed an Arizona Department of Transportation spokesman and loudly applauded a group of six Gila River Indian Community residents who performed a native dance condemning the project.
While the Gila contingent vowed to lie down in front of bulldozers to stop construction of a highway they said defiles land they consider sacred, several Ahwatukee residents accused Gov. Doug Ducey's administration of planning to "go cheap" with the most expensive highway construction project in state history.
"Get more money from Ducey and do a better job," one audience member yelled. "Don't screw us on it so you and the contractor can save money."
The audience members grew particularly irate when ADOT spokesman Brock Barnhart kept referring people to the department's website each time they had questions. Residents asked whether the freeway would be depressed below grade level or elevated, how high sound-suppression walls would be and whether the state would even listen to their concerns about its design.
"We want a highway that looks like the freeways in the East Valley," one resident shouted. "Tell Ducey to spend some money."
Even though Barnhart repeatedly reminded the audience that ADOT would discuss the freeway's design at a citizens meeting Sept. 27 at Desert Vista High School, one woman yelled, "You should be embarrassed" over the lack of concrete information.
And planning committee member Mike Maloney asked, "If we're gonna live with it, how are you gonna make it livable?"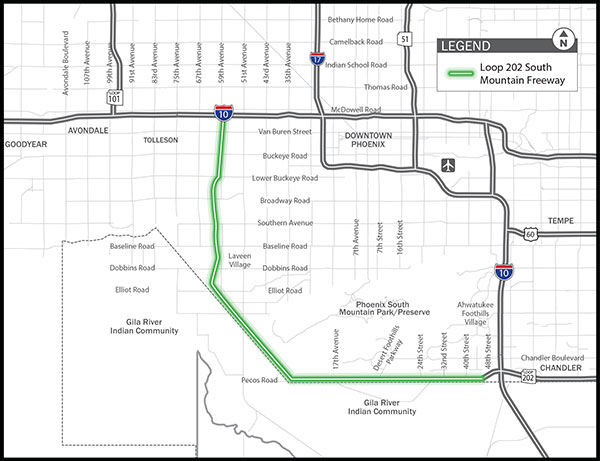 The planning committee meeting came in the wake of Friday's ruling by U.S. District Judge Diane J. Humetewa. She declared that the Gila tribe and Protect Arizona's Resources and Children had failed to prove that the freeway posed a threat to children's health or that it threatened sacred land on South Mountain.
ADOT immediately said it would begin some construction activity within the next few weeks around the intersection of I-10 and the Loop 202 Santan Freeway, removing native plants along the right of way for transplanting later.
The 22-mile freeway, which ADOT says has a "fixed" $916 million contract, will provide a diversion around central Phoenix for I-10 traffic in both directions.
Two days before Humetawa's ruling, Phoenix City Manager Ed Zuercher wrote a strong letter of protest to ADOT over design changes that put the freeway at grade level. Several Ahwatukee and South Phoenix streets will cross over it at elevations ranging from 17 to 28 feet above grade.
Those streets include Elliot, Dobbins and Broadway roads, Southern Avenue, Desert Foothills Parkway, 17th Avenue, and 24th Street. Zuercher also raised concerns about a proposed redesign of the 51st Avenue and Estrella Drive interchange. Previous designs had the freeway going beneath those thoroughfares.
"We have very serious concerns about the proposed revisions to the traffic interchanges in the most recent design plans," Zuercher wrote ADOT Director John Halikowski, saying that the redesign demonstrated "conflicts with the official values, goals and objectives voted upon by both the City Council and Phoenix residents.
Zuercher said the redesign "will negatively impact our efforts to advance community connectivity, bicycle, pedestrian and disabled access and mobility, accessibility to bus transit stations, alignment of infrastructure with land use designations and maximum access to economic development and growth opportunities."
Zuercher's concerns didn't stop two City Council members from issuing press releases within hours after the federal court ruling praising the judge.
Councilman Michael Nowakowski said the ruling "means this long-overdue economic development and transportation project finally can move forward," while Vice Mayor Kate Gallego said the freeway "will usher in transformative long-range economic development for the city and region."
Councilman Sal DiCiccio vehemently disagreed when asked about his colleague's press releases.
"I have donated to the efforts stopping the freeway and will continue to oppose it," he said, stressing "the city of Phoenix has virtually no impact on the freeway. It is a state project. And governed and directed by the state of Arizona."
Tom Remes, the city's newly appointed "freeway coordination manager," encouraged audience members to send him their concerns and promised to take them to ADOT.
Remes, city Streets Department representative Eileen Yazzie and planning committee Chairman Chad Blostone also echoed Barnhart's insistence that residents had numerous opportunities over the next few months to voice their concerns and impact the freeway's final design, which could be rolled out in November or December.
Asked about Zuercher's letter by the Ahwatukee Foothills News, ADOT issued a statement that said the department had met with him Monday.
Although the ADOT statement made no mention of what was discussed, it said, "Phoenix has been a close partner in the planning, development and design of the South Mountain Freeway for many years, and we look forward to the continued strength of that partnership as we move into the construction phase.
"As this is a fast-paced construction project, ADOT will rely on strong partnerships to keep the community informed, involved and engaged throughout the three-year construction process," it continued. "Partnerships with neighborhood organizations, schools, community groups and the city will help this to be a successful project, meeting the community's expectations while addressing the demands of traffic."
The Gila tribe contingent entered the meeting carrying several large signs condemning the freeway.
Two members of the group, Linda Allen and Phil Morales, drew several loud rounds of applause in separate addresses to the committee.
"The freeway is genocide for our people," Allen said, nearly breaking down in tears as she told the committee how the freeway would trample sacred ground and vowed, "We are going to keep fighting it."
Morales told the audience that the tribe believed God lived in South Mountain and that the freeway was a desecration.
"This is our sanctuary. This is our cathedral," Morales said. "We're going to lay down our lives in front of those damned bulldozers."
He then broke into a chant in his native tongue and shook a maraca as he and five other tribe members held hands and danced in a circle in front of the committee.
When they finished, the audience cheered wildly and applauded.