Animal rescuers are hoping new masters will step forward to take ownership of a couple of dogs.
Jannelle Cosgriff of Friends for Life Rescue said "very handsome" Romeo is a "pocket Chow" because its 40-pound weight is less than the average weight for that breed.
"Romeo is about 1-1/2 years old and has the typical energy level of a dog his age," she said, describing him as a "good hiking buddy who will do well in an active home where he will get lots of walks."
Romeo is neutered, vaccinated, microchipped, licensed, and he tested negative for heartworm. His adoption fee is $150. Information: Friends for Life Animal Rescue at 480-497-8296, ffldogs@azfriends.org, or azfriends.org.
Meanwhile, Cowgirl is a 2-year-old Cattle Dog/Staffordshire Terrier mix, available for adoption at Arizona Animal Welfare League's main adoption center, 25 N. 40th St., Phoenix.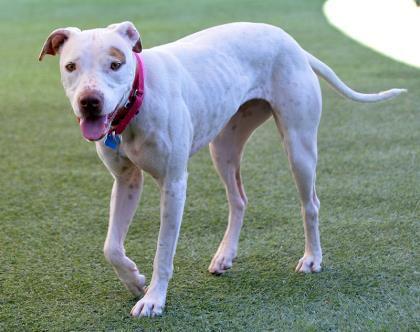 "Cowgirl is an easy-going, affectionate girl who loves cuddling," spokeswoman Shauna Michael said. "She would enjoy a family that can take her for daily walks and weekend hiking trips. Cowgirl loves to snuggle up with her favorite people, and may even enjoy a doggie friend or two."
Information: 602-273-6852 ext.116.