Walk into the Ahwatukee home of Meghan Jorgensen and your olfactory senses leap into hyperdrive – maybe even triggering nostalgic memories.
The home also hosts the bakery of Lavish Loaf, a new business begun this year by Jorgensen, a 33-year-old woman with a husband, Nate, and two kids – Claire, 4, and Dominic, 2.
Active youngsters and a new and already-thriving business isn't for the faint of heart, but baking is a passion for Jorgensen that she sees profit in pursuing.
"I manage my time very efficiently," said Jorgensen as her little ones climbed on her lap. "I wake up at four and try to get all my baking done before the kids wake up - though that doesn't always happen," she laughed. "I usually try to prep the night before, and I get a good night's sleep. It's really all about the planning."
Her business, registered with the Arizona Home Baked and Confectionary Goods Program, began at Thanksgiving when she advertised her yeast rolls for sale.
"I offered them in Ahwatukee and was selling tons of dozens," she laughed.
From there she expanded into yeast breads and, later, sweeter loaves like banana bread, the aroma of which filled her home on the day she was interviewed.
"My most popular bread is my banana bread. I bake that every day," she said. "People tell me mine is different because it has more of a cinnamon taste and a crunchy top."
Other popular items are her white and cinnamon breads.
"I've never really liked store-bought bread unless it was bakery bread. So, I've always made home-baked breads and cooked for my family. My classic white bread recipe has been passed down through my husband's family," she said.  "I use that to make my white and cinnamon breads."
Even her husband and kids appreciate the fragrance of the breads wafting through the home, which required some reconfiguration in order to be approved by state inspectors.
"We love the smell of fresh bread in our home every day. The rising of the yeast breads, the baking, even while they're cooling, it smells so good," she said of her breads, which contain no preservatives.
Jorgenson said that although she studied art in school, it was baking that captured her attention once she tried her hand at it.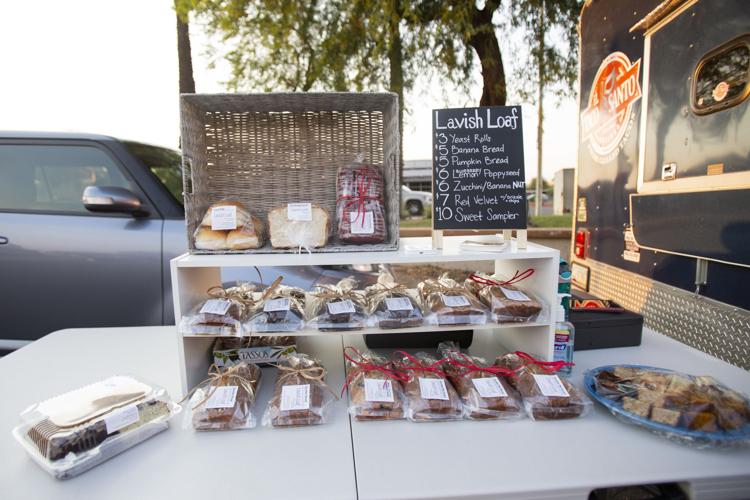 "Growing up, I was the one who did the creative stuff in baking and cooking at home," she said.
One of the perks of baking at home, said Jorgensen, is being able to earn money while staying with her two children. She was employed in sales when Claire was born, but she decided that being a stay-at-home mom was what she wanted.
Jorgensen, who points out that her maiden name was Baker, started baking for her family and when they moved to Ahwatukee from Redlands, California, she made the jump to making her passion a profit-making venture.
It's worked, thanks to social media.
"I have a Facebook page and I actively post in the Ahwatukee 411 and Ahwatukee Friends groups," said Jorgensen, who also is a member of the Ahwatukee Bakers group.
"Most of my business is generated from Facebook and through referrals.  On most Tuesday nights, I team up with Cesar Martinez at El Taco Santo for Taco Tuesday. I set up a table next to the food truck in the Firestone Parking lot at Chandler and 40th and offer an assortment of fresh breads and $10 sampler boxes. I always have free samples, too."
Lavish Loaf occasionally offers weekend specials that include an assortment of breads at discounted prices.
"It's a good way for customers to try new or different breads they've not tried before. I bake a variety of breads including yeast breads – some are vegan – and my sweet breads. People often buy my sweet breads as gifts. I carefully wrap them in plastic and add a ribbon and label with the ingredients," she said.
Among her other sweet breads are double chocolate banana or zucchini bread, zucchini nut, lemon blueberry, lemon poppyseed, pumpkin bread, jalapeño cheese bread, carrot apple zucchini bread, red velvet bread, cheese bread and others.
Lavish Loaf offers free local delivery, or customers can pick up orders at her home. Jorgensen fills custom orders, too, like platters of sliced breads for business meetings or events.
And she's not done.
"I have plans in the works to team up with some local businesses and leave a small bread rack on-site. I'll post details on my Facebook page," she said. "I plan to grow my business as my kids grow. I'd eventually love to get into farmers markets."
Lavish Loaf and El Taco Santo became partners after they were already fans of each other's products and passion.
"All their products became our favorites, and after seeing the passion with what Megan baked their delicious breads, we thought it was a good option to support each other since we have the same passion for what we do," Martinez said. "So, we discussed the idea, liked it and ever since then we've worked together."
Dr. Harveer Kaur of Kokopelli Family and Cosmetic Dentistry at 1327 Chandler Blvd. in Ahwatukee found out about Lavish Loaf through Jorgensen, who is a patient.
Besides buying loafs of breads to distribute among her staff, Kaur discovered they were a godsend for a mother of a very picky 2-year-old eater.
"My daughter doesn't eat anything, and I told Meghan about that and she said why don't you try the lemon/poppyseed/blueberry bread or the banana bread," recalled Kaur, who has owned Kokopelli since June 2017.
"You cannot believe the difference it made. My daughter ate her lunch for the first time. And as a mother, I'm confident in the ingredients she uses. She's a fabulous baker and we love her breads."
Brooklyn born-and-bred Donna Lubrano, who moved to Ahwatukee 19 years ago before recently relocating to Maricopa, also has found Lavish Loaf a definite child pleaser.
"My son Dominic doesn't eat bread but he will devour Meghan's yeast rolls. Her  breads are light and moist from the first bite to the last. I order for special occasions as well as for meals and snacks," she said. "Now that I'm in Maricopa, I make a big list of all I want and try to get to her at least twice a month. Her assortment trays are a wonderful idea so you can try three or four products at a time."
Information: Lavish Loaf Homebakery on Facebook.