The Ahwatukee Foothills Chamber of Commerce will honor two businesses, a non-profit organization, a volunteer and a teacher next week at its annual Day of Champions Breakfast.
While the nominees for the five awards have been released, the winners will not be announced until the breakfast, 7:30 a.m. Feb. 17 at the Four Points by Sheraton, 10831 S. 51st St., Ahwatukee.
Each year the chamber awards businesses and individuals for their "outstanding leadership, service, excellence in business and contribution to the community."
The keynote speaker will be state Treasurer Jeff DeWit. Also speaking will be Phoenix City Councilman Sal DiCiccio and chamber President/CEO Lindy Lutz Cash.
Tickets are $40 for chamber members and $50 for nonmembers, and can be purchased at ahwatukeechamber.com.
Here are the nominees for this year's awards.
EDUCATION MENTOR OF THE YEAR
Karen Reiss
Karen Reiss is a special education teach in her third year at Centennial Middle School in Ahwatukee. "Karen is all about creating an environment in which personalize learning can occur," the nomination stated. She has "perfected co-teaching," in which two teachers share classroom duties so individual students can get more personalized attention.
"She is responsible for teaching and mentoring other teachers in how to make this method effective, which then allows for the kinds of interventions that students who are at various proficiency levels need," the nomination added.
Working at both the school and district levels, Reiss' "passion for students with special needs has inspired others to learn and grow."
Shawndra Reid
An eighth-grade English language arts teacher at Centennial Middle School, Shawndra Reid mentored Pablo DeLeon last year when he was a student teacher. This year, DeLeon took on the additional responsibility as the school's wrestling coach and the team won the district's wrestling championship.
Crediting Reid's mentoring, her nomination said she "leads in many areas" and analyzes data "to implement teaching strategies" that "drive instruction."
"in a time when fewer young adults are choosing to go into teaching as a career, someone like Shawndra is an invaluable resource for encouraging and supporting new teachers and she inspires those currently in the industry to elevate their teaching methods to the highest levels."
Therese Schmisseur
Therese Schmisseur, the National Honor Society sponsor and an algebra teacher at Desert Vista High School, "is an outstanding scholar and leader" who "has a rigorous work and extracurricular schedule that is very demanding," according to her nomination.
"She has a genuine concern for others" and "spends a plethora of time creating, modifying and adjusting curriculum on the weekends to help tailor it to her diverse students," it added.
Frequently found in her classroom after hours providing additional tutoring to students, Schmisseur "seeks a deeper understanding of what she has learned and taught, which places greater meaning into her work and personal responsibilities," the nomination said.
VOLUNTEER OF THE YEAR NOMINEES
Jim N. Hunt
Realtor Jim N. Hunt of Ahwatukee estimates that he spends more than 30 hours a month engaged in a wide variety of activities in the community. Vice chair of the chamber board, he also chairs the Ahwatukee Foothills Family YMCA board and also volunteers with the Festival of Lights Association.
"I have never had a bad day by volunteering to help people or a cause," he said.
Pamela Manwaring
Pamela Manwaring of Ahwatukee heads up the chamber's Young Entrepreneurs Academy (YEA!), which teaches young people in middle school and high school to start a successful business. This year 11 young people are students, gathering weekly under Manwaring's direction to learn business principles and develop a plan for marketing and selling a product of their design.
Manwaring lines up speakers, mentors, sponsors and the investors who decide what businesses to bankroll.
Rick Allen
Ahwatukee resident Rick Allen is an ambassador for the chamber, and helps new and existing members take advantage of its various services. He also mentors other ambassadors and is "always seeking to connect members to other others as network partners and connections and to find ways to promote their businesses.
Tracy Jones
Tracy Jones of Ahwatukee has been a volunteer in various chamber activities as well as a variety of other charities, including Phoenix Children's Hospital, Junior Achievement, the Breast Cancer Walk, and Leukemia and Lymphoma Society.
"I love cheering my peers on until we have reached our goal," she said.
Thomas S. Moore III
Thomas S. Moore III of Chandler has been a volunteer for the Southeast Valley Regional Association of Realtors, the House of Refuge, Starbright Foundation, Salvation Army and Jewish War Veterans.
"My enthusiasm and sharing of ideas and causes helps to bring awareness," he said. "And I personally benefit by being able to directly help make other situations better."
NONPROFIT OF THE YEAR NOMINEES
Desert Garden Montessori
Founded in 1996 by executive director Shetal Walters, Desert Garden Montessori aims to "build a sustainable community of families passionate about education, lifelong learning and Montessori philosophy." Located at 5130 E. Warner Road, Ahwatukee, it serves almost 300 students from infancy to the 11th grade.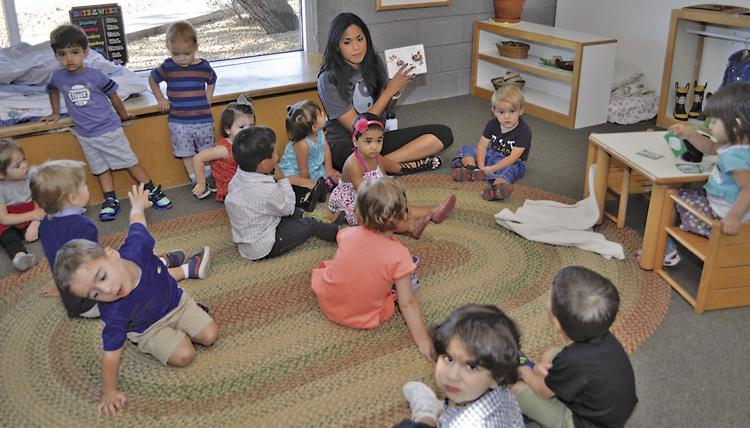 "The school is committed to developing within each child a sense of responsibility and interdependence with their community and the world," the school told the chamber. "Accordingly, Desert Garden's philosophy encourages children to appreciate and respect nature and the environment."
Ahwatukee Kiwanis Club
The Ahwatukee Kiwanis Club was chartered in December 1981 and has been a very active service organization in the community since that time.
Members are involved in the Chamber, the local school districts, the YMCA, the Boys and Girls Club, Festival of Lights, as well as many other community organizations. "We partner, rather than compete, with other service organizations," the club said, citing its projects for kids in group foster homes and its involvement in the Ahwatukee Easter Parade and Spring Fling.
Festival of Lights Association
The Festival of Lights is celebrating its 22nd anniversary this year. For its 20the  anniversary, the association moved the first fund raiser to Rawhide to accommodate a growing attendance. The Kick Off Party in November was completely reorganized, again to accommodate a large attendance and "was also the best attended winter event in our history," it said, noting the events raised $6,000 it gave to two charities this year.
The Association said it will "seek additional or new charities who wish to be our beneficiaries for 2017."
Ahwatukee Foothills Family YMCA
A community organization for the last 15 years, the Ahwatukee Foothills Family YMCA aims to put into practice Christian principles into practice through programs that build a health spirit, body and mind for all. It offers a free fitness program for cancer survivors, free swim lessons for needy kids, and runs the Y OPAS program for seniors in the community.
Love I Am
The 5-year-old Love I Am Foundation is dedicated to helping children with congenital heart defects. It sends them to week-long camp. It also raises money to buy sneakers for some of the poorest children in Phoenix.
BUSINESS OF THE YEAR NOMINEES
Ahwatukee Board of Management
The Ahwatukee Board of Management, 4700 E. Warner Road, Ahwatukee, told the chamber in its application that it has always been more than a homeowners association to more than 20,000 households.
"It has always been AMB's philosophy to create a strong sense of community," it said, stating its recreational amenities and offices have offer "a meeting place, hub and a tie that bind civic organizations and their efforts and events to residents." It noted it has been a member of the chamber since its inception and also has supported its Red White and Boom! Independence Day celebration since it started.
AmTrust Bank
AmTrust Bank, 4025 E. Chandler Blvd., Ahwatukee, said it has "demonstrated success with our genuine desire to be a resource to the community. Building strong relationships with our community and customers has increased our presence as well as gained the trust of those we serve."
Along with growing its presence as an active member in the chamber, the bank said its goal is "to support our local businesses, new and existing, by making referrals and connections to build up the community and long-lasting relationships." I noted it conducts elderly fraud workshops throughout the community as well as teaches financial literacy to high school students.
Centurylink
Century Link, 20 E. Thomas Road, Phoenix, is the naion's third largest telecommunications company and has supported numerous chamber activities, including co-sponsoring the Red White and Boom Independence Day celebration.
Empire West Title Agency
Empire West Title Agency,4505 E. Chandler Blvd., Ahwatukee, has been serving the real estate industry in Ahwatukee for 14 years. Part of the state's fifth largest title agency, it has been active in the chamber, supporting mixers and other efforts.
It said it is "constantly looking for ways to educate the real estate community in the Ahwatukee market" by conducting tours of the community and regularly promotes escrow officers within its ranks.
Wells Fargo
Wells Fargo at 3949 E. Chandler Blvd., noted that its branch manager Linda Highland is now on the chamber board and that it has consistently supported the organization's various activities.
It told the chamber that while it is a large company, its branch in the Frys at 40th Street and Chandler Boulevard "has brought the small-town bank feel to the Ahwatukee community. We are consistently in the community, attending events, going to schools from elementary to college to teach hands-on banking, visiting our small businesses to provide knowledge around banking to ensure that all our customers are achieving financial success."
SMALL BUSINESS OF THE YEAR
Dr. Janet Euzarraga
Ahwatukee dentist Dr. Janet Euzarraga, 4206 E. Chandler Blvd., has been practicing dentistry for 30 years, and has been in Ahwatukee since 2001. She opened her own practice a year ago and performs a full range of services. She said by far her "favorite thing to do is a smile makeover, as it usually has a huge impact on the life of the recipient."
Stating that her goal is to treat her patients like family members, she said, "I opened up a very small, boutique type office, where I can treat people exactly as I would like to be treated." She has supported various community activities.
Elements Massage
Elements Massage, 7131 W. Ray Road, Chandler, provides "therapeutic massage to provide pain reduction, stress relief and relaxation in a safe professional environment," it told the chamber. It has services for children, pregnant women and elderly people and employs only licensed massage specialists.
Owner Janet Schwab, winner of last year's chamber Palo Verde Businesswoman of the Year Award, is now on the chamber's executive board and her business has supported numerous chamber and Ahwatukee activities since opening in 2011.
The Specific Chiropractic Center
Dr. Cameron Call opened the Specific Chiropractic Center, 4425 E. Agave Road, Ahwatukee, last June. He specializes in helping individuals with chronic and recurring pain that has not responded to traditional treatment by focusing on the function of the nervous system and correcting neurostructural dysfunction to help the body heal itself.
Active in the chamber as well as the community, he said, he "believes the best way to exhibit leadership is to be willing to serve where and when he can." He credits the growth of his business to the relationships he has built through his involvement in the community.
Ahwatukee Foothills News
AFN Publisher Steve Strickbine told the chamber that as a community newspaper, the Ahwatukee Foothills News and its staff "are consummate champions of small business in the Ahwatukee community."
The paper has been a major supporter of numerous community events and celebrations, including the Festival of the Lights, Red White and Boom and the Easter Parade and Spring Fling. Strickbine bought the paper in January 2016 and has made a major effort to improve its coverage of the community by hiring experienced writers and editors, resulting in significant growth in advertising.