An East Valley spa that promises affordable, results-driven skincare services is opening its fourth location in Ahwatukee Sept. 1.
But just because Fuchsia Spa isn't opening its 2,800-square-foot salon at 4025 E. Chandler Blvd., Suite 3, until then doesn't mean clients can't start setting up service.
Fuchsia co-founders Lisa Vukonich and Erin Owens are offering spa membership at a discounted rate that is good for life.
The Ahwatukee location is offering $49 lifetime spa memberships, which include facials, massages, dermaplaning, microdermabrasion seasonal pedicures and other services. Additionally, the first 100 spa members will receive a swag bag valued at over $200.  
Because the salon is next door to Early Baker, Vukonich and Owens also are using the relatively new restaurant as a headquarters for informational meetings they hope to have throughout this month.
Since they opened their first spa in Mesa in 2006, Vukonich and Owens have seen considerable success.
"Erin and I are planning to open four more corporate-owned Fuchsia locations in the next three to four years," Vukonich said. "We are concentrating first on the East Valley, as we have found it is underserved when it comes to spa services – especially our concept with affordable skin, massage and nail services all in one place."
She said she's happy to be opening a business in Ahwatukee, where she and her husband owned their first home as Mountain Park Ranch residents.
"We love the Ahwatukee community, so when it was time to expand, we decided to return," she said.
As for their choice of a location in the community, she said:
"With a fabulous group of tenants, like Trader Joes, Safeway, MOD Pizza, Inspire Kids Montessori, Pomegranate Cafe, Early Baker among others, selecting Plaza @ Mountainside for our spa was a no brainer. We're excited to bring this spa concept to such a vibrant shopping destination that offers women a one-stop shop to indulge in a full day of pampering."  
The two women opened their first studio with the idea of being the "everyday spa for the everyday woman."
Both moms, they met while working at the University of Phoenix. Owens was Vukonich's supervisor. She saw how busy and tough it was for Vukonich to juggle work and her young children, sometimes missing the kids' school events because of work.
The two women started talking about what they would want – the occasional facial or massage that would give them an hour to themselves.
Then they took that conversation a step further, since Owens' family members own a business.
"There's always been that thought in the back of my head that this is something you should do," Owens said.
Owens and Vukonich started to forge a plan to create a day spa with just the basics – massages and facials.
"We were looking for the work-life balance but always wanted to give back to the women doing it every day: balancing kids, balancing work, balancing community responsibilities," Owens said.
Originally, they looked at franchise possibilities. But because they wanted to specialize, they came up with their own idea. Using a branding company, they came up with the name "Fuchsia" to represent something "different in the industry."
"It's in the pink family, but fuchsia stands out from the rest," Owens explained.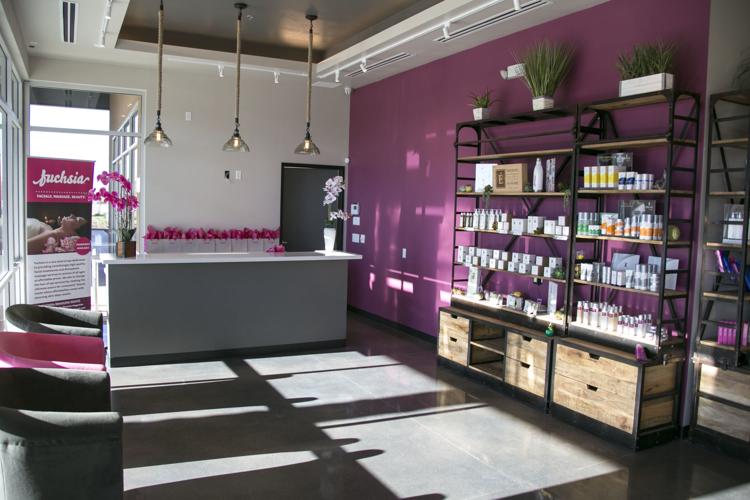 With their business background from the University of Phoenix and the education they both received there, they launched their business in the last spot available at the time in Dana Park, one of the tonier areas of Mesa, right along its border with Gilbert.
Massages and facials remain the staple, but as the economy changed – and discretionary spending changed – the women also altered their business plan and started offering nail services so women could still get a treat for themselves, but at a lower cost.
The women expanded the area for pedicures and manicures and added a "blow-dry" bar, where clients can come get their hair styled without a cut or color.
"Anybody who has a dream and passion will certainly be successful," Owens said. "Have a business plan. Have someone to bounce ideas off of. When you're getting constructive feedback, listen to it. Don't take it to heart as personal … Have great employees. You can't put enough stock into the people on your team."
"Having a business has allowed us to manage life outside of it," she added.
The day spa uses skincare products that include the Fuchsia Advanced Skin Care line, available for sale exclusively at Fuchsia Spas.
"It is our goal to bring to Ahwatukee a spa where our guests can feel and look their best, a place to feel cared for and rejuvenated, Self-care is no longer a luxury, it is a necessity that we all deserve," Owens said.
They also are seeking franchisees in hopes of opening 15 more locations in Arizona, Texas, Nevada, Colorado and Utah within the next three years.
To learn more about business opportunities: fuchsiaspa.com or franchise@fuchsiaspa.com. To learn more about Fuchsia Ahwatukee and the memberships: contact manager Spring Aldecoa at 602-616-0861.