Five years ago, Janet Schwab exited from her recent retirement as a grade-school teacher and tech specialist and opened Elements Massage Chandler West, just over the Ahwatukee border in the Casa Loma strip mall, because she wanted to help people overcome stress.
Last week, her business success earned her the 2016 Palo Verde Businesswoman of the Year Award from the Ahwatukee Foothills Chamber of Commerce.
"I was happy being retired, but now I feel like I wouldn't want to be doing anything else but run my business," said Schwab, adding that the award left her "kind of overwhelmed because this is such an honor."
The chamber also honored two longtime Ahwatukee women with two new awards it added this year to its annual tribute to female business and community leaders.
Jennie King, director of strategic energy management at SRP and the wife of Kyrene governing board member John King, received the Palo Verde Corporate Award, which honors a private-sector woman who has "achieved positive financial results, provided sound management and demonstrated a commitment to the Ahwatukee community."
"Jennie and SRP take proactive measures to educate customers on how to use electricity efficiently and how to take advantage of SRP's many programs and tools to reduce their energy costs," the chamber said.
Earning the chamber's first Palo Verde Social Enterprise Award was Andi Pettyjohn, former Kiwanis Club of Ahwatukee president who has helped organize Thanksgiving dinners for children in group foster homes and an annual baby shower for pregnant foster girls. She also organizes the Spring Fling Carnival that follows the Easter Parade in Ahwatukee.
Schwab's award honors the woman "who exemplifies outstanding leadership in our business community" and "achieved positive financial results, provided sound management, and demonstrated a commitment to the Ahwatukee community," according to the chamber.
Schwab's business is located in Chandler because she couldn't find a suitable space in Ahwatukee when she was opening her business in 2011.
But her heart is with Ahwatukee: She only belongs to the Ahwatukee chamber and has been involved in community activities it has sponsored.
She said that shortly after her retirement during a chance conversation with a friend who had just started a business, her husband Doug suggested that she help her.
"We always talked about owning a business, but I felt I'd be living his dream. Now I feel like we're living our dream," she said.
She had decided to get into the massage business for very personal reasons.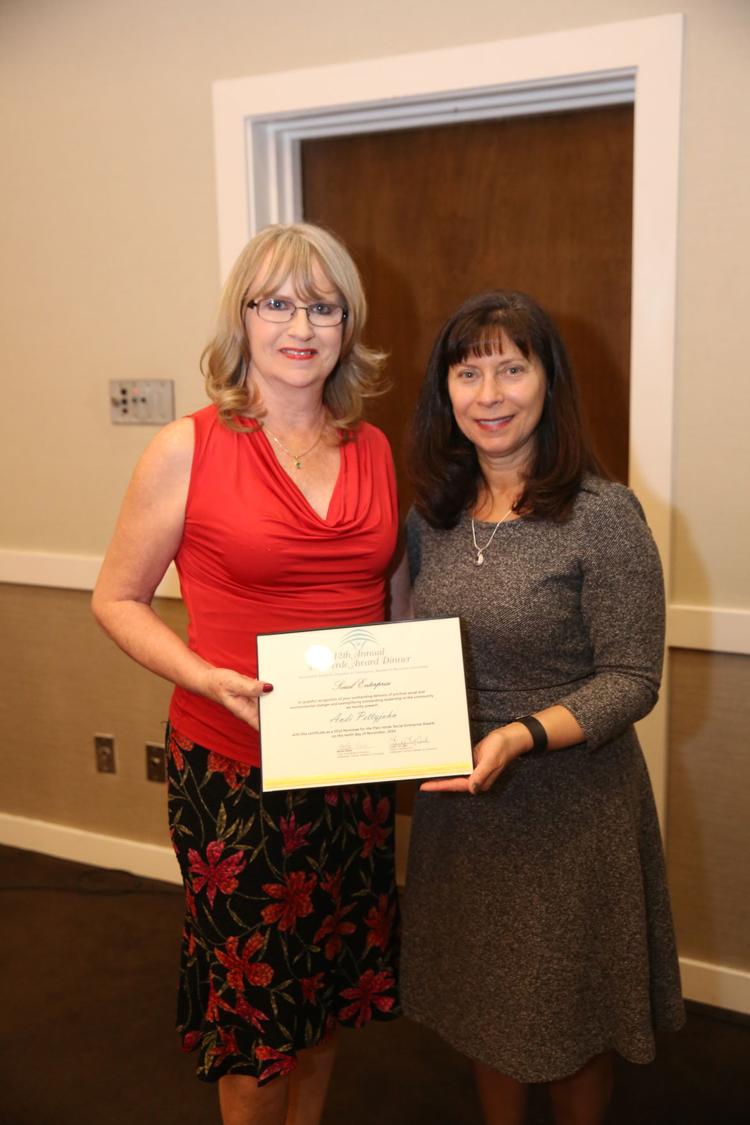 "I used to get massages because of the stress level I had being a teacher. And they helped me. I wanted to help people feel good," she said.
She settled on Elements Massage, which has more than 670 franchises in the country and about two dozen in the Valley because the company was founded by a massage therapist and because "it has a client-based model than economics-based. It's not numbers oriented," she said.
"There are so many health benefits to massage that I wanted to help people," added Schwab, whose business provided more than 8,000 massages last year in her 7,000-square-foot location.
Schwab doesn't give massages; she leaves that to 18 parttime massage therapists. They're parttime because "no one wants to be that last massage after their therapist has been working eight hours."
Instead, she spends her time overseeing the business' financials, handling the marketing and "doing a lot of networking."
That's all paid off, she said.
Her business has 500 members who sign up for monthly packages and her business is continuing to grow.
"The biggest challenge I had starting was learning about business after I was coming from an education background. They involve two different kinds of thinking. It was all about finding my niche in the business world."
"It's exciting," she said.