They weren't building better mousetraps, but they were ready for the world to beat a path to their door.
Or so the 10 teen members of the Young Entrepreneurs Academy run by the Ahwatukee Foothills Chamber of Commerce proved last week as they faced a panel of local investors and discussed the new products and services they had invented.
They had been preparing for the fateful session since September, gathering every week with YEA! director Pamela Manwaring to learn every facet of running a business – from product development to bookkeeping, marketing to distribution, cost analysis to quality control.
With the help of volunteer business owners and other experts, Manwaring had organized weekly guest speakers, meetings and lessons to help the teens get grounded in business fundamentals so they could actually turn their ideas into money-makers.
Last week was the moment of truth as each teen appeared before the local business owners who had volunteered to pony up money or other assistance to make them make the leap from concept to reality.
Some, like Pradyouth Velagapudi of Ahwatukee, injected some humor into their presentations.
The 13-year-old Horizon Honors Secondary School student had developed the WristBandit, a device to help parents located their lost children at amusement parks, stadiums and malls.
"I was lost at Sea World when I was young for 20 minutes at a gift shop," he said, prompting laughter from the panel and the audience of parents and other supporters.
Pradyouth and his nine counterparts were prepared with slide shows that buttressed their five-minute speeches. The slides identified their projected operating and supply costs, financing strategy, target market, competition, short and long-term business goals and promotion plans.
In the end, the panel agreed to give each entrepreneur investments ranging from $200 to $950 in cash that would supplement the money they had saved and the money they'd be getting from their parents.
The panelists were no strangers to the business world. They included Ahwatukee auctioneer Bobby Ehlert, San Tan Ford owner Tim Hovik and PostNet owner Aaron Mueller.
Also on the panel were Ben Lewis, a design consultant and director of education for TechShop, a national chain of spaces for start-up manufacturers; Bill Lombardi, a consultant for IBM Global Business Services; Charles Morales III, operations manager for the publishing company for the Ahwatukee Foothills News; and Matthew Wilson, co-owner of the advertising-public relations firm Knoodle.
The big winner was 13-year-old Emma Shaurette of Tempe, a Kyrene Middle School eighth grader who had invented an app and website called Rover's Reviews, which she described as:
"A social hub where any and all dog owners go to for honest reviews by other dog owners all around the country on any and all dog products, services, parks, stores, hotels, restaurants, miscellaneous and events."
She figured that between $250 in savings and an equal amount from her family, she needed another $845 to start her operation.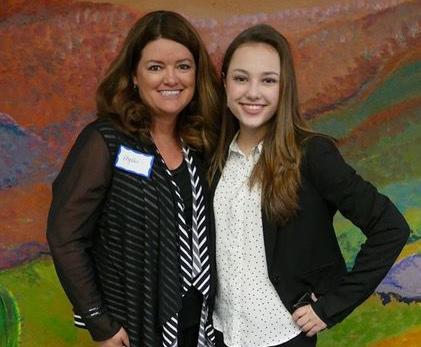 Emma not only received the full amount she requested, but also was named a Saunders Scholar, entitling her to a trip in May to Rochester, New York, where she will compete with 300 other young entrepreneurs selected by other YEA! programs across the country for college scholarships, prestigious prizes and a trip to the U.S. Chamber of Commerce's Small Business Summit in Washington, D.C., in December.
Pradyouth was awarded two-thirds of his $935 "ask" to develop and sell his first WristBandit, which actually would be a tracking unit with 50 wristbands. His idea is to sell these units to theme parks and similarly large venues, which would then sell individual wristbands to parents. The venue would then use the tracking unit to locate any wristband wearer who might have been separated from a parent or guardian.
The Ahwatukee Chamber runs the only YEA! program in the East Valley and the young CEOs came from Ahwatukee, Tempe, Phoenix, Chandler and Gilbert.