As an Arizona State University student in the 1970s pursuing a master's degree in fine arts, Gilbert photographer Neil Miller turned a chance encounter with Arizona's first outlawed motorcycle gang into an unusual relationship.
This month, he will display the product of that relationship with "The Dirty Dozen" when he opens a show of the photos he took of the gang's everyday life.
A 1975 article in Phoenix New Times described the Dirty Dozen as a group that ruled state highways for 30 years until some members eventually switched over to the Hells Angels.
"Unkempt and wild, with a fearsome reputation backed by criminality, the Dirty Dozen was Arizona's preeminent motorcycle club and would not allow other clubs to operate in the Grand Canyon State without its permission," the article said.
Miller's work will be on display in "The Dirty Dozen" from Dec. 16 to Feb. 10 at Gallery 4 located in HD South, home of the Gilbert Historical Museum. Gallery 4 is curated by Alan Fitzgerald, owner of Art Intersection in the Heritage District.
Miller's experiences with The Dirty Dozen ranged from charging down switchback-filled roads to the subtle relationships between members and the women who travel with them.
"Live hard and die young is what it was about. The reality of this lifestyle turned out to be true," he wrote.
Miller was 30 when he met the gang.
"It was a party and I had been photographing parties for several years. At the time, I was just working to add to an ongoing photography project. But after one night out in the forest north of the Grand Canyon, I knew this would be a long-term encounter," he wrote in his artist statement.
Any trepidation?
"There was some on the first run I went on, but it became apparent once the members got to know me, everything went very well," said Miller. "It was a closed group but, once accepted, easy to get along with. I had been riding motorcycles for over 10 years when this opportunity came up, so it fit my interest.
"I found that once you get past the social independence and the take-it-or-leave-it attitude, you find the club to be a family just out to enjoy life on their own terms," said Miller, adding:
"Most members were hard-working, taxpaying people who spent their off time socializing and riding tricked-out, two-wheeled vehicles. Along the way, this lifestyle led to bumping into rules, regulations and the many dangers of living large."
Miller's photographs, some in black and white and some in color, depict the rugged club members on their machines etched against the equally rough scrub land and mountainous backdrop that is Arizona's outdoors.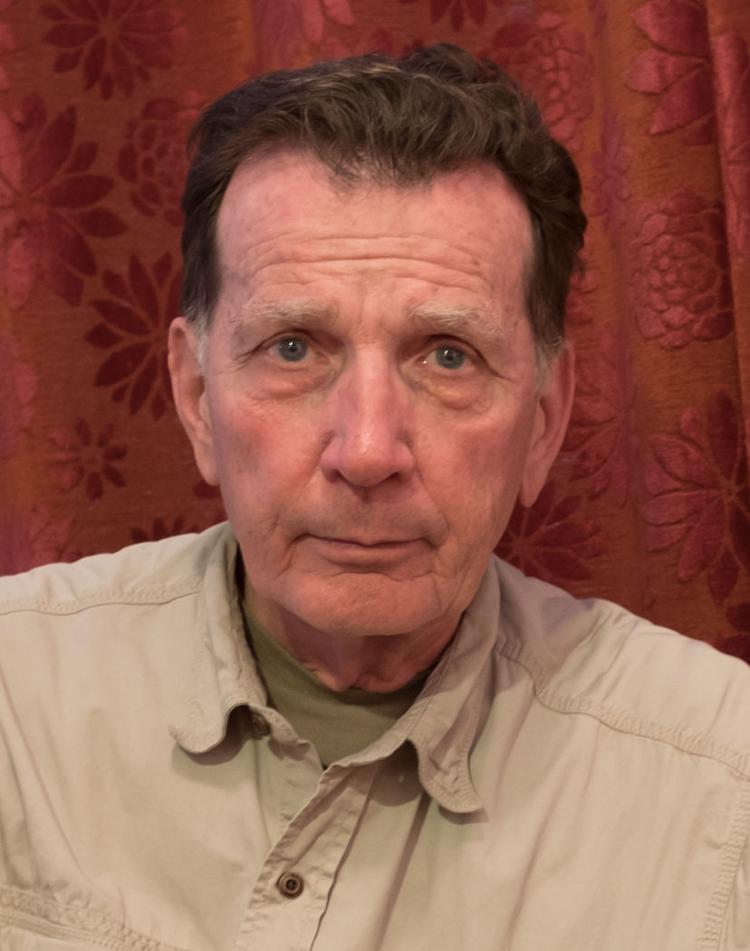 Close-ups reveal the long-haired, tattooed and leather-clad men in search of a different adventure than what regular life in the city brings.
Miller used various methods to record the group riding: He set up his equipment from a high vantage point and took some photos out of the back of a pickup truck and others from a rented airplane.
"But I found riding on the back of a bike was the best approach," he said. "I had been used to taking photographs while riding my own bike and having two hands available allowed me to shoot quicker without worrying where I was going.
"One of the best shots was taken pointing the camera backwards over my head: I probably would not do this now."
Miller worked 39 years as a news photographer at Channel 10 and retired in 2009.
Retired or not, photographers aren't far removed from their equipment.
Miller's lens now focuses on street photography. Earlier this year, he was in Eastern Europe, and currently, he is in India doing what he loves most.
Information: hdsouth.org or 480-926-1577.