Mark Clarke said he's "always been a sports person."
A decade ago, he combined that lifelong love with his 40 years of experience in the restaurant business and opened what's become an Ahwatukee entertainment landmark – Bleachers Sports Grill at 15410 S. Mountain Pkwy.
On Saturday, June 17, from 4 p.m. to closing, Clarke hopes regulars and newcomers will help him celebrate Bleachers' 10th anniversary with a party that promises drink and dining specials and raffle prizes.
Clarke marked Bleachers' fifth anniversary with a major remodeling that brought larger booths, flat-screen TVs, lakefront tables and an enhanced community bar.
In one way, the remodeling was a celebration of survival, since Clarke bought the former Peyton's Place restaurant just as the recession hit the Valley.
At the time, he called it an accomplishment because so many bars and restaurants had folded during the turbulent economy.
Clarke at one point in his 40-year career was regional vice president for the Carl's Jr. restaurant chain.
Now, he said, "I basically manage the restaurant," though he also relies heavily on his staff of 16 employees.
One token of his affection for sports that he enjoys sharing with his customers is the 30 TV sports packages available for fans of just about any kind of game.
One of Bleachers' biggest days, however, is a once-a-year competition: the Kentucky Derby. The bar also offers off-track betting.
Bleachers also is the Valley's official bar for University of Nebraska football fans and has been called "Nebraskabar."
"I had a friend who was from Nebraska who suggested it was a good college team to follow, so we started promoting the bar as a good place to be with other fans during the games.
Along with 30 wall-mounted flat-screen TVs, some on the spacious patio, Bleachers also offers billiards, darts and Golden Tee.
Among its regular specials is a "reverse happy hour" from 10 p.m. to midnight Sunday-Thursday, as well as a conventional 3-7 p.m. happy hour Monday through Friday. Both offer half-priced appetizers and reduced drink prices. There are also rotating drink specials seven days a week.
The menu offers sandwiches, burgers sliders, pizza, wings and salads and even provides a kids' menu, since Clarke encourages families to make themselves at home.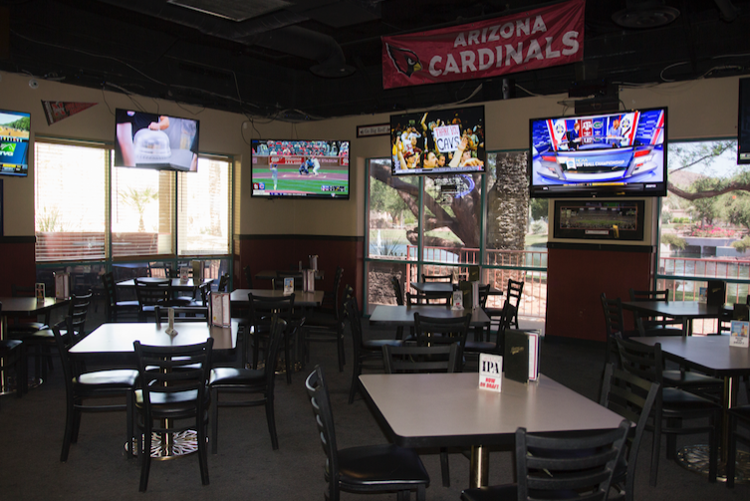 He's proud of the kitchen, where most of his cooks have worked seven years.
"All our soups are homemade, our dressings are homemade, the meatloaf is homemade and our cheddar-encrusted chicken is special," he said.
It's also one of the few places that sells its jumbo wings – a popular item with patrons – by the dozen and not the pound.
And as with most of the nitty-gritty details of Bleachers, the kitchen is no alien territory to Clarke. Asked who oversees the cooking, he replied, "I do."
Information: 480-759-4034 or bleacherssportsgrill.com