An impressive collection of military vehicles deployed as far back as World War I will be on display for families, veterans and history enthusiasts during its 27th annual appearance in Tempe.
The Arizona Military Vehicle Collectors Club is hosting the Jan. 27-28 show to offer the public a glimpse at wartimes of the past and the trucks, jeeps, Humvees and tanks that accompanied troops.
"What I really love is the aspect of educating the public on the history of these vehicles and how they helped the United States throughout different conflicts," said club member Alan Thurston.
He decided to join 14 years ago because he owns a restored World War II jeep previously purchased by his grandfather in the 1960s. His grandfather was a flight instructor with the U.S. Army Air Corps.
Military vehicles can be purchased and collected through a variety of methods, according to Thurston. Some collectors can buy more recently decommissioned vehicles directly from the government, and older vehicles are often restored, traded or moved around within the collector community.
This year, the show is hoping to secure exhibits for a couple of larger items too, including a British tank called the Chieftain.
Compared to classic automobiles like Ford Thunderbirds and Chevrolet Bel Airs, retro military vehicles are relatively cheaper to register and insure, according to Thurston.
Military vehicle parts can be easily found from third-party vendors outside of mainstream auto shops, and collectors or first-time customers can easily place bids for military vehicles on websites such as GovPlanet and eBay.
Thurston said many military vehicle owners in the club are veterans, and many veterans attend the show to see the equipment that once aided them in active service.
Calvin "Woody" Harris, a Marine from 1965 to 1986, joined the collectors club because he said these vehicles are parts of U.S. history that connect everybody – not just servicemen and women, but the public too.
Harris displays his own 1952 Dodge M37 pickup truck at the show, a vehicle used for cargo in the military. He bought it because while serving in Vietnam, his company used the same type of truck, and it brings back the memories from that time in his life.
He said the show seems to attract more and more people every year, in part because people enjoy learning the mechanics of how all the different vehicles work and what function each of them served. More than 5,000 attended last year.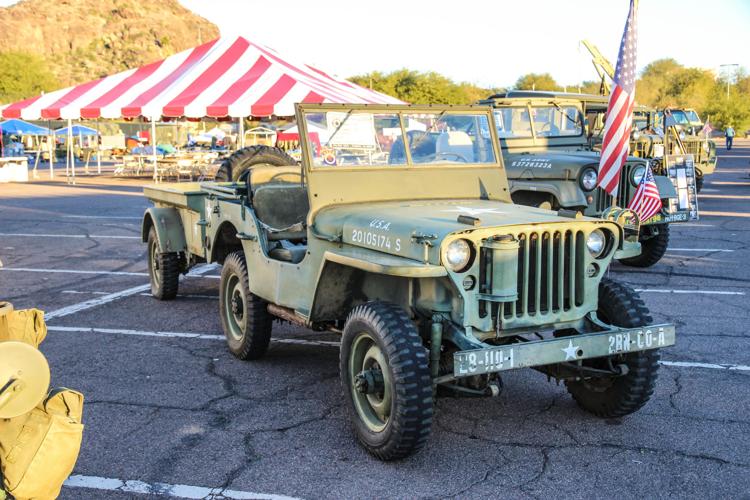 "As the new generation of young people come in, they are interested in it as well as the older generation," Harris said. "I get guys and ladies that come up to my vehicle and say, 'I remember this from when I was in Germany, or in Japan,' or wherever, and a lot of young kids just like vehicles."
In addition to the displays, the show will play the national anthem at noon both days and have a presentation of the colors to pay tribute to soldiers who sacrificed their lives.
The show will be open 9 a.m.-5 p.m. Saturday, Jan. 27, and 9 a.m.-4 p.m. Sunday, Jan. 28, at Tempe Diablo Stadium. Admission for adults is $5, and free for children and active military members. Information: armytrucks.org.