When Sophie Dorsten saw her brother, Alex, play guitar with his band Vintage Wednesday, she was hooked.
"I wanted to play music," she said. "I was only in choir at school, but I started singing on my own – and I picked up the guitar."
In six years, the 15-year-old Gilbert singer-songwriter has performed at Valley venues like the Queen Creek Olive Mill, Marquee Theatre and the now-shuttered Alice Cooper'stown. She'll return to the free Mesa Music Festival in mid-November. For a complete schedule, visit mesamusicfest.com/schedule.
"It was really cool walking around and seeing all these different people performing, and all the art everywhere," said Sophie, a Gilbert Christian High School sophomore, about her previous appearance.
Citing Adele as her biggest influence, Sophie recently released the single "Beauty of the Heart," a song she found easy to write.
"I mostly write songs that are about myself. Some are about other people," she said. "They're mostly poetic."
Sophie was a semifinalist in Alice Cooper's Proof Is in the Pudding competition in 2015 and 2016. She has performed the national anthem at spring training games.
Vintage Wednesday – lead singer Taylor Sackson of Mesa, drummer Josh Jones, Dorsten and Logan Dubek on guitar, and keyboardist/bassist Christopher Marchant – is slated to play the Mesa Music Festival as well.
"This is the third year we're playing it," he said. "It's fun to stick around and see the other bands who are playing."
Alex said shows like the Mesa Music Festival allow fans to see that Vintage Wednesday is the real deal.
"We all like each other, and that accounts for a lot of the success we've had," said Alex, who teaches guitar to kids at the Boys and Girls Clubs in Mesa and Scottsdale. "Many bands are thrown together by people. There's no connection. They're just there. I feel like because we're friends, that pushes us along and keeps us going."
The Dorsten household is filled with music, but Sophie and Alex rarely play together. He is usually at work, building guitars, teaching music or playing gigs when Sophie straps on her guitar.
"We do collaborate at times," he said. "She'll ask, 'What should I put there?' I'll tell her that a chord can work, etc. Her strength is her ability to pick up on stuff quickly. She has a strong, powerful voice, too, for as young as she is."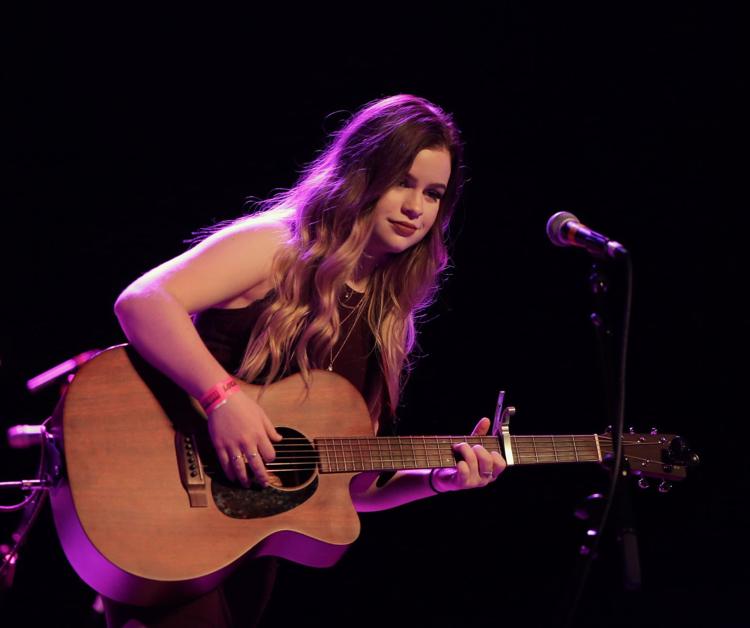 Sophie was a Christmas Pudding runner-up, but Vintage Wednesday took home the prize. Last December, the band set the Celebrity Theatre stage for Korn, Gin Blossoms and Hollywood Vampires, which features Alice Cooper, Johnny Depp and Joe Perry.
"It was the craziest night of my life," singer Sackson said. "I met all of them. I told Johnny Depp his best movie was 'Rango,' which is obviously not true. When we finished performing, I went into the green room and Brian 'Head' Welch from Korn was digging through my purse, grabbing our CDs. They were all so normal and welcoming and friendly. It's not what you would think Hollywood would be like."