Vintage 95 is not only a fine-wine lounge, as its signs say; it pairs that with fine food.
At more than five years at 95 W. Boston St., Chandler, Vintage 95 Wine Lounge has settled in comfortably in the city's first post office, built in 1926.
Today, it still delivers every day, serving lunch and dinner during the week and brunch and dinner on the weekends. The daily happy hour has craft cocktails, martinis and specially priced wine bottles.
Vintage 95 offers an award-winning list of 300-plus wines from around the world. Matching it, the menu features innovative covers of classic dishes using artisanal and fresh ingredients, many locally sourced.
Among the house appetizers are warm brie, charcuterie board, pork belly and bone marrow; the tapas include beef satay, shrimp cocktail and arancini. The entrees change frequently.
Staffers, including Vintage 95 general manager Grant Rembis, will offer suggestions on pairing those foods with the right wine.
"We pair wines based on their flavor profiles, matching with the food. Our goal is finding balance with the wine's acidity and the food's fat content," said Rembis, a Tempe resident who's been with the restaurant since it opened.
He moved to the Valley from California in 2008 to attend Arizona State University, where he met his wife. He started in the food industry when he was 15 and a junior in high school.
"My mother worked in the food industry as she went through nursing school and suggested it as a first job during high school. She felt it taught her a lot in socialization, humility and organization. The ability to have flexible hours helped with school," he said. "So, I jumped right in."  
One of his first culinary mentors was Mark Dion at California Pizza Kitchen.  
He was further inspired Jaison Sokolow at Houston's Scottsdale.
"His guidance is what made me want to do this for the rest of my life," Rembis said. "He taught me how and why a restaurant is so special to guests and how to create an amazing experience each and every time for any guest."
His wine passion comes from Ryan Brown while he worked at House of Tricks in Tempe.
Visitors to Vintage 95 can enjoy a six-course, double-paired dinner in the warm, comfortable main room that retains the original brick walls. The first course, the smoked tomato bisque, is the house soup.
"It's savory and rich with a hint of sweetness and acidity to balance it out –the perfect way to start a meal," Rembis said.
Rembis will pair this with a Chappellet Mountain Cuvée, a 2014 red blend from the Napa Valley AVA.
"Its big bold fruit and oak stand up and complement the tomato and smoky flavors," he said.
Next up: Scallops and cauliflower.
"They're a classic combination, both having a buttery, rich flavor. Fried capers and watercress brighten up the dish to make for an elegant appetizer," the chef said.
Rembis paired this with a Domaine Long-Depaquit 2014 Chardonnay from the Chablis AOC.
"The cold climate earthy notes and minerality balance perfectly with the scallops," he said.
A single-meal or shareable item, the chicken board with goat cheese might follow.
Rembis double-pairs this with a Domaine Serge Laporte 2014 Sauvignon Blanc from the Sancerre AOC, as the wine and goat cheese are a classic pairing. Then it's a Nigl "Freiheit" 2014 Grüner Veltliner from Niederösterreich.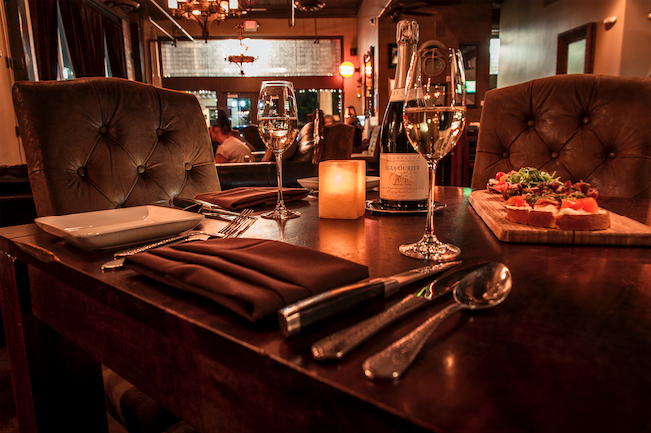 "Its soft body and hint of spice also go well with chicken and goat cheese," he said.
The two next courses: salmon risotto and pork chops.
"The salmon risotto is a classic; that's why we poach our salmon so that no one part of the dish overpowers the other," Rembis said. "The spinach and sun-dried tomatoes brighten up the flavor profile, and the tarragon cream rounds out the dish."
A Lincourt 2013 Chardonnay from the Santa Rita Hills AVA and a Royal Tokaji "The Oddity" 2013 from the Tokaj PDO were offered.
"The oak helps cut through the cream in the risotto, while both have enough acid to balance with the fat in the salmon," he said.
The pork chop was paired with a Lan Crianza 2012 Tempranillo from La Rioja DO.Ca, because of "its earth notes, almost barnyard aromas, with bright fruit that goes well with pork" and then with an M. Chapoutier "La Ciboise" 2014 Rhone Blend from the Côtes du Luberon AOC because of "its earth notes, almost gamey aromas, with bright fruit and hints of pepper that go well with pork," he said.
Information: vintage95.com