Every day for four years, artist Jo Ann Briseño would pack her daughter's lunch with something special: a napkin with a drawing of her daughter doing something she loves.
Every day, her daughter would bring the napkin back. Now, with 470 napkins total, Briseño is reentering the art exhibition world after 18 years and is showcasing the pieces at the Millet House in a show that runs from Nov. 11 to Jan. 15.
Her daughter, Maya, was born with Down syndrome. Ever since Maya entered kindergarten, Briseño has taken 10 to 15 minutes each morning to make her a drawing on her napkin. Each napkin is different and depicts Maya doing something that makes her happy.  
"I began pulling things out of her life that were important milestones," Briseño said.
Those milestones are often moments that people overlook. There are napkins with drawings of Maya drinking out of a cup or taking swim lessons.
"She's developmentally delayed so we work hard at everything," Briseño said. "We worked hard at crawling, walking, talking, eating and drinking out of a cup. Little things that people take for granted. Those things are hard work for us, but it's worth it."
There are also napkins which show Maya doing something extraordinary, such as floating in outer space as an astronaut or being a magician.
Briseño found out Maya had Down syndrome after she was born. In a moment, everything changed for her. She was hit with a wave of emotions, but she quickly realized Maya was a blessing in her life, she said.
"I think she actually has filled a big void in my life that I didn't even know was missing," Briseño said.
Once Maya was born, Briseño put her artistic life on hold and put her effort into raising her daughter.
"When I had Maya, I wanted to dedicate all of my time to her," she said.
Originally she had been planning to devote at least the first three years purely to Maya, but even now at 9 years old her daughter still needs just as much attention. She has to take Maya to swim lessons, doctor appointments and therapy five times a week. However, to Briseño, it is all worth it.
"She is just so full of love," Briseño said. "She is pure joy."
Briseño's first love was photography and she has always loved capturing the little things that people miss. However, she's always had an interest in drawing.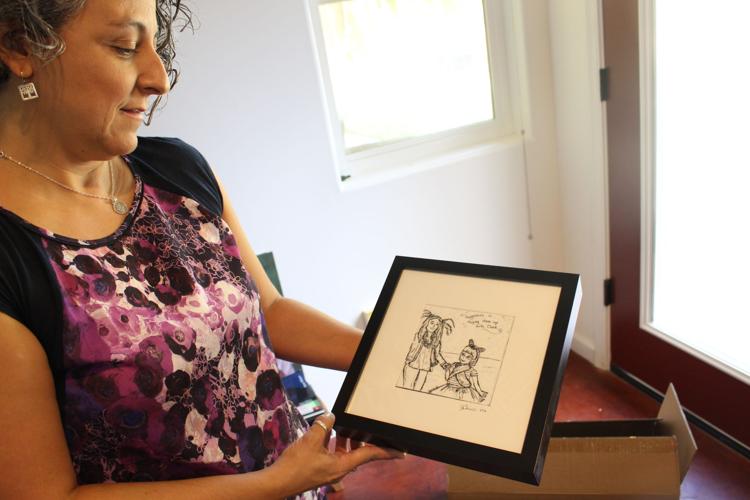 "I love drawing with pens, it helps to conquer my fears of being perfect," she said.
When she began drawing on a napkin every morning for Maya, it allowed her to practice her techniques while also creating something meaningful for her daughter.
Then she began sharing photos of the drawings on Facebook and her friends loved the pieces. The support she received gave Briseño confidence in her drawing skills.
Her friend, Sandy Andrews, had been trying to get Briseño to showcase her work in Andrews' gallery for eight years.
"I love her work and I think she's an amazing artist," said Andrews, the owner of The Millet House.
The theme of the exhibit is "Happiness is…" and is about the joy within a child's heart. The artists explored what makes kids happy or what personally brought them delight as a child.
Andrews said she was blown away by the dedication that Briseño showed by taking the time to draw something every morning that makes Maya smile.
"Imagine having a child and focusing every day on what makes that child happy," Andrews said. "I mean, if all parents would do that I think it would be a different world."
"Maybe people don't know what Down syndrome is or maybe they can't understand what she says," Briseño said about Maya. "Maybe she acts a little different so she's kind of pushed off to the side. But she's unique in her own way. She has value in this world."