Tucked away in a corner off the hallway that leads to the cafeteria lies a spot that thousands of visitors and patients at Cardon Children's Medical Center have gleefully visited.
The garden railroad train display features three trains that are activated when a hand is waved above a display sensor. Tiny kids don't have to worry about not knowing what button to push or not pushing hard enough to start one of the routes. A simple wave and a train is rolling. A trolley car on a timer runs a short loop, needing no prompting from passers-by.
The train display was built and is maintained by members of the Arizona Big Train Operators. The Cardon display was built in 2009. For those in the know about trains, it's referred to as a G-scale, meaning it's pretty big with a 45-mm track.
Roy Towne was instrumental in building the display and is one of seven crew members who check on the trains every other day, cleaning track and making sure everything runs.
You could call Towne the conductor. He knows his trains and he really knows the Cardon display.
He points out the trolley line that ends at Silverton, a replica of a popular stop on the Durango-Silverton run in Colorado.
Kids squeal when the M&M'S train sneaks out from its stopping spot partially hidden by a mountain. M&M'S figurines, Smurfs, Star Wars characters and other popular toy statuettes have hitched rides on the open cars and appear to wave to children as the train passes by.
Towne admits the candy-themed train is his favorite. He does plenty of looking for new tiny characters to add to the cars of the M&M'S train.
There's a story hidden story at every curve in the display. A hobo camp operates below a bridge, construction workers are building a new house in the community — that's one of the newest features, Towne said.
But, there's much more, he says. Town Hall is ready for residents, players are on the field at the baseball park, when the display darkens a bit the blinking marquee lights on the movie theater are visible. Customers wander in and out of the market, bakery and other downtown shops.
It's kind of an idyllic community, replete with an ore processing plant, a hotel, a school, a ghost town, a man welding inside the Texaco station, a lake complete with canoes.
There's a carousel. It spins.
And, yes, a clinic aptly named Cardon, is part of the display.
The terrain is offset by red rock cliffs painted on the backdrop. Trees, shrubs, streets, hills, bridges, a water tower and a tunnel are all part of the scene.
There's so much to see in the lower level that many people don't look up. They miss the eagle flying overhead, the hot air balloon and the train-shaped cloud painted into the backdrop, Towne said.
The Arizona Big Train Operators have had a presence in Valley children's hospitals for a while, Towne said. The group used to operate a display at the Phoenix Children's Hospital and before Cardon was established as a separate building, a display was in the Cardon wing of Banner Desert Medical Center.
"When Cardon was being built, the club asked the hospital if we could do the display," Towne said. Hospital officials agreed and had the architect include space in the floor plans for the train display.
Things got rolling quickly, he said. "Sixteen people jumped in, put in a foundation, plaster, molds and built the mountains." It took almost nine months before the project was complete and "we could run trains and open it for viewing."
Towne says the display at Cardon is a genuine "labor of love."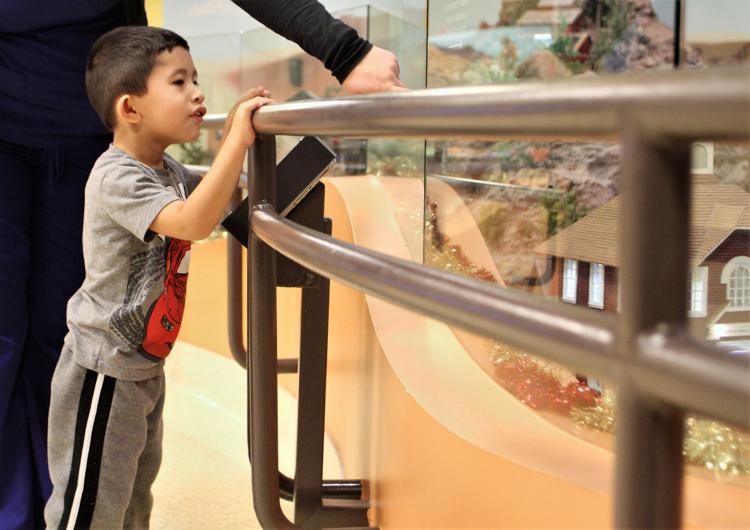 Whenever a train club member is on site working, "we get very positive feedback," Towne said. He shared a story of one family who told them the train display helped with their son's recovery. "They were so taken by it they made a movie about it."
Hospital employees seem to really like the display, too, stopping by frequently to see what changes or additions have been made. Club members add special pieces for Halloween and Christmas and are considering features for some other holidays, Towne said.
Banner Health includes some funds in its budget for the train display. Recently a new engine was purchased for the display, Towne said. While people think of model train sets as toys, their price tags show a different story. A typical engine costs $1,600.
"They're built in Germany," Towne said. "They're not toys."
But, real toys or not, the small patients zipping around Cardon delight in the trains and display.
— Contact reporter Shelley Ridenour at 480-898-6533 or sridenour@timespublications.com.
— Comment on this story and like the East Valley Tribune on Facebook and follow EVTNow on Twitter.